German-based network Automotive Circle brings its event formula to an American paintshop industry audience for the first time
A well-established communication platform for the automotive and supplier industry within Europe for more than three decades, Automotive Circle is making further moves across the Atlantic.

On 25-26 June, the organisation will stage an ambitious automotive paint conference in Detroit, enticing delegates with a comprehensive programme of speakers representing several vehicle manufacturers and suppliers.
Automotive Circle has been visiting the US since 2015, holding successful conference events with a focus on car body engineering. Now, thanks to the inaugural Car Body Painting event in Detroit, North America's automotive paint industry can participate in the type of networking and idea exchange forum that Automotive Circle produces.
The aim, organisers say, is to assemble leading OEM engineering experts from the international automotive and system supplier industry across practise-oriented conferences, seminars and exhibitions under the banner of of 'process chain of painted car body'.
Automotive Circle programme manager for the event, Sabine Scharf, knows the topics very well. Her previous roles include time as a pre-treatment and corrosion protection specialist at a major vehicle manufacturer.
Scharf says: "The expectations on car body painting are rising. In addition to selecting the most appropriate corrosion protection, dealing with different substrates and ensuring the right appearance, other issues are becoming increasingly important. These include rising demands on the surface quality, ecological requirements for resource and energy efficiency production, as well as challenges posed by the integration of electrical vehicles."
North American influence
Although the Detroit event is Automotive Circle's first automotive paint conference in the US, North American-based OEMs have seven representatives on the advisory board steering the project. This has allowed the event programme to feature several OEM-led session, including participation from Audi, BMW, Ford, Honda, Toyota and Volvo as well as presentations from the supplier network and academic research.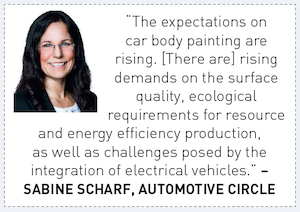 In the run up to the event, AMS hears from the some of the industry experts who make up the advisory board. Adam Deedler of Toyota, BMW's Rich Everly and Werner Wilson from Honda. We discuss the developments in automotive paintshop technology they are most interested to see grow as well as the impact industry 4.0 or digital manufacturing is having on the paintshop.
Deedler says he is most encouraged that technology and improvements in materials are helping to shorten the paint process: "It reduces initial capital investment and operating cost and improves productivity. I would like to see more development in further reducing the energy requirements of the painting process through advances in lower energy cure coatings."
He is further encouraged by advancements that reduce paint overspray, leading to improved cost and reduced environmental waste. This is an area where industry 4.0 approaches are making an impact, Deedler believes. "The ability to evaluate paint performance and workability using digital simulation tools should allow new colours and materials to be brought to market more quickly," he says. "Increased flexibility in manufacturing and development lead time reduction will allow us to meet customer needs faster." At Car Body Painting, Toyota will also be contributing to the new technologies discussion with a presentation entitled, Omnidirectional structural colour pigments for automotive application.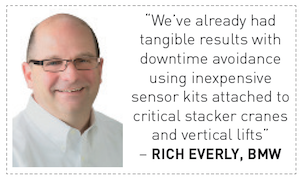 From BMW, advisory board member Rich Everly says his colleagues are also seeing the positives from digital applications in the paintshop: "We've already had tangible results with downtime avoidance using inexpensive sensor kits attached to critical stacker cranes and vertical lifts. This equipment is reliably predicting bearing failure early enough to schedule repair weeks in advance of a failure."
In an operation such as BMW's that runs the production lines almost 24 hours a day, seven days per week, Everly says this higher OEE (overall equipment effectiveness) translates to higher volume and cost savings: "Our effort at present is focused on industrialising this throughout all of our critical equipment, where applicable; for example, bearings for lifters, fans or cranes, material dosers, etc. Additionally, new installation projects are incorporating online process control in the concept phase for the aforementioned benefits. This is allowing investment savings by enabling the elimination of physical checking equipment that we have installed historically."
To showcase the appearance initiatives underway its Spartanburg plant in South Carolina, BMW will be presenting a fully painted and sealed hatch from the all-new X7. BMW's Trung Phan will also explore the OEM's appearance benchmarking in his session on the speaker programme.
Ford is also contributing to the knowledge sharing on optimising appearance, with Shawn Dvonch's leading a presentation entitled 'Optimisation of colour harmony through data share'.

Honda will be presenting a door from the new RDX Acura, a vehicle that features the OEM's new 'high chroma' colour and 2K clearcoat for the Acura brand models. The application of this is unique in the industry, Honda says, and the initiative will be discussed further at the OEM's conference presentation 'Establishing an energy management culture in paint'.
Advisory board member, Honda's Werner Wilson says: "I am looking for any advancements in energy and CO2 reduction. We all have many strong challenges on the environmental front. With advances in tracking and monitoring, we can react quickly to countermeasure problems."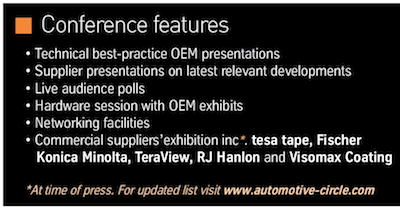 Other OEMs will explore sustainability themes, with Audi presenting on its efforts towards a waste-free plant in Mexico. BMW's approach will be set out in a session under the heading 'Environmental conscious paintshop'. As part of it, speaker Henry Fulmer will describe the carmaker's work to minimise its environmental footprint by lowering energy and water consumption, and reducing VOC emissions.
Completing the speaker programme's OEM line-up is Volvo, whose Michael Hill will deliver a presentation to profile the smart paintshop in operation at South Carolina – Volvo's newest plant and its first in North America. The session is supported by two other presentations from major players among the paintshop equipment sector, Eisenmann and Dürr.
As a whole, the programme at Car Body Painting 2019 offers a comprehensive look at best practice and know-how for the latest generation of smart, efficient, flexible and high-quality automotive paintshops. With the stage set in Detroit, an American industry audience now has the chance to sample the Automotive Circle knowledge-sharing platform, long established in Europe.
OEM hardware sessions
A signature feature of the Car Body Painting event is the hardware session, where a variety of OEMs will exhibit and present parts such as doors, tailgates and fender to an audience.
The session offers delegates the opportunity for a close-up look at the functional and optical characteristics of the components on show with each OEM expert on hand at the exhibit to take the audience through concepts as well as the relevant production and paint data.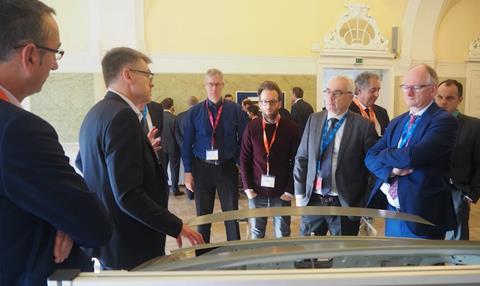 Car Body Painting 2019 will be held in Detroit on 25/26 June