Henkel's Dr. Burak Kutlu examines how innovative solutions can solve application challenges and increase yield rates in the automotive display market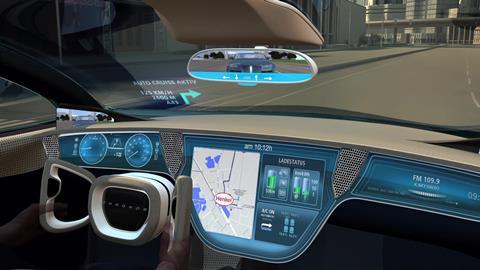 Car interiors are experiencing a massive transformation and displays are a key element of this radical change. Current trends for automotive displays include non-standard designs, more displays per vehicle, and increased functionality. And these trends create challenges for suppliers and equipment manufacturers at every stage in the automotive value chain.
Automotive and equipment manufacturers around the globe already rely on Henkel's range of Liquid Optically Clear Adhesives (LOCA) for display components including cover lenses, touch sensors and Liquid Crystal Display (LCD) and Organic Light-Emitting Diodes (OLEDs). These manufacturers also seek structural bonding and sealing of cover lenses to metal or plastic frames, and for solutions that dissipate heat generated by electric control units or LED backlight units in automotive displays.
Henkel offers innovative products and solutions for applications at every stage of the assembly process. On top of this, it has dedicated laboratories for researching, developing and testing pilot projects, and also offers a truly global presence. This makes Henkel a reliable partner that can support customers throughout their entire planning and production process for state-of-the-art automotive displays.
Henkel's digital coating and high precision optical bonding solutions
Henkel's strength is its tailor-made approach that has been evaluated by customers and equipment manufacturing partners worldwide. This strong cooperation has developed the most efficient and economical production process available on the market. Henkel also pioneers new trends and invests in innovative equipment solutions that tackle key application challenges – and keep its customers in this dynamic market moving forward.
Henkel's R&D specialists have developed a new dispensing equipment – specifically, a digital coater – that makes it possible to apply LOCA with full design flexibility for various types of display geometries. The digital coating process involves multiple nozzles that work in harmony to implement the desired pattern with defined edges and accuracy on dispensing. In this way, it is a perfect fit for free-form displays and a strong alternative to stencil printing, where Henkel's LOCA products are already delivering success. In addition, multiple displays of different sizes can be laminated using a single digital coating unit, which offers excellent flexibility.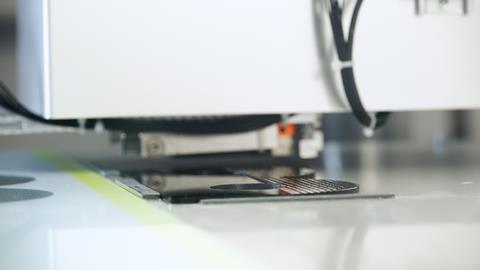 This means the digital coating unit provides customers with a universal and sustainable solution that can be utilised for a multitude of display designs. The process is also suitable for 1K and 2K LOCA systems, and can be fully automated. And it is also optimised for low cycle times and high yields, so it can be utilised for versatile applications in the field of high-precision optical bonding of displays.
LOCAs from Henkel are developed to meet each customer's unique requirements and provide the best possible performance on the specific process and equipment involved – such as digital coating, slit die coating, stencil printing or single point dispensing. Henkel's specialists work on the products for tomorrow's automotive world, and they also provide customers with technical support to select the best combination of product and process for their specific application.
When using Henkel LOCAs, automotive suppliers profit from their excellent optical performance, greater design flexibility, dissimilar substrate design capability, and fully automated optical bonding process that increases quality and yield rates, while cutting cycle times. The improved display performance is evident in a 400 per cent better contrast ratio in sunlight, a three-times-higher impact resistance, lower energy consumption, and improved durability against heat. It also achieves superior impact load absorption, which enables thinner and more flexible designs.
Structural bonding and sealing solutions, and Thermal Interface Materials (TIMs)
When bonding cover lenses to metal or plastic frames, Loctite structural bonding solutions from Henkel offer automotive suppliers a great deal of flexibility in their assembly process. These solutions are available with UV, heat or moisture curing mechanisms, with a strong focus on silane-modified polymer adhesives that offer high elasticity and good adhesion on dissimilar substrates. New display designs tend to be seamless and larger, which means there is less space for adhesives to meet the increasingly high mechanical requirements related to the size of the display and the thermal expansion coefficient differences of the adherends. In this context, Henkel's in-house expertise in structural bonding has been proven to provide product solutions for these challenging narrow border designs.
These technologies can be used in combination with SpeedCure to enable ultra-short cycle times.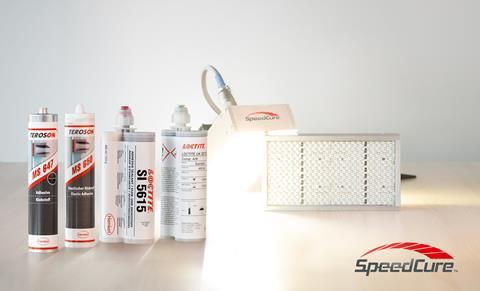 SpeedCure is a Henkel technology that accurately and efficiently cures adhesives in display applications by using radiation to induce the heat required for curing or to accelerate the curing process. The key benefit is that it significantly shortens the curing time, enabling cycle times in mass production of just 30 to 90 seconds. SpeedCure technology is suitable for demanding applications such as bonding cold-blended glass or plastic lenses to curved frames. As with other aspects of automotive display bonding, Henkel delivers all-in SpeedCure solutions that are customised to each unique line producer's specific structural bonding and sealing requirements.
Henkel's Bergquist brand of highly-engineered, thermally-conductive liquids are specifically designed to support optimised dispensing control with excellent thermal and mechanical performance. Dispensed in a liquid state, the material creates virtually zero stress on components and is very suitable for heat dissipation generated from electric control units or LED backlight units in automotive displays. It can be used to interface and conform to the most intricate topographies and multi-level surfaces.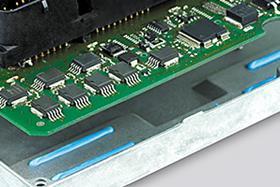 Henkel's structural bonding solutions and TIMs are widely used for flat, curved and large displays in combination with dissimilar substrates – and have achieved great success.
The right product and process
Henkel has a comprehensive portfolio of solutions including its optical bonding, structural bonding, and TIM technologies. In addition, Henkel partners with equipment manufacturers and develops equipment to provide best-in-class product and process solutions. This enables Henkel's manufacturing partners to supply the right products to a growing market – and also empowers them to explore smart production processes that deliver higher yield rates.
Find out more here