Advanced robotics and digitisation technologies can ensure motorcycle companies meet the needs of the industry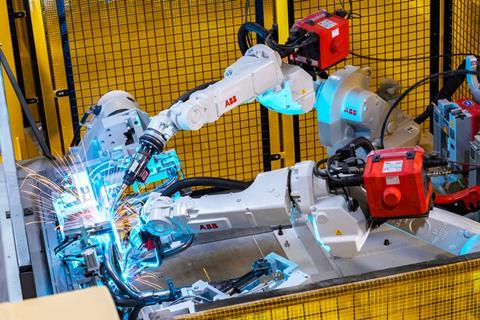 In 1901, Engineering, a well-respected automotive magazine, famously characterised the motorcycle as a "form of entertainment" that would appeal only to mechanical eccentrics. Calling it a "novelty", the magazine predicted the vehicle would not find favour among the public.
Fast-forward 118 years, and there are millions of bikes and scooters on the road around the world, running errands, delivering mail, policing the streets, or just helping commuters get to and from work. The fascination with two wheels, whether for utility or entertainment, has proved enduring, with more models than ever now available from a host of brands worldwide.
Firing on all cylinders
The global motorcycle industry is poised for healthy growth with demand expected to rise 4.4% every year until 2022 to 121.5m units, according to a report by research firm The Freedonia Group. This potential stems from a range of factors, including better economic conditions in Asia, which accounts for 80% of worldwide sales, and the availability of more affordable motorcycle models. Another trend supporting the growing demand for motorcycles is changing demographics. Baby boomers – those born between 1944 and 1964 – popularised motorcycles with riding clubs. But as they age, fewer baby boomers have the time, money and sometimes even the physical strength to ride bikes.
Instead, their children, who now live in urban areas, are buying more affordable motorcycles as a quick and easy way to travel around crowded cities. Motorcycle manufacturers are also responding to the demand for bespoke vehicles, whether it is in the form of technology, colour and accessories, and performance.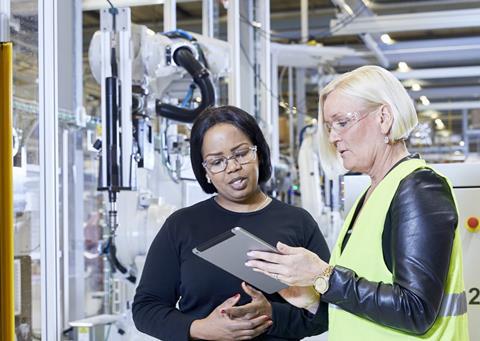 A growing interest in low- and zero-emission mobility options is also offering an opportunity for companies to increase brand momentum. However, these changes are adding more complexity to the manufacturing process and long-established automation solutions are simply not nimble enough to meet the demands. For these reasons Vietnam's first electric automobile maker, VinFast, commissioned a complete welding automation solution package for its e-scooter frame shops from ABB. The package includes robots, positioners and welding power sources.
Among the fleet is ABB's 1660ID, a compact industrial robot with a hollow wrist designed to work with high-efficiency even in tight spaces, such as arc welding. The robot has a stronger, more rigid upper arm that is able to lift as much as 6kg. This, combined with ABB's superior motion control technology, TrueMove, and the new motion process 'Accuracy mode', provides 0.05mm path repeatability for excellent welding results.
All the ABB robots at VinFast are equipped with ABB Ability Connected Services, a suite of advanced services that includes a machine-learning-based condition monitoring and diagnostics module that can predict and prevent breakdowns before they occur by analysing behavioural anomalies in single robots, among many.
VinFast
VinFast is a subsidiary of VinGroup, which is the largest private equity group in Vietnam. The company is the first local firm in the country to manufacture automobiles using internal combustion engines, electric cars and environment-friendly electric motorbikes. Construction on VinFast's first-of-its-kind manufacturing complex started in September 2017 with a designed capacity goal of 1m units by 2025. The company aims to become South-East Asia's leading vehicle manufacturer, as well as a significant new player in the global automotive industry.
Quality is key
While productivity and flexibility help new launches reach the market at the right time, high quality can ensure the long-term success of the product. End customers, especially in emerging markets, demand quality that is no less than that of mature markets like North America and Europe. Take the case of Royal Enfield, India's premium big-bike manufacturer, which was quick to recognise the benefits of robotic automation, especially in the intricate process of welding bike chassis and painting. Since 2010, the company has been employing a range of ABB robots at its plant in southern India, to make certain that every one of the 800,000 bikes made in the factory each year is of premium quality and finish.
To achieve this, Royal Enfield uses a fleet of IRB 2600 industrial robots with R-type positioners from ABB that are developed for high accuracy and repeatability in the frame welding process. The design of the IRB 2600 makes it highly suitable for targeted applications like arc welding. The company also utilises ABB's IRB 1520 fully integrated robots to weld the fuel tanks of the bikes.
At Royal Enfield's paintshop, a turnkey solution made up of IRB 5400 and IRB 5500 specialised paint robots work at high speeds and efficiency to ensure each bike is painted flawlessly, every time.
Royal Enfield
Royal Enfield is the world's oldest motorcycle brand in continuous production. Now a part of Indian automotive company Eicher Motors Limited, Royal Enfield's roots lie in the UK, the town of Redditch in Worcestershire. The motorcycle's hardy and easy-to-maintain attributes made it suitable to be used in the first and second World Wars. The company's relations with India began in 1955 when the Indian government commissioned 800 Royal Enfield bikes to be used by the Indian Army and for police patrolling.
Motorcycle companies are always on the lookout for optimum paint consistency that not only reduces waste, but also saves on costly rework. That's why ABB developed the Connected Atomizer in 2018. This digitally-enabled paint atomiser is a game-changer for the motorcycle industry, which requires more intricate paint applications than other automotive sectors. In addition to achieving near-zero defect painting, the atomiser can self-diagnose operational readiness, instead of having to carry out several physical tests to assess the paint line status. This helps companies cut down on expensive paint waste, while also speeding up production time.
A differentiating factor of the motorcycle industry is the use of small parts that make the assembly of a motorcycle trickier than that of a car. The IRB 1100 – ABB's smallest and lightest robot to date – is perfectly suited for the fast and accurate assembly of the small parts of a motorcycle. With up to 35% faster cycle times, this robot offers the best-in-class repeatable accuracy and its modular design means the robot takes up 10% less space than traditional automation machines.
Motorcycle manufacturers need to create more nimble production lines to cater to the growing diversity of motorcycles and their ownership. With the support of advanced robotics and digitisation technologies from ABB, motorcycle companies can more readily meet the needs of the industry today and in the future.
To gain unlimited access to the exclusive content and features of Automotive Manufacturing Solutions please SIGN-IN or REGISTER FREE today.