Wireless solutions can promote safety, increase efficiency and bring economic benefits when it comes to managing automated guided vehicles and mobile robots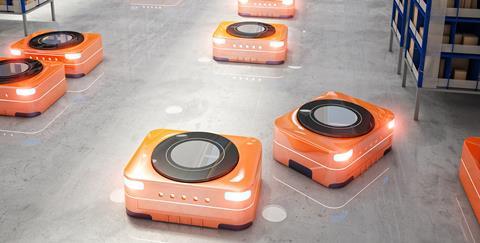 The car manufacturing plants of tomorrow will be shaped by highly flexible and easily scalable production lines. Assembly lines will therefore rely more and more on automated guided vehicles (AGVs) as well as autonomous mobile robots (AMRs). The use of AGVs and AMRs will complement and change some classic processes and create new challenges for integrators and their suppliers.
Conductix-Wampfler has been present within automotive production with energy and data management systems, as well as EMS and Skillet vehicle control solutions, for decades. Now, they are ready to support OEMs with solutions to meet the high demands of automotive production in terms of safety and reliability.
Making sure that everything comes to a safe stop
One of the most significant values within production is safety. The steadily increasing numbers of AGVs and AMRs within the plants can complicate the control of each individual piece of equipment; posing a challenge to the global safety concept. One key safety concern is handling of global emergency stops of autonomous robots within a defined area. Compared to a hard-wired data connection and continuous power supply, wirelessly controlled vehicles with an energy storage on board are more complex to handle. This challenge could be solved by using Conductix-Wampfler's Jay RadioSafe.
This solution offers a wireless safety stop for mobile vehicles within industrial production lines. The system handles the transmission of a safe stop command between a non-movable control and various mobile vehicles like AGVs or AMRs.
Therefore, the system consists of a remote safety transmitter and numerous remote safety receivers. With that topology big fleets can also be handled safely. The system fulfils SIL3 and Ple safety demands and is certified by TÜV Süd. Beyond a safe emergency stop function, the system can transmit controlled halt functions or delayed stop functions. The latter is very useful to ensure that the vehicles do not stop and block fire doors or evacuation routes within a plant.
The used frequency for the transmission is set to specific regulations depending on the country where it is used, for example 25 working channels in the 434Mhz or 64 channels in the 915Mhz frequency band are available.
Conductix-Wampfler also supports integrators in designing and customising complementary solutions for energy transmission, charging and energy storage on independent vehicles.
A new generation of inductive charging
To transmit energy to individual vehicles as well as charge their on-board energy storage systems, Conductix-Wampfler introduces the Wireless Charger 3.0. This system provides a new generation inductive charger for the efficient and easy charge of autonomous battery driven vehicles – with increased efficiency, higher power at a smaller size compared to the previous generation. The newly designed system offers an automated, contactless charge which stands out as a key advantage within highly automated production lines and logistic hubs while supporting industry 4.0 principles.
A wireless or non-conductive solution provides advantages due to no wear and no required human interaction – making the entire process truly automated
Due to wireless opportunity charging integrated into the process flow, smaller and lighter energy storages can be used on the AGVs and AMRs. Lithium-ion batteries respond well to this, resulting in much higher lifetime of these still relatively expensive parts of a robot. Overall, the adaptation of an opportunity charging philosophy result in higher system availabilities and a more economical approach. Additionally, in terms of safety as well as within demanding environmental conditions, a wireless or non-conductive solution provides advantages due to no wear and no required human interaction – making the entire process truly automated.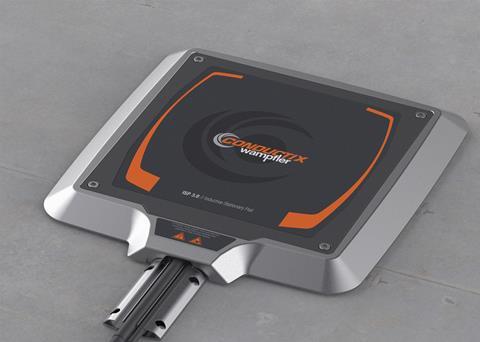 As the system performance of AGVs and AMRs are always dependent on each singular component, Conductix-Wampfler offers the entire energy system for them. This means that in addition to the aforementioned Wireless Charger 3.0, the on-board energy storage system, suiting the application, is available as a complete package. The scalable Lithium-ion battery modules are sized to the application specific demands. Voltage levels from 24-60V, as well as capacities from 30-90Ah, are available. All battery modules include an integrated battery management system that can be arranged flexibly to best use the confined space. As size matters in the design of AGVs, the high energy density of the used battery cells as well as the very compact and scalable assembly method provides clear advantages for the design of new vehicles.
Combined with the unique features of the Wireless Charger 3.0, a recharging current of up to 3C can be realised – thus the battery can be charged up with a multiple of its capacity, reducing unproductive time to a minimum. This additionally supports the usage of the mentioned opportunity charge philosophy and therefore a 24/7 usage of the AGVs/AMRs.
Find out more here
Read more about Conductix-Wampfler in the AMS Winter digital edition.