The future looks bright as Tornos helps automotive players to meet their challenges with flexible and efficient technology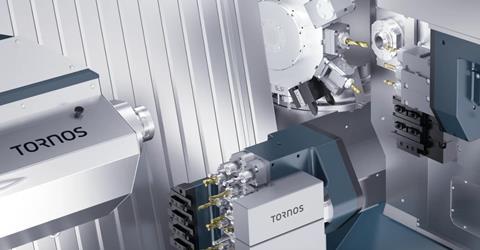 Visitors to the EMO fair in Hannover, Germany, will have the chance to admire the new SwissDeco 36 TB. This machine is something between a bar-type machining centre and a bar turning machine. This is the best proof, if any such proof were needed, of the fact that SwissDeco is a new product range at the top of Tornos' machine line-up.
SwissDeco 36 TB is based on the same structure that is the hallmark of all models of the entire range: it has an ultra-rigid cast machine base equipped with extra-large guiding elements for the full potential of the machine to be tapped, and spindles boasting very high power.
All these aspects combine make the machine withstand high machining loads even of the toughest materials. "With SwissDeco, we wanted to design a machine without any compromise," explains Philippe Charles, head of Swiss-type product management at Tornos.
The machine can be equipped with 57 tools including 36 driven tools. "Today, a Swiss GT-type machine well equipped with a B axis and a number of tools is quite impressive, even if it has fewer tools than SwissDeco, but now SwissDeco opens up a new era," adds Charles.
The first noteworthy differences are the machining diameter of 36mm and the extremely rigid machine structure. If the user opts for the 36mm spindle, the torque of 53Nm is simply titanic; even the spindles with a diameter of 25.4mm produce a torque of 27Nm.
"The capabilities of the machine are really impressive – to such an extent that we are able to turn parts based on the parameters of the machining with fixed-headstock even if the machine is operated close to its limits," says Charles.
"Since we want our customers to be quite relaxed, we have provided our machine with long axis travels and the most powerful and rapid driven tools in the market. SwissDeco 36 TB is not only capable of manufacturing the workpieces on hand, but also of ensuring perfect management. We offer various solutions for workpiece ejection no matter what dimensions they have."
12-position turret with B axis
SwissDeco 36 TB is equipped with a 12-position turret (the same as on machine model T). It is mounted on a B axis and driven by a torque motor. It can be swivelled by +/- 130° and used both for main and back machining operations – the full diversity of turret tools can be utilised to perform machining tasks that comprise angular machining.
Furthermore, the turret can be operated by means of the TISIS CAM software; this CAD/CAM solution enables workpieces to be programmed that require a multitude of points. TISIS CAM is used to program complex operations while the rest of the codes can be written with the TISIS programming module.
Charles adds: "We wanted a machine that is easy to use and to set up even during the machining of complex workpieces." Moreover, SwissDeco wanted the machine to offer optimum ergonomic features – and that's what they got with this TB version. In fact, the turret can approach the machine door as close as possible to simplify tool change.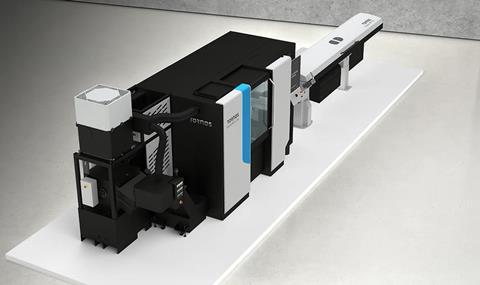 Efficiency: quick-change system
Optionally, the turret, as well as other tooling systems, can be complemented by a quick-change system. The tool head can be unlocked by turning a single screw. This system is compatible with the pre-setting devices to enable set-up to be performed outside the machine. Any changes will become effective within a few seconds while the design guarantees excellent concentricity and repeatability. The quick-change system can be used both for stationary and driven tools to ensure maximum flexibility. It permits ultrafast set-up changes – despite SwissDeco's vast tooling options.
Efficiency: hydraulic brake
To guarantee high machining quality in all circumstances, SwissDeco is the first Swiss-type lathe to feature a high-precision hydraulic brake. The latter is actuated by material deformation and enables the bar to be precisely locked in the correct position, and thus spindle bearings and spindle body to be relieved in case of four and five axis machining. Likewise, the surface finish is considerably improved; the bar is maintained in the correct position, which enables machining tasks to be performed that were unachievable on conventional lathes or bar turning lathes so far.
Efficiency: TISIS Optimove
TISIS was introduced together with SwissNano and has been enhanced over the years. With the launch of SwissDeco, the latest innovative TISIS version is now available. Instead of being a mere programming means, TISIS has evolved to serve as a true means of control for SwissDeco machines. From now on, the machine can calculate the real machining time very precisely.
"Our customers will now be able to realise machining jobs requiring extreme precision as well as production scheduling in a most meticulous manner," says Charles.
TISIS Optimove offers a multitude of additional advantages, the most important one being the reduction of machining times. Just like TB-Deco, TISIS Optimove calculates the ideal tool path and the ideal feed rate for each tool. This may give the impression of a rather slow machine, however, the numbers speak for themselves. Thanks to its three tool systems, the productivity of the machine is simply excellent. In certain cases, TISIS Optimove allows savings in time by almost 25%. In combination with the energy consumption being reduced by 11%, this solution provides the user with a significant added value, without operator intervention.
Another benefit is reduced mechanical wear. Thanks to the optimised axis travels, unnecessary acceleration is eliminated which means the mechanical system is protected while vibrations and interferences are avoided during the machining process.
A True Originator
Tornos Group is one of the global leaders for the development, production and distribution of Swiss-type automatic lathes and multi-spindle machines. The company's history dates back to 1880 and marked the beginning of Swiss-type lathe technology. Tornos primarily manufactures CNC Swiss-type (sliding headstock) turning machines, multi-spindle machines with numerical or cam control, and machining centres for complex parts requiring high precision (Almac). The company is headquartered in Switzerland and through a global sales and service network, solutions are supplied to customers in dedicated market segments such as automotive, medical and dental technology, micromechanics, and electronics. With approximately 630 employees (FTE), Tornos Group generated sales of 136m Swiss Francs in 2016.