As electromobility gains a global foothold, Tornos is offering solutions to OEMs and tier suppliers striving for better quality, safety and sustainability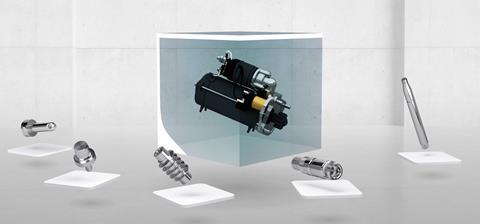 Today's vehicles, including electric ones, are packed with electric motors serving a wide variety of purposes. Tornos' solutions energise its customers' turning processes and performance.The global automotive industry, driven by a variety of key megatrends, including climate change and dynamic technology and innovation, is undergoing a transformation, and with that come new challenges for automakers and their supply chains.
E-mobility is the future, calling for new solutions in the field of automotive electronics. Power electronics play a key role in this context. In hybrid vehicles, for example, a shoebox-size component handles the energy management between the battery, the electric motor and the internal combustion engine. Power electronics is high technology, and poses major research and production challenges. From hybrid vehicles to fully electric cars, Tornos is well-qualified as a go-to expert.
With more than 50 years' experience as an automotive industry partner, Tornos provides Swiss-type and multi-spindle lathe technologies, helping automotive players to meet their challenges as they race to meet societal, economic and environmental challenges. Tornos has the technology and knowledge to help customers meet and exceed demands for on-time, on-target, zero-defect projects.
Collaboration
For some, cars are objects of desire and expressions of individuality, for others they are simply a means of getting from A to B. But cars play an essential role in our everyday lives and, more so than in other industries, quality, safety and economic viability are of particular importance to the automotive industry, a market that poses numerous challenges to any machine tool manufacturer. Tornos collaborates closely with OEMs and tier one and tier two integrators to help them meet ever-stricter regulatory standards, satisfy the needs of consumers and stay on pace with advancing technology and dynamic innovation.
Tornos' experience lies across a broad range of industry segments – automotive, micromechanics, electronics, medical and dental – ensuring it is in a unique position to partner with automotive manufacturers and provide the key support in new technologies related to e-mobility.
Vast expertise
While e-mobility is still evolving, one thing is certain: with our experience in the connector business, Tornos is a source of strength to customers. We have helped shape all kinds of connectors, from Formula 1 cars and manned and unmanned aircraft to satellites and countless other connector applications.
In the electronic connector industry, swap ratio – the size, weight and power output of connectors – is a critical factor as the sector continually evolves. Our customers turn to us for solutions that help them continuously to push boundaries and produce ever-smaller connectors. One example is our sliding headstock lathes, which make easy work of turning a 2mm copper alloy bar into high-quality male and female connector pins with diameters down to 0.3 mm. As the industry evolves, these dimensions may become even smaller.
Electric motors are another example of Tornos' vast automotive expertise: from the simplest to the most complex electric motors, we empower our customers' manufacturing performance. Ball bearings are yet another example of our auto industry know-how. At the heart of the movement of cars, ball bearings are found not only in the wheels but also in vehicle electrical and security systems, headlights and comfort systems, climate control, and electric seats.
High-pressure coolant
With a solution for every challenge, we secure our automotive customers' application success, operational uptime, quality and efficiency. One need look no further than our high-end machines designed for high productivity.
One example of our problem-solving orientation is our approach to coolant flow and pressure. You know that increasing the pressure of the machine coolant positively impacts both chip breaking and tool life, but it also increases electrical power consumption. Tornos solves that problem with built-in coolant that increases precision in the oil jet to reduce the flow and, as a result, reduces the energy consumption of the machine while achieving the same highly precise results.
At the same time, by applying an 80-bar coolant pressure, Tornos increases tool life by seven times in finishing operations and an impressive 40% when using high-pressure coolant for roughing.
Tornos Service and Tornos Academy
Commissioning a Tornos machine is just the start of each customer's relationship with Tornos. With Tornos Service, backed by geographical proximity to our customers and a keen understanding of their processes, applications and market challenges, we deliver an unparalleled continuum of support along the full life cycles of our machines. From start-up assistance and expert training and coaching to free hotline support, we keep our customers turning.
And just as Tornos Service keeps your machines up and running, Tornos Academy educates your employees to maximise the performance of your Tornos machines. That means you outpace your competitors and are positioned to seize new application opportunities.
With all these attributes: highly precise, dependable and state-of-the-art single and multi-spindle lathes and micro-milling machines; deep application expertise; success-triggering TISIS software, support services and training, it's no wonder automotive manufacturers continue to turn to Tornos.
Automotive industry solutions from Tornos
Solution: thread whirling
When it comes to machining worm screws for electrical motors, Tornos' unique thread whirling – acquired as a preferred partner to medtech manufacturers – is an asset. Today, Tornos is the only company offering thread whirling on single and multi-spindle lathes.
Solution: impeccable quality
In today's world, car breakdowns are inconceivable. Consumers expect nothing less than the highest levels of vehicle quality and safety. The automotive industry itself has similarly high standards, requesting a quality level of five or fewer defective parts per million.
To ensure this level of quality, Tornos partners with specialists in controlling and measuring processes and has developed an interface that communicates with various measuring systems. The result for customers is an interface that ensures complete compatibility between their Tornos machine and the measuring system – and one less headache for the machine operator. Available on single as well as multi-spindle machines, this interface allows corrective data to be transmitted and corrective measures to be automatically triggered by the machine's control unit.
Solution: chip management
Depending on the volume and material to be machined, swarf extraction is a process that can cause major problems, particularly in automated production with little monitoring.
We advise using high-pressure pumps for swarf removal and, where appropriate, a universal swarf conveyor to handle a variety of swarf types from brass and aluminium to stainless steel. Oil monitoring and filtration, and fluid management, are additional Tornos competences.
Solution: painless programming
Tornos' TISIS smart, advanced, industry 4.0-ready ISO code editor is automotive manufacturers' portal to Industry 4.0. Programming machines with more than 30 axes was no easy task until we launched TISIS.
Thanks to its programming concept and Tornos' multi-spindle kinematics, the user programs three axes six or eight times, significantly simplifying programming.
Plus, TISIS knows the user's entire Tornos machine fleet and can help the operator decide which machine to use for a specific part and which machine options should be used.