Greater control of processes and materials means greater efficiency. Castrol offers some insights into new ways to manage, monitor and optimise metalworking fluids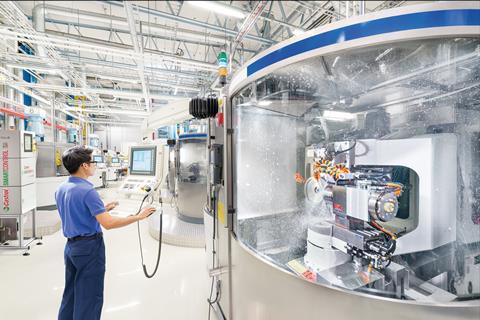 Lubrication is complex and choosing the right lubricant for particular applications is becoming ever-more challenging as new formulations are developed. Getting the best performance from today's advanced metalworking fluids (MWF) requires constant monitoring and adjustment but doing these tasks manually is not ideal.
Castrol's SmartControl system is the new way for manufacturers to monitor and control their MWF management, automatically and in real time. To make this happen, Castrol's engineers, responsible for the development of industrial lubricants, worked with Tiefenbach, the German control systems experts.
SmartControl: efficient, clean, fast
This system allows manufacturers to operate efficiently, cleaner and faster, and frees operators from repetitive tasks. It measures all the key parameters of the MWF automatically, including concentration, pH level, conductivity, temperature and volume flow. The system monitors and measures the state of lubricants and coolants in real-time, and works in conjunction with Castrol XBB fluids to optimise system stability, maximise efficiencies, and deliver the confidence that comes from having everything under control.
MWF management is a critical activity, but it can be overlooked. When done correctly, nobody will notice. However, if something goes wrong, complaints will be impossible to ignore.
SmartControl BASIC monitors the most relevant MWF parameters, constantly and in real time. It facilitates intervention only when needed.
SmartControl AUTO technology goes above and beyond condition monitoring. It enables automation of MWF management, based on concentration and pH level.
In the AUTO version the system can be connected to a compatible dosing equipment to automatically add emulsion in the right concentration or even an additive to the MWF system. Thus eliminating the need for manual intervention and enabling operation close to the ideal state.
Whether automated or not, Castrol SmartControl self-calibrates and self-cleans so as to ensure ongoing measurement accuracy. It cuts manual testing, lab sampling and documentation, and frees up technicians to spend time on more valuable activities.
Renault Motores – Valladolid powertrain plant
Castrol is already helping Renault achieve real-time monitoring
At Renault's huge plant in Spain, the company has adopted leading-edge technology to monitor the condition of its lubricants and installed an autonomous system which takes the necessary action in compliance with the company's commercial and environmental vision.
Renault is now saving around €190,000 per year through lower coolant usage, longer tool life, and lower rejection rates. The compatible coolant used in its cleaning system, meanwhile, has saved 1 million litres of water and 1 million litres of waste.
Compelling results
We feel the Renault project represents a vision of the future. We're working with them to identify efficiencies throughout their entire production process.
Instead of simply selecting the best lubricant for the job, we've become a holistic optimisation partner, maximising the benefits of digital technology.
The future is sure to present fresh challenges, but these will be assessed and handled on a real-time basis — just as they are at the Renault plant.
Castrol drives quality and high-performance at Renault
Castrol and Renault share the same high standards when it comes to safety, quality, and performance.
Watch this short video to learn about Castrol's impact at the Motores factory in Spain, who produce 1.5 million engines a year – 40% of Renault's global output.
Castrol SmartControl uses Industry 4.0 technology to:
• Improve visualisation
• Provide data instantly, in real-time, with the possibility to ingrate with existing IT system through various interfaces (optional)
• Integrate fluid engineering and sensing technology
• SmartControl integrates Castrol's advanced industrial fluid engineering expertise with Tiefenbach's IT and control systems resources to improve fluid performance, eliminate unscheduled downtime, boost workplace safety and cut waste
• By combining the benefits of SmartControl and our Castrol XBB cutting fluids — Alusol XBB and Hysol XBB — we put industrial control freaks in total control of their operations.
This new method of monitoring and controlling metalworking fluids is intended for a range of engineering and manufacturing machining applications, including automotive and aerospace, and can be utilised by suppliers and OEMs.
How Castrol XBB fluids help make it happen:
• Castrol Hysol XBB and Alusol XBB multi metal soluble cutting fluids are formulated without boron or biocides.
• They reduce the need for expensive treatment additive top-ups, increase production efficiency, and reduce costs. They also extend fluid life and eliminate unnecessary repairs and interventions, while also maintaining high specification and improving performance.
Find out more here