Autonomous vehicles, electrification, and shared mobility are the key trends influencing the strategy and investments for most automotive manufacturers and suppliers today. These are causing automakers to rethink their business models and prepare themselves for fundamental changes in their design, manufacturing, and aftermarket processes. Siemens looks at how digitalisation can support e-mobility strategies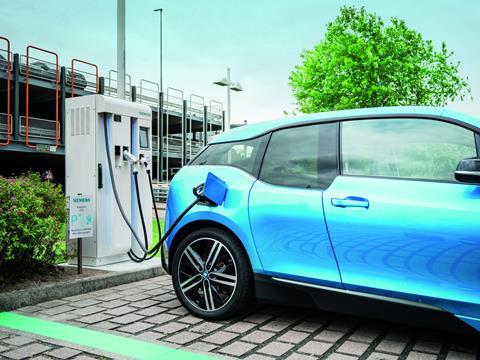 The automotive industry has been on a digital transformation journey during the last few decades. Advances in computing power, internet connectivity and speed, and next-generation technologies have accelerated this transformation to a new level. More recently, we have experienced that companies who have embraced digital transformation are able to manage their business operations and supply chains more effectively amid disruption. For others, it was a key learning to accelerate their digital transformation or run the risk of falling behind their competition. Digitalisation, a comprehensive digital twin, and the digital thread have become a necessity to support the rapid pace of innovation and complexity in today's market.
Embracing digitalisation to survive the present and win the future
At Siemens, we believe that the true leaders in industry will harness complexity as a competitive advantage. Our strategy to provide a competitive advantage for our customers is based on Xcelerator, a comprehensive and integrated portfolio of engineering software and services, and an application development platform that enhances electronic and mechanical design, system simulation, manufacturing, operations, and lifecycle analytics. Now, companies of all sizes can access the digital technologies to transform the way they compete, collaborate, and connect.
Smart manufacturing and electric vehicle production
With a comprehensive digital twin, automotive companies can attain highly efficient production by leveraging advancements in product and production technologies. Siemens digital manufacturing solutions support the engineering and validation of the processes and equipment required for the assembly of new products, the definition of a modern virtual factory to produce these products, and the use of information from the connected, real factory to accelerate and improve production.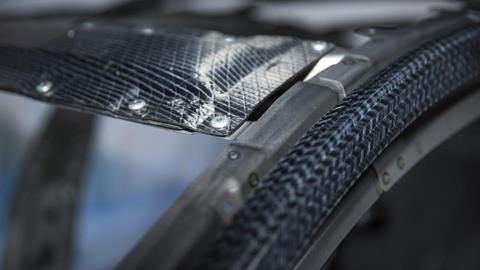 Product advancements
One of the more challenging aspects of electric vehicles is overcoming consumer range anxiety. Although battery technology is improving to reduce the size and weight of battery pack assemblies, manufacturers continue to focus on reducing the overall weight of the vehicle. New materials are being utilised for body and chassis components, which has implications for manufacturing. For instance, to join these new materials together new or advanced technologies involving rivets and adhesives, and production techniques from other industries may be required. Other examples include additive manufacturing, which has its own set of requirements such as specialised equipment not readily found on traditional manufacturing shop floors.

The introduction of new materials integrated with traditional steel parts or components produced with additive manufacturing may drive the need for specialised joining processes such as laser welding. These processes will require precise programming to meet quality and structural requirements that may not be possible with traditional means. Programming in the virtual world with the digital twin enhances the speed and accuracy of the activity. Programs can then be validated, optimised, and sent directly to production equipment on the shop floor via offline programming.
To reduce risks, many will start in prototyping. But to get these new products to market in a timely manner they must find a way to accelerate the transition from prototyping to production and scale up the use of these technologies to meet volume requirements.
Factory evolution
New technologies and changes in consumer demands are driving changes in how vehicles are produced. As a result, the factory of the future must enhance production by making improvements in three main dimensions. First, factory infrastructure will contain a multi-directional layout supported by driverless transportation systems, modular line setups that can be reconfigured to support changes in demand, and sustainable production that makes efficient use of energy and materials. Second, factory digitalisation will increase. Smart robots that can adapt to changing conditions will be deployed to support flexible production scenarios and collaborative robots will be deployed to work alongside humans to ease manual operations. Digital tools like augmented and virtual reality, and simulation will become commonplace to support these complex systems. Third, factory processes themselves will change, becoming more customer-centric to enable a higher degree of personalisation.
Manufacturing engineers must decide on the level of automation required for assembly processes. Available floor space, costs, process conditions, and labour availability are just a few of the factors that are often considered. The digital twin can be utilised to evaluate worker posture, vision, and accessibility. Specialised equipment or aids can be identified and added to ensure a safe and comfortable working environment and to avoid undesirable designs that may result in quality issues.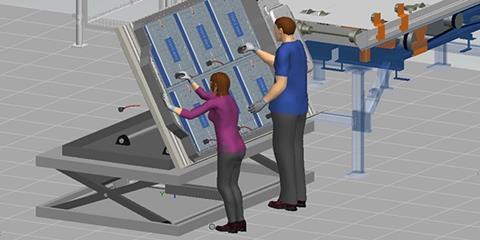 Robotics can support flexible, repeatable processes for complex assembly, however, programming must be orchestrated properly with other aspects of work-cell control like synchronisation and safety. Process simulation can be used to digitally engineer and validate robotic applications. Using Process Simulate in the Tecnomatix portfolio, engineers can select and place robots properly in a work-cell so that they fulfil all the required tasks. Potential interference conditions or safety concerns can be identified and solved prior to physical installation and programming and interlocks with other automation can be fully defined and validated prior to launch.
It is no longer required to completely guard a robot cell from people. Cobots can safely operate within a work-cell alongside their human counterparts and directly assist operators to facilitate assembly or improve ergonomics. The digital twin can be leveraged to prove out a process, address safety concerns, and train operators.
Nothing beats a first-hand impression. We have moved far beyond the cardboard and wood mock-ups with the use of 3D layouts and digital twins, but we still have a need for a first-person perspective. This is where virtual reality (VR) fits in. With VR, the user can be completely immersed into the 3D scene where they can interact with the simulation or components within the scene. Issues are easily identified and captured for further analysis and resolution. Collaboration is enhanced dramatically as multiple participants can join from different physical locations and conduct virtual reviews without the need for co-location.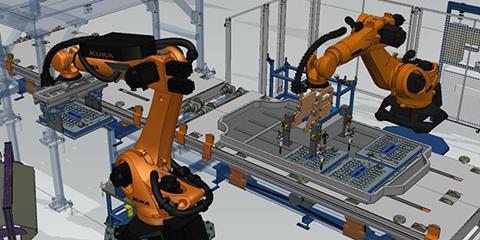 To support a modular and flexible factory architecture, we must de-couple the logistics from the physical line. Driverless transport systems or AGVs will communicate directly with production equipment to move material or production jobs between assembly locations. Debugging or testing such systems directly on the production floor increases risk and may cause delays. By connecting the manufacturing digital twin directly to virtual models of the production centres and the fleet manager, production scenarios such as traffic control, obstacle avoidance, automation interlocks, and other aspects can be tested and validated prior to execution on the production floor.
Many manufacturers will be faced with the challenge of mixed-model production as they transition their existing portfolios to support production of electric vehicles. Common assembly lines may be utilised to produce different types of products. Production personnel must create a balanced plan to meet production targets. This plan must account for multiple aspects such as cycle time, materials and logistics, and station capabilities and equipment. Planners must account for all required operations to build a specific product variant. Easy-to-use, web-based planning solutions support such activity. Using , planning engineers are presented with simultaneous visibility to station content, required operations for each product variant, and assignment status. Operations can be allocated to specific stations with immediate feedback of the impact on cycle time and assignment status, ensuring process completeness.
It is not enough to just consider individual production work-cells. To fully understand and optimise production we must consider the entire system behaviour. By leveraging factory simulation, engineers can perform multiple experiments very quickly to gain confidence that their plan and design will meet production requirements. Using Plant Simulation in the Tecnomatix portfolio, models can be developed with varying degrees of detail, based on data collected directly from the shop floor, to answer critical questions at any phase of the engineering lifecycle and are often utilised to evaluate and fine tune system architecture, material flow and logistics, and even scenarios to optimise energy consumption.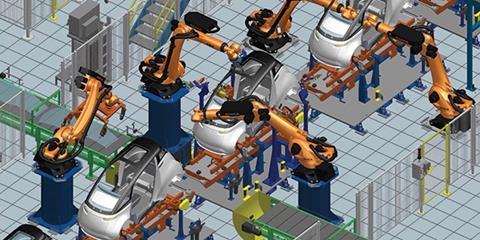 Production excellence
Digitalisation does not end during the engineering phases of product or factory development. To fully leverage the value of a digital twin we need solutions that can connect to real production and provide meaningful information back to any point of the connected digital thread.
Integration with PLM and ERP systems enables our customers to transform virtual production and production orders into real production execution. Our solution collects the bill-of-material/bill-of-process from PLM and the production orders from ERP. This Information is compared with real-time information from the shop floor, such as machine availability, maintenance status, etc., to generate an optimised production schedule. Logistics can then be syncronised and supported by AGVs.
Our connected hardware and software solutions can collect raw data directly from the shop floor. This data can be enriched with detailed information resident in the PLM system providing the necessary context to transform raw data into actionable information. This information can then be distributed at the correct time and to the correct department. This collaborative, closed-loop manufacturing approach helps our customers synchronise and optimise across product design, manufacturing engineering, production planning, and manufacturing execution to improve cost, time, and quality, and accelerate the delivery of products to the market.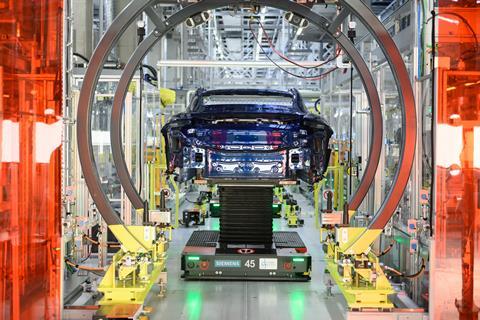 Closely coupled with closed-loop manufacturing (CLM) is closed-loop quality (CLQ). While CLM is primarily focused on improving production of the current product, CLQ is focused on improving the quality of the product across its entire lifecycle. CLQ is a continuous process, evaluating product quality at each stage and feeding quality information back into production and design processes. Its purpose is to ensure the quality of the current product while helping to improve the quality of next-generation products. Quality engineers can use Siemens Opcenter software and Teamcenter Quality software for this purpose.
Siemens provides a unique set of industrial IoT, edge, and low-code capabilities that are designed to share production data through the cloud. Factory data from different systems are collected and stored into a configurable, unified data structure with aggregation and multi-dimensional capabilities. These advanced capabilities enable efficient and real-time analysis of production KPIs to streamline production capacity across multiple factories.
The time is now
Electric vehicle manufacturing presents new and novel challenges to automotive OEMs and start-ups seeking to become major electric mobility players. These companies must adopt advanced manufacturing technologies and develop modular production facilities to produce the lightweight and flexible platforms needed for next generation EVs.
Integrated and digitalised manufacturing planning, simulation, and execution solutions can help these companies adapt and overcome these challenges by uniting manufacturing with design, and the real and digital worlds. This will enable vehicle manufacturers to accelerate production planning and ramp-up by virtually designing and validating production processes for cycle time, product quality, and operator ergonomics. Integrations with product design solutions allow engineers to optimise product designs for manufacturing and leverage the product digital twin during manufacturing planning and simulations. Robust PLM solutions ensure that an unbroken digital thread is maintained among OEMs and suppliers throughout the product lifecycle.
Consumer preference is shifting towards e-mobility, bolstered by government regulations and increased accessibility, as costs continue to drop. As the competition increases, companies that embrace digitalisation from product definition through manufacturing and
into production will be able to deliver higher quality products to market in less time and respond to changes with greater agility and intelligence. In the future, such capability will be necessary to succeed and thrive in the age of electrified mobility.
The time is now to move electric vehicle production into the fast lane. Siemens is the right partner to help you start your digital transformation today.
Find out more here
Report by:
Todd Bengtsson
Director, Manufacturing Automotive Solutions
Siemens Digital Industries Software
Mike Rouman
Senior Marketing Manager, Digital Manufacturing
Siemens Digital Industries Software