As the automotive industry looks to use thinner coating layers and reduce water, chemicals and energy consumption, efficient filtration is an increasingly important factor. MHD Magnets discusses the benefits of magnetic fluid separation and treatment technologies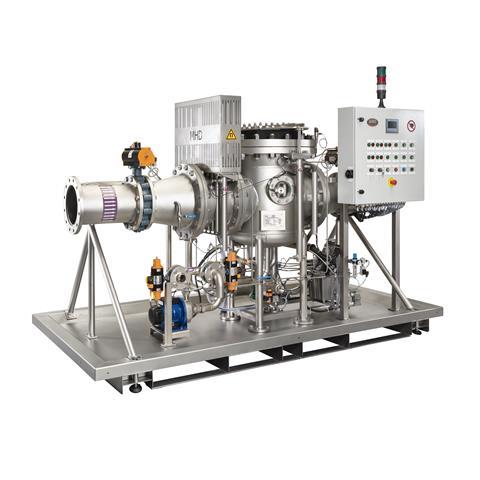 Magnetic separation
Established in 1986 MHD Magnets develops and manufactures patented magnetic fluid separation and fluid treatment systems and has over 400 magnetic separators operational in 175 car manufacturing plants across 5 continents. Since 1994 MHD Magnets says it has focused on further developing its magnetic separators product line.
Within this line the PACMAN inline magnetic separator is designed to effectively remove micron size ferritic particles from degreasing fluids. The main functioning feature of this unit is a tailored combination of magnetic engineering and fluid dynamics:
Permanent magnetic flux density of 1.28 Tesla (12800 Gauss), a surface area up to 2.7 m2 and accelerated longitudinal or transverse fluid flow of 0.4 m/sec over the magnetic elements at nominal flow capacity. In 2010 a new separator, the ROTOMAG, was introduced. MHD Magnets says this second line separator is specifically designed to remove the ferritic particles from the effluent coming from the PACMAN inline magnetic filter, to save energy and process fluid aiming to reach a zero-discharge situation.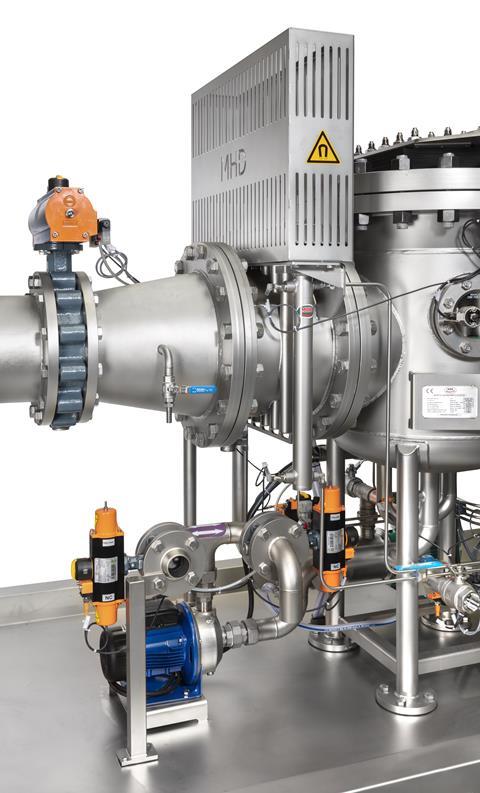 The optimised and integrated automation of this solution makes it possible to have up to three PACMAN separators in different stages of the pre-treatment process, drain on a single ROTOMAG. The automation is focussed and optimised to keep the PACMAN separators in filtration mode without having to "wait" for each other's drain, as this is the main function of the solution; removing the particles from the circulating degreasing fluid. Customers can also use this automation and integration with third party systems. Configuring the operation using the settings and adjustable timers enables it to be easily integrated into the installation, and by doing this allows for the most efficient and effective operation of the separators.
MHD Magnets has noted a key trend in the automotive industry to decreased layer thicknesses at the various stages in the paint line. This makes the separation of even the smallest particles from the pre-treatment stages more important. To address this requirement MHD Magnets has developed and patented the PREMAG – a flocculation magnetic field located on the inlet side of the filter. The company says this flocculation can significantly improve filtration efficiency for the finest particles. Formation of aggregates in the flocculation field increases the probability of capturing these larger particles in the main field. A 20% increase in efficiency of capturing particles < 15mµ can be expected. As well as for new installations, the PREMAG unit can also be retrofitted in existing installations. Amongst some others, three of these systems have recently been installed at VW's Puebla plant in Mexico.
Scale control technology
The magnetic treatment of fluids offers an efficient method of avoiding costly scale formation. Wherever water circulates as a heating or cooling mechanism, a water supply system, as process water either mixed with chemicals or not, the build-up of various types of scaling creates a major maintenance headache, potentially reducing productivity, increasing operational costs and increased risk of downtime. MHD Magnets says a properly sized and installed FLOWMAG solution will significantly reduce energy consumption and maintenance costs.
This scale control technology combines advanced magnetic and fluid dynamics to control the formation of scale in new piping and process equipment, preventing blockages and unscheduled maintenance. In existing piping and process equipment the corrective action entails the proportional dissolving and disintegrating of previously deposited scale. These deposits are then carried downstream with the passing fluid. Because of the direct influence of the magnetic field on the particles present in the fluid and the indirect effect of the electromotive force that is generated inside the FLOWMAG, the characteristics of these particles will change. This change in characteristics will in turn change the precipitation and crystallisation behaviour of the particles.
Contract manufacturer VDL Nedcar trialled it 25 years ago in their dip phosphate section, installing the magnetic modules in heat exchanger circuit and in circulation pipe work. The FLOWMAG systems have been successfully deployed at numerous vehicle makers since. In recent years many Asian plants have also adopted this technology.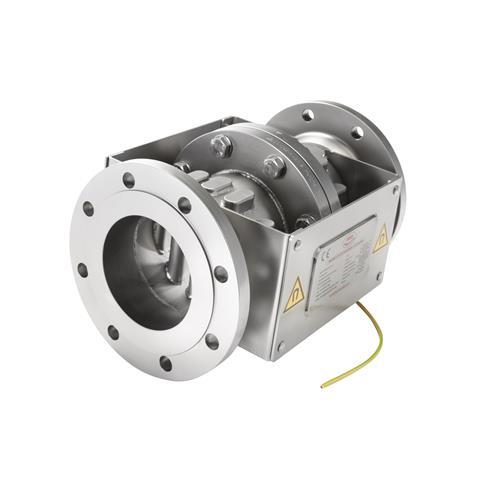 Environmental and cost benefits
MHD Magnets sees its main market, the automotive manufacturing industry, as a rapidly changing one, where the manufacturers are constantly striving to reduce their environmental footprint, aiming for zero-discharge operation, increasing product quality by changing production materials and decreasing production costs by reducing paint layer thickness. To meet these changing demands MHD Magnets says it continuously reviews and develops its technology and is working to create innovative, tailored products to support its customers' requirements.
With the PREMAG flocculation unit for the PACMAN magnetic separator and the fully integrated solution with multiple PACMANs draining on a single ROTOMAG, MHD Magnets says it is possible to effectively remove the finest ferritic particles from the degreasing medium. To meet the changing requirements due to the increased usage of aluminium and plastics, MHD Magnets is currently developing a new type of centrifugal separator. This magnetically supported multi-cyclone separator will be able to not only effectively remove the finest ferritic particles, but also other particles polluting the degreasing medium.
As well as the multi-cyclone separator, the company has looked at different configurations in how filtration systems are integrated into pre-treatment plants. The aim is to create better overall filtration, reducing the consumption of water, chemicals and energy. Commonly the pre-treatment plants use one or more types of filtration systems installed in the circulating pump pipelines (heat-exchanger line, spray nozzle lines, bottom tank nozzles line, etc) of each stage in the pre-treatment. This means that in most cases not all the circulating volume of a stage is flowing through a filter system.
An alternative to the above configuration would be to join several or all the circulating pump pipelines of a stage together and have this flow through one set of super-sized filtration systems before separating them into the heat-exchanger, spray and tank bottom spray nozzle lines again. If designed correctly, considering flow dynamics such as pressures etc., this has the potential to increase the percentage of the total circulating volume that flows through the filtration systems and improve efficiency. The second advantage is that you can achieve this efficiency improvement with fewer, larger machines, which will reduce the CAPEX and OPEX costs. This does mean a change in the design of the system, as it is not a common idea, requiring the cooperation of paintshop development and integration companies such as Dürr, Geico Taikisha, Parker etc. However, MDH knows of several OEMs in North America, Europe and India that have already combined several pump pipelines together in one stage of their pre-treatment plants.
This idea can be taken a step further by joining the pump pipelines of all the stages together and have it flow through a set of jumbo-sized filtration systems. This will maximise the advantages mentioned above.
Magnetic fields offer more benefits
The use of magnetic fields interacting with minerals in a solution to control scale forming precipitation of these minerals in an industrial process, is a more abstract application of magnetic technology. However, MHD Magnets has been successful in the application of magnetic modules in several zinc phosphate stages in automotive manufacturing lines and this is now becoming a proven technology in these environments where the costs of aggressive cleaning chemicals and labour are adding to plant maintenance challenges.
The company's R&D work has shown that the magnetic treatment of the phosphating process medium, will change the chemical process in the phosphating section. MHD Magnets says it believes that both the magnetic field (direct) and the induced electromotive force EMF (indirect) increases the amount of hydrogen bubbles and decreases the size of the bubbles during the chemical process. This will have an accelerating effect on the adsorption and desorption of significantly smaller hydrogen bubbles thereby improving the pickling and coating action, resulting in thinner, smoother and more homogeneous coating layers. This improved pickling and coating action is especially advantageous on sharp edges in the body panels, an aspect of quality concern and of considerable attention among vehicle makers. Several studies show that this effect takes place in the different types of phosphating solutions and processes commonly used, and in the more innovative zirconium processes. This is an area where MHD Magnets is working to do more research and testing with end-users in the future.
To develop products for that fulfil its mission to meet market demands, MHD Magnets has four principles that guide its activities:

• All high-end products deliver high efficiency, are maintenance free, can be automatically operated and easily integrated in factory systems.
• The green footprint of all products significantly decreases water usage by a zero-discharge operation and reducing the need for dumping of degreasing fluid with chemicals and pollutants and require minimal energy consumption.
• The separation technologies support the drive for thinner paint layers and reduce customer production costs while maintaining product quality.
• To meet challenges arising from the increasing use of the mixed materials (steel, aluminium and carbon fibre) in production applications the MHD Magnets product range will be expanded with magnetically supported centrifugal separation products.
Find out more here