Alexander Lenk at Amazon Web Services discusses leveraging data across all areas of the automotive industry to support sustainability and the possibility of revolutionising production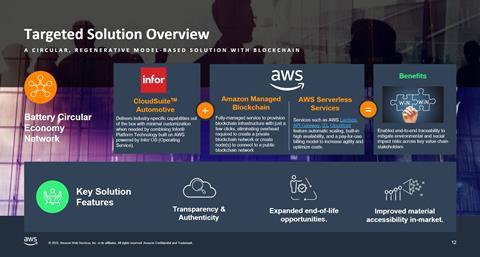 Trends like electrification, connectivity and autonomous driving are undoubtedly having a big impact on the automotive industry and manufacturing. There is also the increasingly urgent need for carmakers to lower their carbon footprints, which is shaping the way that they design and produce vehicles. All these points are underpinned by a common thread – data.
"My team and I are responsible for the largest of our customers like OEMs, Tier 1 suppliers and tech companies," explains Alexander Lenk, automotive solutions architecture leader for EMEA at Amazon Web Services (AWS). "For them, the challenges they face are big, starting from the need to get closer to their customers to dealing with alternative powertrains and electrification, and reaching sustainability targets."
For Lenk, the intelligent use of data is the only way to tackle these challenges. He emphasises the importance of understanding precisely what each OEM and Tier 1 customer requires. "We work back from the customer needs," he states, hinting at close relationships that often turn into partnerships or collaborations.
Going green with data
One of the top priorities of AWS' automotive customers, Lenk continues, is sustainability. For many car companies, running factories using green energy has been a key focus for years, with the aim of achieving carbon-neutral production and, in Volvo's words, delivering a carbon-neutral car to market. But it's not just about having a giant solar or wind farm to produce energy for the factory. As Lenk points out, there are other ways to make small but incremental improvements across the entire production line, many of which revolve around leveraging data in a smart and intelligent way.
"Our customers want to know how sustainable their products are, and so they must understand what goes into the products and how the pieces are being sourced" – Alexander Lenk, AWS



"We are helping to connect data silos, giving our customers insights within their own operations to tap into the data that already exists," Lenk says. "As you can imagine, OEMs and big enterprises in automotive may not typically use systems that allow for data to be collected, shared and used elsewhere. We are looking to help our customers leverage the data outside of the specific use case it was initially sourced for. So, for example, data obtained from a certain production process may typically be used to steer the production line, but it might also provide very valuable insights into how much energy is being used, and whether something could be done differently."
Data pulled from various stages of production may inform the process as a whole, helping carmakers refine operations and become increasingly efficient. This same data may also help with the stages that take place before vehicle production, like the sourcing of materials and supply chain operation. This, Lenk stresses, is another key focus area for AWS customers.
"Supply chain sustainability is a big topic," he confirms. "Our customers want to know how sustainable their products are, and so they must understand what goes into the products and how the pieces are being sourced."
Although trends like cockpit digitalisation, lightweighting, electrification and autonomous driving are changing the way cars are being built and having a huge impact on suppliers and the components they offer, there are still many traditional parts that have been used in vehicles for decades, if not centuries. These typically have legacy supply chains, with out-of-date systems used for tracking and presenting information to the carmakers.
"Think of everything that goes into the car," Lenk muses. "The leather used for the seats, for example, is often sourced from a different country. How can the carmaker know what the CO2 footprint of that material is, all the way from its raw source through its journey to the factory? While our automotive customers are focused on ensuring supply chain operations are running smoothly, I think this sustainability consideration along the chain is something new. The challenge that many of our customers currently have is getting insights and transparency, and connecting the data that might exist but is spun across the industry by different companies."
Managing data and multiple moving parts
Connecting data silos and ensuring data can be understood by more than one player in the supply chain will be crucial as the automotive industry looks to evolve, Lenk emphasises. But this goes beyond the supply chain. He is certain that the entire industry could benefit from better use and management of data.
"Many companies are coming to us because they want to participate in the innovation we are bringing using our computing and management services," Lenk reveals. This, he says, covers many different challenges, but ties in closely with the sustainability topic. "If companies have big, compute-intensive workloads, they are asking us if they can improve their CO2 footprint by doing something differently on AWS. They might be able to operate in a more energy-efficient manner by using AWS instead of one of their existing data centres. Or can they re-architect something to be even more energy efficient if they are using certain services and technology that we provide?"
Managing data effectively for a large carmaker that operates factories around the world, with virtually limitless data points potentially coming from a single production line, is extremely challenging. But the problem gets even trickier to deal with when considering suppliers and other companies that may be involved. Lenk refers to the production of batteries for electric vehicles as an example.
"If we think about the valuable materials that go into a battery, we must also think about recycling the battery and using it somewhere else after the life of the vehicle has passed. We could also think about using the pieces that are in there to produce new batteries. To do this, we need to consider transparency in the supply chain, but we also make sure that our customers have dependability. Firstly, how has each piece of the battery been sourced and produced, and then how has it been used? How has it been charged, how old is it? We need to ingest that usage data from the car and make it available and accessible for the recycling companies and other companies that may be involved."
At CES 2023, AWS, along with its partner Infor, presented a demo solution with a battery circular economy network architecture that uses Amazon Manage Blockchain, enabling the de-centralised storage of data. The idea is to track everything from the sourcing of materials and the individual production processes, all the way through the customer life cycle. Lenk admits that it can quickly become very complex and full of detail, but leveraging data in aspects like battery production and recycling could soon have a huge impact on the entire automotive industry, as well as other industries that could benefit from second-life battery usage.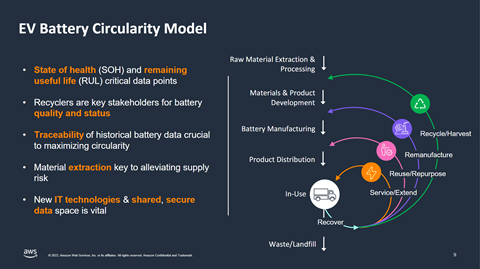 Definition through software
Recycling, continues Lenk, should be a consideration long before the car starts rolling along the production line. He underlines the need to design vehicles with recyclability in mind and thinks that this could have a significant impact on production processes. For example, windscreens and windows are tricky to recycle as they are fixed between layers of plastic during production to ensure they are protected. If a different material is used that does not require layers of plastic for protection, carmakers could save on costs and recycling could be made easier.
He also thinks that design and manufacturing could change dramatically by considering software ahead of hardware. "Our mobile devices are updating all the time, and while it might already be established with the vehicle navigation and entertainment systems, we have not yet found a way to update the whole vehicle and keep it fresh. That's a big challenge, and in my opinion, we will need to change usage behaviour. How long can we use vehicles, and what do customers consider "old" or "new?" We must make sure that the hardware and the technology can be updated."
In January 2022, AWS and Stellantis announced that they were working together to "accelerate the company's software transformation," with the primary goal of creating a suite of software-based products and services that integrate with customers' digital lives and add value over time with regular over-the-air (OTA) updates. These products will be personalised and tailored to each vehicle occupant. To do so, the carmaker revealed it was migrating its current vehicle data platform to AWS' cloud-based data mesh. The partnership also branched out to include plans for collaborative engineering and upskilling Stellantis' global workforce by leveraging the AWS data mesh.
Constant and rapid software updates in vehicles that are already on the road could also lead to evolution in design and manufacturing. Lenk advocates for change, suggesting that old norms are outdated and do not aptly serve rapidly shifting market demands: "Traditional development cycles for vehicles are between five to eight years, from being on the paper to starting production. That's a very long time in the fast-changing markets of today, so I think there is significant potential to help customers become more agile and quicken their time-to-market cycles. We are already designing and testing in the virtual environment, especially with automated driving where we can replicate scenes that might happen in the real world to test the system and give the car the experience. There is so much potential and opportunity to partner up and work together with our customers."
But one of the most exciting areas of change, he concludes, is taking place within the mindset of car design and production. "If you look at the traditional development process, first comes the hardware then comes the software. We are actively working on changing this, and giving the developers tools so they can create software for hardware that does not yet exist," Lenk states. AWS is using its Arm instances in the cloud to test software for vehicles that do not have a physical form. This shift in mindset as to how a vehicle is conceived, Lenk concludes, may change all aspects of the automotive industry, from design through manufacturing, and even vehicle delivery.