Czech Republic - The new Nexen Tire facility includes an automated quality system that identifies defects before they are made
Czech Republic - Nexen Tire has recently opened a new plant in Zatec - a small town in north western Czech Republic, about an hour and a half from the capital city Prague. Costing over US$880m, it will have the capacity to produce three million units in 2019, which is expected to rise to 11 million by 2022.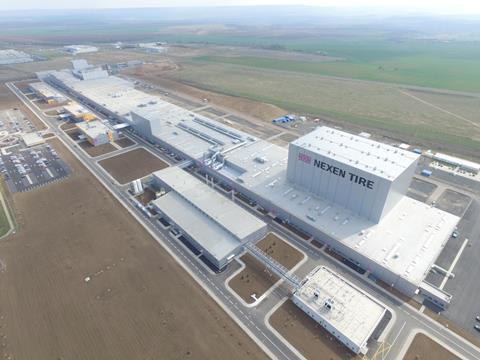 "The opening of the Europe plant will see an increase in Nexen Tire's efficiency in addition to a faster response to the neighboring automakers," commented Travis Kang, CEO of Nexen Tire. "Recognising the importance of being closer to our customers, we have established a production base to respond to their needs in a more prompt and flexible way. As Korea's leading manufacturer with a 77-year history of knowledge and technology in the tyre industry, we plan to increase global production capacity, going beyond the challenges and making big steps in the global tyre industry."
When it comes to tyre manufacturing, quality is an extremely important factor that must be considered at each step. The centrepiece of the new plant is the 'Smart Factory' - a production line that includes an operating system with the ability to identify any potential defects before they are made. The plant also includes an R&D centre in order to help with product development.
Nexen Tire now operates four production facilities and R&D facilities in the Czech Republic, China, South Korea and the US. The company also recently opened a research institute in Seoul, Korea, which acts as an integrated R&D hub.