South Korea - BorgWarner is celebrating a significant milestone at its starter facility in Changnyeong
South Korea - BorgWarner has recently made its 70 millionth starter at its facility in Changnyeong, South Korea. These are used in both passenger vehicles and commercial vehicles.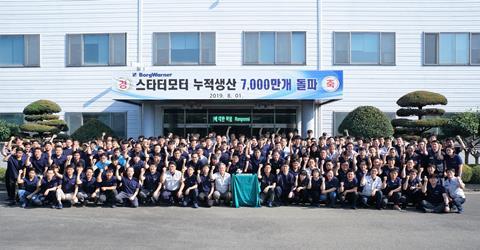 "We at BorgWarner are proud to achieve this goal as it shows the success of our starter technology," explained Stefan Demmerle, president and general manager, BorgWarner PowerDrive Systems. "We combine state-of-the-art technology and extensive engineering expertise with local production for our customers. We would like to thank our employees in Changnyeong. Without their dedication and the excellent work they have done during the past 22 years, this would not have been possible. Their commitment should enable us to reach the 100 million mark by 2029."
Production of starters at the factory started in December 199, and has since supplied starters to 43 OEMs across 21 countries.
The Changnyeong plant is one of seven BorgWarner production facilities in South Korea, the newest of which are in Chungju and Jincheon. The first was opened in April 2015, and is used to make ignition products, exhaust gas recirculation (EGR) valves and coolers, variable force solenoids, diesel cold-start technologies and coolant control valves. The Jincheon facility was opened in October 2015, and is home to the production of automatic transmission components including clutch modules, clutch sets and friction plates.
A recent AMS analysis article looks at the cost of manufacturing in Korea.