Volkswagen has committed a $7.1 billion investment to boost its product line-up, R&D capabilities and manufacturing capacity in North America across the next five years.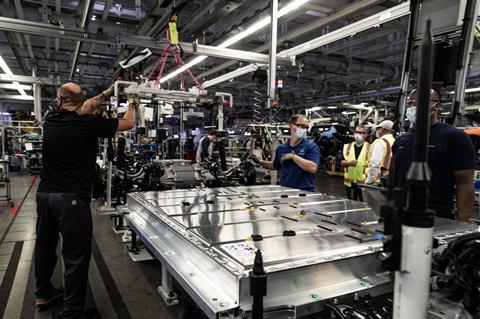 The German OEM is locally integrating its internal combustion engine (ICE) and electric vehicle (EV) assembly and prioritising American-based engineering, battery prowess and software development.
Developing regional production is the centrepiece of VWs plan for the American marketplace. Over 90% of its vehicle portfolio for North America is assembled locally, including the Atlas and Atlas Cross Sport SUVs at its plant in Chattanooga, Tennessee and the Tiguan, Taos and Jetta in Puebla, Mexico. As part of its electrification shift, Volkswagen aims to expand these capabilities.
The strategy builds on arrangements to up EV production at VW's Chattanooga facilities. Assembly of the ID.4 SUV is set to begin this year, with components primarily from regional suppliers. The company also plans to further develop its factories in Puebla and a powertrain plant in Silao, Mexico to produce EVs and essential components, such as electric motors.
VW aims to make 55% of US sales fully electric by 2030, consistent with the US government's directives to make half of all new passenger vehicle sales EVs by that year.
According to Scott Keogh, president and CEO of Volkswagen Group of America, the company will begin to remove its gasoline-powered vehicles from its American line-up, ending sales at the beginning of the next decade as it prioritises sustainable models.
VW is now expanding its electric line-up, including the ID, with the American-assembled ID.4 electric SUV this year. The Buzz electric microbus will follow in 2024, and new electric SUVs from 2026.
Overall, the company will introduce over 25 new battery electric vehicles to the North American market by 2030.
All principal design and engineering capabilities for the body and interior of models are intended to increase and reach the market by 2030.
VW has also invested over $2.7 billion in supplier partnerships throughout the North American continent to establish the groundwork for launching the American-assembled ID.4. This package includes supporting its battery partnership with SK Innovation.
In addition, the global Volkswagen Group is increasing its battery cell production in the US to meet the growing demand for EV batteries. Governance and finance models are being analysed to conclude the decisions this year, according to the company.
In May, VW's new Battery Engineering Lab (BEL) in Chattanooga will begin operations. Following a $22-million investment deal, the BEL will provide the capacity for testing and validating batteries for all Volkswagen electric models in America.
The Center of Excellence (CoE) NAR Battery, located in Belmont, CA, and Chattanooga, will also use expertise and research in battery cell technology.
In collaboration with technology partners Quantumscape, the CoE is helping to expand solid-state battery technology and 24M, which is adapting battery cell designs.
In August 2021, Volkswagen announced that it would be launching a digital transformation push across its manufacturing base in the United States and Mexico, extending its cloud-based industrial network, run together with Amazon Web Services (AWS), beyond Europe for the first time.
The carmaker will invest $1 billion in electric mobility and digitalisation in North America, seeing technologies such as artificial intelligence, cloud-based industrial software and intelligent robotics established under factory operations.
The scale of investment reflects VW's focus on American consumer changes. National authorities are pushing to increase EV production and ramp up the replacement of combustion engines with battery-powered vehicles.