Michigan-based Trantek Automation turned to Magswitch for help in finding a simpler way to error proof an automotive seat frame process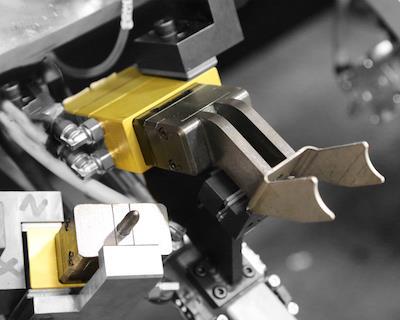 Automation cells rely on a wide variety of equipment working together harmoniously to provide instantaneous and accurate feedback when producing a high-quality component. It is not always possible to detect every condition reliably within the constraints of a given application. This can result in the scrapped parts and possibly downtime to fix the problem.
The plethora of cables, connectors and devices means there are a growing number of failure points in automation systems. New technology is making it easier than ever to combine end-of-arm gripping solutions with integrated electronics to provide robust feedback in a compact package that can do more than your average clamp. Smaller companies breaking into the market are delivering better value through the leveraging of new and sometimes disruptive technology.
Identifying the problemTrantek Automation Corporation of Traverse City, Michigan, recently faced a perplexing problem trying to determine a simple way to error-proof incoming brackets used in the production of an automotive seat frame.
Each incoming U-bracket is supposed to have a weld nut on it when it enters the cell. Often the U-bracket arrives for assembly with the nut present, however, occasionally components arrive without one. Due to this potential inconsistency in arriving parts, inspection is necessary prior to the welding process. Because of space constraints caused by traditional tooling and weld torch access, there was no easy way to poka-yoke the presence of the weld nut on the U-bracket.
Development processUnderstanding the constraints involved is the first step in identifying any successful solution. Magswitch's president of automation, Joe Cyrek, went on site to Trantek to discuss the goals of this project and address the challenges being faced. Cyrek says: "Bringing a fresh set of eyes to the project allowed the team to break out of the confines of traditional designs and begin evaluating the application, utilising a new disruptive technology."
The project was coordinated through the applications engineering team at Magswitch headquarters in Lafayette, Colorado. Tools were selected and tailored to meet and exceed requirements. The engineers were able to generate 3D CAD models of the assemblies with the magnetic grippers in place for review. After initial concepts were evaluated, customised components were created to fit the project and sent out for manufacturing.
Final fit-up and testing of components was completed at the Wixom, Michigan office and supplied to the Trantek team for installation. Further support was provided to ensure all supplementary processes for the correct operation of the tools had been considered. Magswitch support doesn't end after an order is placed as the team is focused on providing a complete solution from conception to installation and production.
"The biggest risk is assumption. We too often see a design at sign-off and realise that traditional EOAT engineering does not always deliver best value or results from our technology," says Cyrek, a 20-year veteran of automation production and systems.
Magswitch technical supportMagswitch application engineers use a suite of technical tools and processes to supply relevant information about a tool's effectiveness in a given project. The team specified the appropriate tool and created corresponding customised pole shoes and pin kit for accurate locating of the component.
Then using advanced magnetic FEA from industry leader ANSYS, Magswitch was able to validate the magnetic field did not interfere with GMAW integrity and proper arc. This is due to the flux being compressed and directed through the pole shoe locating pin kit achieving a higher flux density.
Industry standard NAAMS mounting allows for repeatable and standardised fixture mounting on most tools making it easy to fit into existing tooling. Magswitch designs and fabricates any mounting accessory or attachment to ensure a perfect fit. The customised pin was designed with a Titanium-Nitride (TiN) coating with low friction i-Kote technology from Magswitch partner Tribologix.
This provides long-life wear resistance and self-lubrication for the locating pin assembly. With an expected lifetime over 2.5 million cycles, these tools outperform the competition in longevity.
The verdictSpeaking to key personnel at the installation site provides a clear picture into the results these tools have provided making the project a success: "I installed these tools in half the time as traditional clamps, due to NAAMS mounting scheme, and single sided holding," says Mark Reich, Trantek's lead mechanical builder.
"This is a revolutionary way to solve the age old problem of how to poka-yoke the previous operation," says Fred Leishman, Trantek's vice-president. "Magswitch's support sets it apart. Not many product companies offer real-world solutions to real-world problems anymore. The experience of the Magswitch team is greatly appreciated."
Problems are likely to arise in any new project, especially when industry leaders are pushing the design envelope. Everybody is chasing incremental improvements in efficiency and performance. New technology and innovative solutions are required to achieve desired results.
Magswitch has consistently provided the engineering expertise and quality technology needed for industry professionals to meet and exceed the challenges they face. "Our tools have to be lighter, faster, lower life cost, use less energy and, where possible, lower EOAT weight, reducing capital cost of the cell," says Cyrek.
With a global network of engineers and distribution, Magswitch is well positioned to change the way things are done in automation.
Senior engineer at Magswitch automation, and manager of the global applications teams located in US, Asia and Europe, Michael Blanchard says: "Despite the complexity, the process is reasonably simple; part drawings and application description enables us to get started. In 24 hours we know the budget for tools and then we do detailed analysis."
Cyrek concludes: "Magswitch provides application engineering support daily to customers all over the world. Partners like Trantek are lowing costs for OEMs and increasing revenue by delivering value. What is interesting to us at Magswitch is the dramatic growth we are seeing not just in traditional automotive OEM business, but the growth of industrial automation across a range of industries."
SMART J30 tool with pin clamp shoe kit
Smart J30Magswitch's SMART J30 tool with pin clamp shoe kit does more in a compact package. Applying this tool allows for easy and safe operator loading without pinch points due to single-sided work holding without external moving components. Precision repeatable mounting via NAAMS pattern on the tool along with a pin attachment allows for proper GEO positioning of the U-bracket and structural tube.
But the real hero of this story is the Magswitch built in, programmable, error proofing that can both verify that the correct U-bracket is loaded and indicate whether the gripper is active.
Connecting an M12 cable and supplying 24VDC is all that is required to take advantage of the smart technology inside. A quick calibration process allows the tool to identify ideal components and the range of positions that are allowed. The system can also be instructed to identify double blank conditions preventing misfeeds, handling of incorrect components, and even incorrect positioning of a given part.