General Motors has unveiled plans to invest over $46m at its Parma, Ohio, metal stamping operation to expand equipment upgrades and lay the foundation for the facility to support future product programs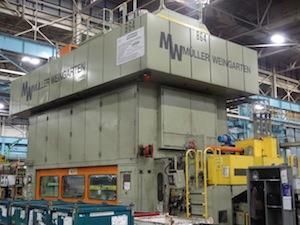 "Our Parma operation is a longtime leader in metal stamping capabilities and this investment reflects our confidence in the employees at Parma," said Phil Kienle, GM vice president of North America Manufacturing and Labor Relations. "This investment will help the Parma team continue producing high quality, sheet metal stampings for a variety of future GM products."
The investment will also help provide job security for the Parma workforce, according to GM.
Opening in 1948, the Parma plant produces sheet metal stampings and assemblies for multiple GM product programs. The renovation work will begin immediately at the facility.
The Parma Metal Center processes over 800 tons of steel per day and services or supports the majority of General Motors North America produced vehicles. In addition, Parma has over 750 total dies and can produce up to 100 million parts annually.
Small, medium and large transfer press lines are all included in the manufacturing process, as are high speed progressive presses and a world class cut-to-length shear, and GM North America's largest stand-alone, multi-cell, resistance and laser welding metal assembly operations.
Parma employs a headcount of approximately 1,000. Hourly employees are represented by UAW Local 1005.
In 2017, the OEM announced that its manufacturing facilities in both Ohio and Indiana would be powered by 100% renewable energy through the purchase of 200MW from wind farms. Following the acquisition, renewable energy would account for 20% of GM's global electricity use.