The two companies would seek to develop a digital twin or virtual blueprint of an optimised manufacturing process for producers of battery cells.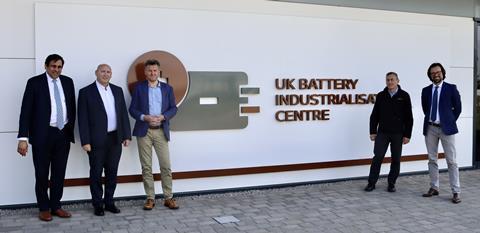 German Industrial testing company Waygate Technologies, a division of Texas-based Baker Hughes, has signed a memorandum of understanding (MOU) with the UK Battery Industrialisation Centre (UKBIC) which provides services to battery manufacturers, to accelerate work on automotive electrification, Waygate said in a statement.
The partnership will seek to create a digital twin, or virtual simulation of all the steps involved in production of batteries at industrial scale, to provide an efficient blueprint for future giga-scale manufacturing. It would combine UKBIC's research into battery manufacturing with Waygate's expertise in product testing through industrial computed tomography scanning.
"This signing has the potential to ultimately lead to marked improvements in our manufacturing and process qualities, something that will benefit the industry as a whole," Russ Burke, UKBIC's Head of Quality, said in the statement.
Waygate Technologies CEO Nicola Jannis said the battery industry was an area of strategic growth for the company through industrial and digital solutions for the battery industry where it has already gained experience in inspection services.
The company's partnerships with global manufacturers aim to improve vehicle safety and also reduce waste of resources.