The Swedish battery cell manufacturer is ramping up capacity to build battery cells with a 60 GWh capacity plant in Heide, Germany. It follows a joint venture investment with Volvo and further investments in the upstream supply chain.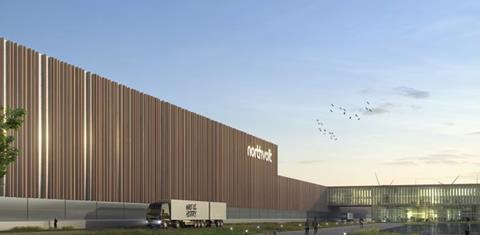 Northvolt plans to build a new battery factory in northern Germany, as the Swedish battery cell startup expands its capacity to help meet demand for electric vehicle production.
The new plant, which is being called 'Northvolt Drei' (Northvolt Three), will be in Heide in Germany's northernmost state of Schleswig-Holstein, which was selected thanks to its "clean energy valley" reputation, including windfarms to provide power, according to the company.
"It matters how we produce a battery cell. If you use coal in your production, you embed a fair amount of CO2 into your battery, but if we use clean energy, we can build a very sustainable product," Northvolt CEO Peter Carlsson said.
The new plant is expected to produce 60 GWh of battery cells annually, sufficient capacity for supplying around 1m cars per year, according to Northvolt.
The company said that production at the plant could begin in 2025 and will provide some 3,000 jobs.
Northvolt already operates one gigafactory in Skellefteå, northern Sweden, which started production last December. It is also planning a joint venture plant to produce 50 GWh in Gothenburg together with Volvo Cars, which is set to initiate operations in 2025.
The Heide factory will take Northvolt's planned battery manufacturing capacity to above 170 GWh per year.
Earlier plans to build a gigafactory as a joint venture with Volkswagen in Salzgitter, Germany were shelved after Volkswagen Group decided to take more battery production in-house and took over Northvolt's 50% share in the planned factory. The German carmaker remains an important customer for Northvolt and is also its largest shareholder.
In February, Northvolt also signed a letter of intent with paper and biomaterials group Stora Enso that it would convert a former papermill in Borlänge, Sweden into a manufacturing site for active cathode material, with operations expected to start in late 2024.
Northvolt plan to increase its battery production capacity to 30 GWhs by 2023. According to a company release, it aims to enable recycling of 125,000 tonnes of batteries per year.
Northvolt has already secured €44.6 billion ($50 billion) in orders from European car giants, including from BMW, Volkswagen, Scania and Volvo Cars.
In 2020, Europe accounted for just 3% of world battery cell production. However, amid a Chinese dominated market, the continent aims to corner a quarter of the market by the end of the decade, with several factories planned to be opened.
"Localisation of the battery supply chains is also increasing for a variety of other reasons. To reduce logistics costs, to help ensure security of supply in times of disruption, to capture the lucrative battery value chain for Europe, but primarily to lower the costs for battery production and ultimately to lower the cost of EVs," said Daniel Harrison, automotive analyst at Ultima Media. (For more information on global market share, see the AMS gigafactory database.)
Scaling battery production will be the focus of the next AMS Automotive Evolution Livestream on March 31, where experts will discuss strategies for efficiently and sustainably increasing battery production