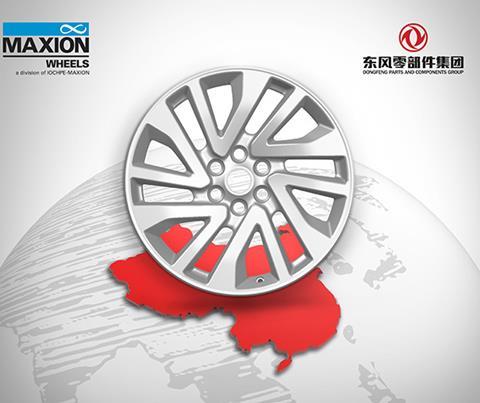 China - Dongfeng Motor Parts and Components Group has formed a new joint venture company with Maxion Wheels - a division of the Brazilian wheel and structural component manufacturer Iochpe Maxion. The new company is called Dongfeng Maxion Wheels, and will look to serve the global market.
"Growing our presence in Asia is one of Iochpe-Maxion's priorities," commented Marcos Oliveira, president and CEO of Iochpe-Maxion. "Coupling Maxion Wheels' global customer relationships and significant aluminium wheel expertise with Dongfeng Motor Parts and Components' goal to expand its portfolio to include light vehicle aluminium wheels is the makings of a strong partnership. We are honoured to join Dongfeng's strong and dynamic organisation and through our joint venture provide world-class aluminium wheels for our global and domestic Chinese OEM customers."
The plan is to build a new plant in Hubei Province, China, generating around 450 new jobs in the region. It will have a capacity of 2m units per year, churning out low pressure die cast aluminium wheels. Production is scheduled to begin in the second half of 2020.
Construction of the new facility comes at a time of change in China's automotive industry. According to the China Association Of Automobile Manufacturers (CAAM), sales figures dropped to 2.37m units in January 2019, marking a 15.8% decline compared to the same month in 2018. December and November also saw a drop in sales by 13% and 14% respectively.
As a result of weakening sales, some carmakers may be rethinking their strategies in the country. A recent report from Fitch Research suggests that Hyundai and Kia are "considering suspending their respective vehicle production plants in China."