GM has made two recent investments in order to boost production of its best-selling pick-up trucks in the US
US - General Motors has revealed plans to spend US$150m on its Flint Assembly plant in order to increase production of the new Chevrolet Silverado and GMC Sierra heavy-duty pick-ups. The plan is to make an additional 40,000 units annually in order to keep up with continuously growing demand.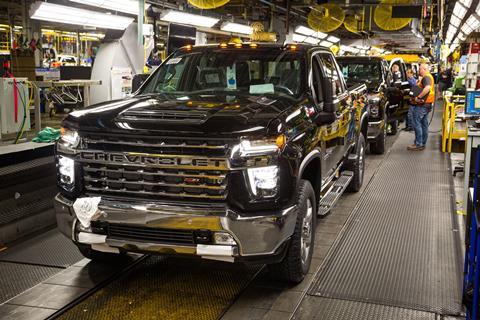 "We have tremendous opportunities to grow our heavy-duty pickup business, because we've invested in capability, performance, innovation and capacity," noted Mark Reuss, GM's president. "Our all-new Chevrolet and GMC HD pickups are the toughest, strongest, most capable heavy-duty pickups we've ever brought to market, and our Flint team is up to the challenge to build world-class quality products to drive the growth."
Sales of the Silverado and Sierra were up 20% during the first quarter of 2019 when compared to the same period in 2018. The two models are the highest selling in the US full-size pick-up market.
The $150m will be spent on improving conveyor systems and other tooling at Flint Assembly. Work is set to be completed in the first half of 2020.
The news marks the second major expansion to its full-size pick-up production capacity this year. It comes shortly after GM announced it was increasing capacity at its Fort Wayne plant in Indiana to make more of the Silverado and Sierra pick-ups.