Slowing orders and the electrification transition prompts tier ones trimming back on investment, a DIHK study finds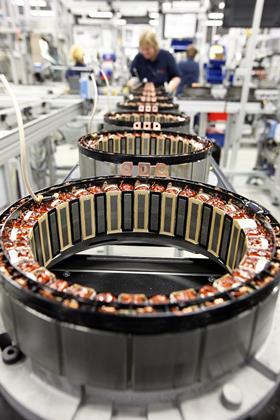 A survey conducted by the German Chamber of Commerce and Industry (DIHK) has revealed that more than half of Germany's automotive suppliers are planning to cut jobs. The study found that, faced with declining orders and the automotive industry's transition to electric drives, automotive suppliers are looking to cut back on investment.
Other factors cited by respondents included the growth and potential of automation with automotive production as well as the fewer components required for a typical electric drive assembly compared with conventional powertrains.
DIHK CEO Martin Wansleben said the survey had unveiled "a bad situation" for Germany's automotive industry with international trade conflicts, Brexit and the weak global economy weighing heavily on business as a whole. "We need a clear strategy for expanding the charging infrastructure and fair compensation for higher CO2 prices for gas, oil and fuels from 2021," Wansleben said. The globally-connected nature of the automotive supplier network means, inevitably, that the German situation reported by the DIHK will be mirrored in territories elsewhere.
In the recent AMS-supported webinar on How to mitigate falling profits in the automotive supply base, editor-in-chief Christopher Ludwig and automotive analyst Daniel Harrison discussed the expected consolidation among tier ones hit hard by challenges and headwinds. Harrison said: "This huge transition to electrification has clear implications for tier suppliers in terms of their product focus and product mix, their tooling and also their expertise."
"As our analysis has shown, we expect industry consolidation among tier suppliers in areas that are more commoditised or in managed decline, such as for conventional ICE powertrains and basic mechanical components. We have seen that recently with the announcement that BorgWarner will acquire Delphi Technologies."
Ludwig added: "In some ways, tier one supplier consolidation will have the effect of creating more integrated suppliers. For example, in combining Calsonic Kansei, a supplier with historical links to Nissan, and Magneti Marelli, which had been owned by Fiat Chrysler, into Marelli, the private equity-backed company had said it would become more of a tier 0.5. It is already looking to play that role in electrified powertrains and lighting, and will look to do so elsewhere through acquisitions, for example in sensors and autonomous driving features."
Watch the webinar in full below:
Automotive from Ultima Media's battery supply chain report will be available on AMS by mid-March under our Insight menu.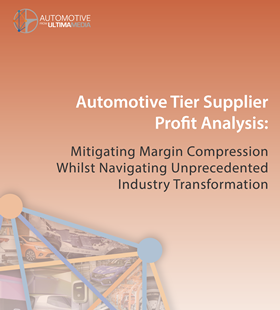 This webinar was based on findings from our latest report on tier suppliers, "Automotive Tier Supplier Profit Analysis", which includes 10 years of profit analysis and individual company profiles of the top 20 global automotive suppliers. Download the 80 page report here for free.
This report and webinar were produced by the global business intelligence unit of Automotive from Ultima Media, which also publishes Automotive Manufacturing Solutions. For more original forecasts and trend analysis, visit our archive here.
For information and further comment, contact:
Daniel Harrison, automotive analyst
Christopher Ludwig, editor-in-chief