Sprimag is responding to increased demand for wheel bearing coating thanks to its sophisticated technology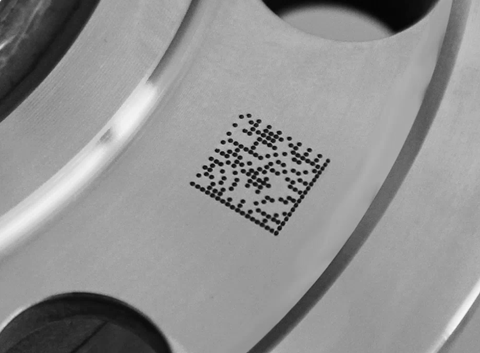 While coating brake discs is a well-established practice in the automotive industry, more and more wheel bearings are being equipped with anti-corrosion protection. The extension of service lives means that manufacturers are eager to coat wheel bearings to avoid them from failing prematurely. An increased use of aluminium in automotive manufacturing also means that contact corrosion occurs more frequently, which can be countered with an appropriate coating.
Aesthetics also play an increasingly important role, furthering the case for coating. Whether to coat wheel bearings and which process to use is both a strategic and economic choice. For example, some OEMs are fundamentally set on using 100% rust-free parts, while others only require anti-corrosion protection on certain parts or in certain places. Requirements surrounding the durability of the coating also vary greatly, to the extent that the target values used in the salt spray test fluctuate between 100 and 720 hours. Moreover, there is a difference between a complete and partial coating, which also ends up having an effect on the entire system concept. All of these factors mean that there are now different painting systems on the market for a variety of coating requirements.
One special feature of wheel bearing coating is that no high temperatures can be used in the drying process as this would damage components that have already been fitted. For this reason, either solvent-based zinc flaking systems with comparatively low drying temperatures of between 80 and 120°C or UV paints are used. Sprimag has implemented different coating system concepts with complete and partial wheel bearing coating across the world. Already the third automatic round table coating machine for wheel bearing coating for one customer left our assembly hall in Kirchheim over a year ago.
For this project, Sprimag was not only responsible for the coating system, but also for the entire parts handling process with automated part loading and unloading. The partial UV coating takes place at two stations, each with two spray guns with the parts rotating. A special paint heating system, which ensures constant temperature control and viscosity, conveys the paint to the spray guns. The UV paint is also dried at two stations within a few seconds. The system allows the parts to be independently rotated at this point during drying. This means that the parameters for the UV hardening can be set independently of the coating parameters. Complete coating Sprimag has recently developed two chain-on-edge coating machines for complete coating of driven and non-driven wheel bearings.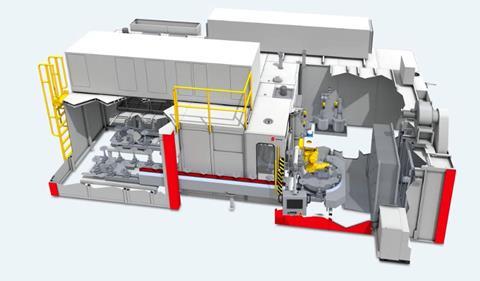 Additional drive and pneumatic centering units are implemented for precise positioning of the transport trolleys in order to allow the systems to be securely interacting. Several robots completely coat the wheel bearings while they are rotating. Areas can be left without coating by using the appropriate nozzle technology or automated masking units. Components in wheel bearings, such as seals and lubricants, cannot be subject to high temperature drying processes as are found in the customary zinc flake systems. Alongside good anti-corrosion protection, this drying feature is the decisive factor for our customers because the wheel bearing is in its final assembled state. After the cooling zone, a product and a process check, is carried out. The flange to the brake disc side, which has tight tolerances, is measured at many points with a contactless coating thickness measuring system.
At the subsequent station, the rotation of the wheel bearing can be adjusted and the diameter of the wheel and brake disc seating is checked. Then, a Data Matrix Code and text is applied using inkjet. Finally, the parts are presented to the worker via a conveyor belt for manual unloading. At the beginning of each project, extensive testing is carried out in the Sprimag Applications Centre in order to determine the relevant process parameters and to decide on the customer-specific system design. Alongside process evaluation, small batch samples are also coated for the customer to inspect the quality, and also to deliver them to their customers for their pre-serial test procedures. For many OEMs, wheel bearing coating is still an economic consideration. We are catering to the varying needs of our customers by continuously developing our system concepts to offer compact, robust and cost-effective systems with the suitable application technology.