Automation is nothing new, but ongoing developments are allowing more intelligent use of these machines.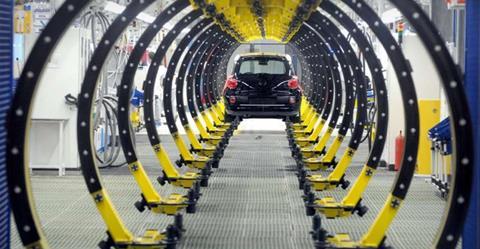 Technologies such as 5G mean faster communication and the ability to leverage large amounts of data, while the challenges of electrification and a global pandemic could change the way we make cars forever.
Sensing enhancements
Perceptron, a company with a strong focus heavily on metrology-based solutions for manufacturing, have adapted their optical tracking technology, used for accurate inline gauging systems, for use on process robots. For inline gauging, a "constellation" of emitters is integrated into the end of arm tooling that holds the measurement sensor, enabling absolute accurate measurements. By placing single emitters on any process robot, it enables them to adjust their position relative to the work piece to the extent that even the thermal expansion of the robot itself (around 0.25 – 0.5mm) can now be corrected.
Perceptron has been promoting 100% measurement for decades but this development allows for 100% correction with an active and accurate feedback control system, as Rick Van Valkenburg, vice president, Global Sales and Marketing at Perceptron notes, "We measure, we offset the robot, then we check the final position of the process robot prior to process completion, this can be applied to piercing, welding, stud application and more."
While an extremely useful development, it highlights the dramatic increase in the amount of data manufacturers are challenged with daily.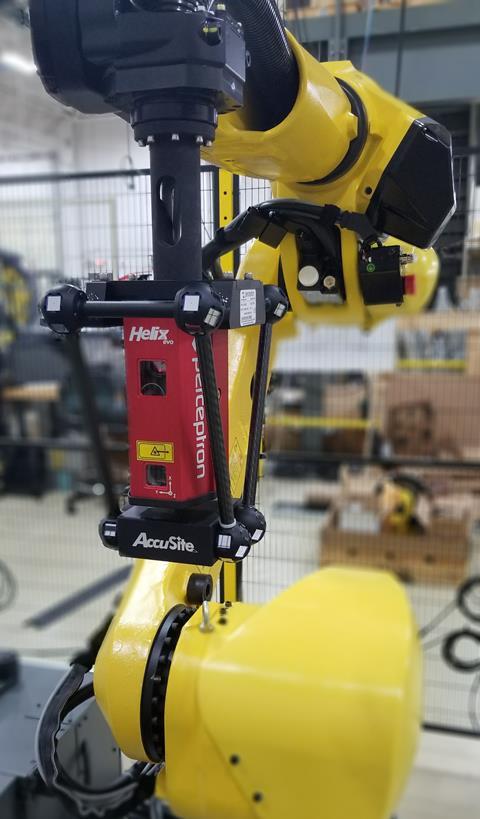 Internet of Things
The solution is to take the data straight into the IT system, as IFM Electronic's Industry 4.0 System sales manager, Paul Stansfield explains, "On each control module on the line, we can now have an Industrial Internet of Things (IIoT) port, which is connected to the IT system, allowing the data to be sent in a protocol it can understand, rather than in a process protocol"
This means that the programmable logic controller (PLC) only deals with the control of the machines, while the IIoT communicates with a cloud or server-based analytical system. After the data has been analysed, changes to the parameters of sensors can be fed back on a live basis.
In the past, these changes would have had to have been completed manually, meaning stopping the production line. With the growing use of multi-model production lines, this connection can also be used to make small changes in settings for different models, allowing more agile use of production facilities.
The introduction of 5G is key to the ongoing development of this solution, as it allows much faster transfer of data to cloud based solutions, potentially negating the need for large servers, thus reducing hardware costs.
External forces
The changing face of the industry is also playing a role in the move towards automation, and Dominique Scheider, industry manager, Automotive and Tire, Rockwell Automation, is clear on the challenges this presents, "No one knows what will be with EV, Hybrid, or even hydrogen, but it will not be one solution. There are so many parameters, so flexibility and managing ambiguity is day-to-day life for us and our customers."
This is also creating different approaches to manufacturing as a whole, with gigaplants from the likes of Tesla, and much smaller microplants for smaller EV manufacturers. This variation in manufacturing scale is forcing control system manufacturers to adapt and scale down their offering to cater for these smaller, more agile production facilities.
This comes with its own challenges, and Rockwell Automation have observed that suppliers are beginning to move away from turn-key production projects in favour of subscription models, where they pay a monthly fee for the services they require only.
It's also forcing suppliers to cooperate more closely, as the need for the sharing of data becomes more important. This raises questions when it comes to intellectual property, but some view this open source approach as essential to meeting the needs of an increasingly flexible industry.
"With current automation technologies, it's possible to achieve autonomous manufacturing, but the industry is not ready yet to accept a machine taking full decisions on human's behalf. It will take five, maybe 10, years to get to this point" – Lucas Majewski, Mitsubishi Electric
The longer-term future could see factories operating on an almost entirely autonomous basis. In technological terms, Lucas Majewski, director of Global Key Accounts at Mitsubishi Electric Europe believes, "With current automation technologies, it's possible to achieve autonomous manufacturing, but the industry is not ready yet to accept a machine taking full decisions on human's behalf. It will take five, maybe 10, years to get to this point."
The reluctance to move to full autonomy is driven by the desire of many OEMs to still have process engineers taking an active role, while the growth in micro plants has shown that there remains a need for new ways to create manufacturing jobs.
Accelerated change
The global coronavirus pandemic has only accelerated the drive towards autonomous production, as businesses look to adapt to a socially distanced world. Paul Stansfield notes, "If any good comes from this situation, it's that people are thinking in a more digital manner; about how to improve productivity and efficiency."
Scheider agrees, "If you listen to Renault or PSA in France, or others, they insist on having employees working from home for much longer than COVID-19 is forcing them to. I see a link between automation and this trend; to be able to have employees working on global projects to design new cars in a digital environment and, from that, engage in a digital journey to the manufacturing side once the products are being correlated to equipment and line builders, who are also working in a digital environment. It had started before, but now there is an alignment of the planets to make this not only a dream, but an active project."
Augmented reality is playing a role, allowing experts to be in front of a machine remotely, supporting those on-site by being able to see what they can see, without having to travel. Improvements in simulation are allowing accurate modelling of the production process before the line has been built or modified from a previous configuration. The ability to import accurate models of the product CAD, the required robots, and run the logic through the PLC prior to making any physical adjustment is an increasingly powerful tool.
The automotive industry has, traditionally, been one of evolution rather than revolution. However, external demands are pushing manufacturers to rethink their approach, while technology improvements are allowing them to leverage data in a much more productive way, enhancing efficiency and quality, while allowing them to meet the needs of a world that demands ever greater flexibility.
Read more about automation in the AMS Winter digital edition.