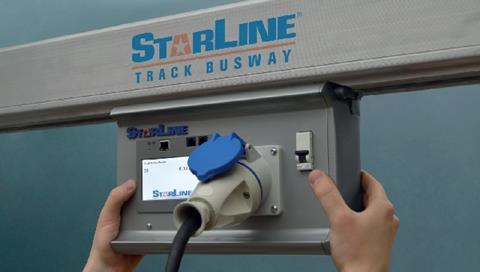 Starline Track Busway
United States
Universal Electric Corporation
168 Georgetown Road
Canonsburg, PA 15317
Tel: +1 724 597 7800
Fax: +1 724 916 2221
www.starlinepower.com/automotive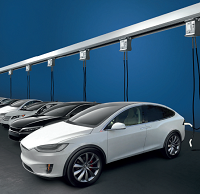 Operational success in the ever-changing automotive industry starts with the bones of your production space. The re-configuration of electrical distribution on the production floor is increasingly compromised by time consuming, costly, inflexible traditional pipe and wire methods – making it challenging to rearrange work stations and equipment. To efficiently respond to customer demands, your company needs the ability to rearrange manufacturing processes faster.
Starline Track Busway, an overhead power distribution system, allows precisely that—a faster, flexible and scalable reconfiguration of your power grid with little to no downtime, waste, or costly rewiring. For 30 years, Starline Track Busway—a product line of U.S.- based power distribution manufacturer, Universal Electric Corporation—has been offering reliable and innovative electrical power solutions to meet customers' needs in the automotive sector.
The simple, maintenance-free and compact busway design incorporates a continuous access slot that runs along the system. This allows customizable plug-in units to be repositioned and re-inserted wherever power is required along the access slot, in a matter of minutes. This ability to access power anywhere along the busway provides endless flexibility to your operations, allowing ease of use to change or add to operational layouts without losing any uptime.
The installation of traditional electrical distribution systems is labor intensive and costly; conventional power distribution systems involving conduit, wire, junction boxes, and multiple homeruns to the panelboard are inefficient and generate waste. Electrical changes often require notification weeks in advance, resulting in unnecessary downtime. In contrast, Starline Track Busway provides immediate monetary advantages. The system is reusable, expandable and virtually maintenance-free.
While its innovative, yet simple design has made Starline Track Busway the industry standard for powering automotive assembly, the system is also redefining EVSE infrastructure for commercial fleet vehicle charging. Starline's overhead solution provides commercial fleets with unmatched flexibility for power reconfiguration, a fast and reliable point of use power source, multiple electric charging cords and maximum space savings.
QUICK FACTS
Global company. Most major automakers around the world are already taking advantage of Starline Track Busway
Starline Track Busway offers more than 60 million different combinations of plugin units
Starline produces close to 2 kilometers of busway runs every day