AMS looks at the latest innovations and investments in automotive paintshops around the world
Volvo to install new paintshop at Torslanda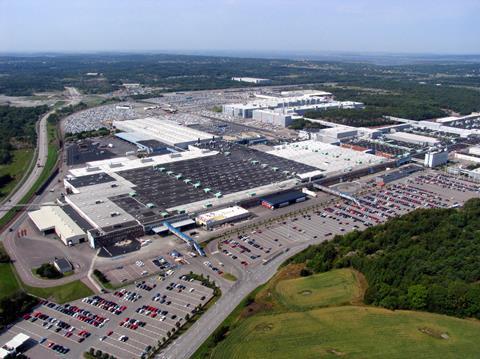 Volvo Cars has announced that it has invested a multi-billion kroner sum to install a new paintshop at its Torslanda plant. This will reportedly result in a reduction of energy consumption and emissions from the painting process by at least one third, according to the OEM. "We have identified our paintshop operation as one area in which we can achieve significant reductions in energy consumption and emissions," said Javier Varela, senior vice-president, manufacturing and logistics at Volvo Cars. "[We are] committed to our vision for a more environmentally sustainable business. This investment also strengthens our plans for the Torslanda plant to remain globally competitive." As well as helping to cut emissions and energy consumption, the new paintshop will also support the launch of next-generation Volvo vehicles, based on the SPA2 architecture. Construction is set to begin in 2020. Volvo Cars has outlined a goal of making its global manufacturing operations climate-neutral by 2025. It has recently taken several steps to this end, such as installing solar panels at its factory in Ghent, Belgium in 2018. The OEM says its Skövde engine plant in Sweden has become the first climate-neutral facility in its global manufacturing network in 2018. Volvo has also vowed to remove single-use plastics from all its offices, canteens and events across the globe by the end of 2019. To date, the initiative has replaced more than 20m single-use plastics with more sustainable and biodegradable alternatives.
Preparing for PaintExpo 2020
Car manufacturers are faced with a huge number of challenges today. They are under pressure from government authorities to reduce vehicle weight, which is increasingly resulting in mixed-material body designs. They are also trying to cater for consumer demands that typically revolve around quality, robustness and customisation. All this must be achieved while at the same time the carmakers are consistently hoping to find ways of making their manufacturing facilities more efficient, cost-effective and eco-friendly. The paintshop is one part of the puzzle in the vehicle-making process, but these demands put considerable pressure on painting equipment suppliers. At PaintExpo 2020, many companies will be showcasing the latest solutions to help OEMs overcome their challenges. One of the key themes of the event will be industry 4.0, and how digitalisation is having an increasingly significant impact on the painting process. However, the programme also covers the entire process of painting in industrial applications, from pre-treatment to curing. "Strong demand for exhibition floor space at PaintExpo – well in advance of the event – makes it clear that suppliers of industrial coating technologies see the world's leading trade fair as an indispensable event," commented Jürgen Haußmann, managing director of event's promoters FairFair. "And thus it's already plainly apparent that we'll present the world's most up-to-date and comprehensive offerings for industrial coating technology to the visitors, as well as solutions for their individual tasks."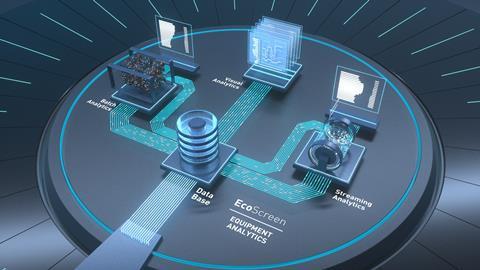 Dürr enhances paintshop with data analysis
Back in 2018, Dürr started developing its EcoScreen Equipment Analytics software in its Digital Factory – a competence centre located at the company's headquarters in Bietigheim-Bissingen, Germany. The idea was to record and analyse data from each sensor and actuator used by the painting robots, ensuring that faults could be quickly identified and rectified. The software is now being used by a number of car manufacturers in their plants. It records information such as robot positions, torque and temperature of the painting. It also connects to needles, turbines and air heaters to obtain data. This is all collected and visualised on a control computer in a 3D view, allowing workers to trace the data back to its source with ease. "With the help of the Visual Analytics module we can precisely trace the data from the previous weeks with millisecond accuracy," explained Lars Friedrich, president and CEO of Dürr. "The cross-comparisons of different robots improve root cause analyses and help the plant operator to boost plant availability, increase the first-run rate, and improve the overall process sequence." The company also offers its Streaming Analytics module, which analyses all this data in real time, then uses algorithms to calculate patterns and identify the ideal conditions needed to run the paintshop. The module also provides operators with graphical interfaces that include tools for creating analysis models to determine anomalies. Dürr is examining the potential of taking data analysis tools one step further. "In parallel with Streaming Analytics, Dürr is developing further modules for batch analytics applications that work on the basis of artificial neural networks," Friedrich revealed. "The software learns the optimal process condition fully automatically and registers every deviation. This means that the software will solve problems itself in the future through machine learning."
PPG continues acquisitions
US-based painting and coating specialist PPG has recently acquired the German automotive coatings manufacturer Hemmelrath, reflecting its strategy to expand in "underrepresented" markets and regions. "The fit between Hemmelrath and PPG is complementary," observed Rebecca Liebert, PPG senior vice-president, automotive coatings. "The acquisition will enhance PPG's automotive coatings offering, and add formulating and manufacturing solutions." Headquartered in a small town called Klingenberg am Main, south of Frankfurt, Hemmelrath employs over 450 people and operates 45 facilities across the world. In April 2018, the company announced it was investing tens of millions of euros in the expansion of its factories in the US and China. These plants were exclusively producing waterborne primers, but are now able to make clearcoats, basecoats and primerless systems. It also opened a new factory in the Jilin Chemical Industrial Park in the north-east of China in 2018, which is around twice the size of its main production plant in Klingenberg. Over 7m vehicles are coated with Hemmelrath's products every year. The news follows PPG's acquisition of Whitford Worldwide – a producer of low-friction and non-stick coatings for industrial applications in automotive, aerospace, energy and construction products. Whitford employs over 700 people and operates ten manufacturing sites globally.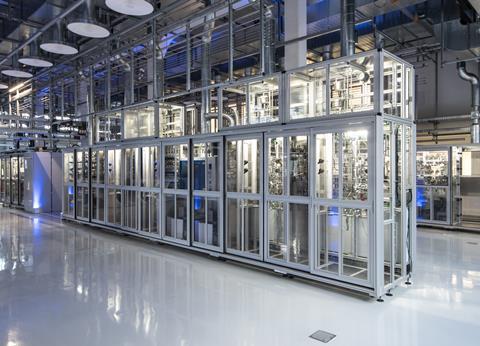 BASF opens research centre for catalysts
BASF has opened a new research centre on its Verbund site in Ludwigshafen, Germany, including a pilot plant for the development and testing of process catalysts. "With the increasing importance of the BASF segments Chemicals and Industrial Solutions, there is a growing need for product [and] process research," said Dr. Detlef Kratz, head of process research and chemical engineering. "In our pilot plant facility, we are using state-of-the-art infrastructure to carry out experiments. This enables us to pursue new research approaches and reduce the length of research and development projects, while also continuing to improve the quality of the data collected. We are thus systematically pursuing our goal of increasing the likelihood of success of our projects." The testing facilities were built using a modular design, and are equipped with digital tools to help operators visualise and manage the pilot plant. Measurement and analysis data are also collected from the plant, and can be examined by operators to better understand the processes. Construction began in 2018, and the company has invested a single-digit million euro sum each year of the build. Further work is expected to take place on the floor above.