US - Kia has hit a major milestone with production of its new SUV at its West Point plant in Georgia
US - Kia has celebrated hitting a new production milestone in the US after a 2020 Telluride SX Prestige rolled off production lines at its West Point plant in Georgia. It marked the three-millionth vehicle made at the factory since production began in November 2009.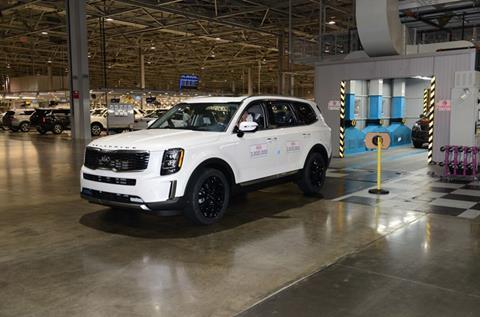 "Producing three million vehicles in less than 10 years is another example of the commitment and results of the KMMG Team's 'One System, One Team' philosophy," commented Jangsoo Shin, preside and CEO of Kia Motors Manufacturing Georgia. "The world-class quality that goes into every Telluride, Sorento and Optima we build is a direct result of the hard work and dedication of our team members, and today we salute their commitment to excellence."
The West Point factory has an annual capacity of 340,000 units. It is home to production of the Sorento SUV, the Optima sedan and the Telluride SUV. Over US$1.1 billion has been invested in the plant since construction began.
Production of the Telluride, Kia's largest SUV to date, started in February 2019. The model was designed for the US market, but the OEM plans to export around 3,000 units per year.