The wave of electrification is slowly turning into a tsunami, in Europe at least. Illya Verpraet takes a look at some of the big manufacturing plans in 2021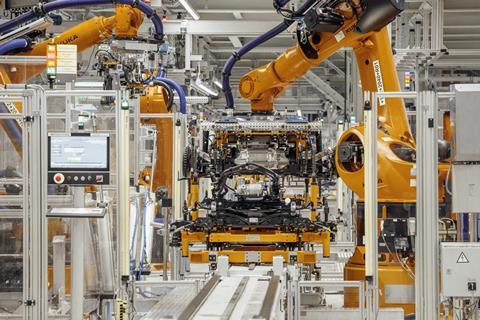 If you needed any more convincing that electrification is here to stay, not just one OEM, but three – Ford of Europe, Jaguar and Volvo – have started 2021 by announcing they would be going all-electric by 2030 at the latest. Those not ready to commit to quite the same extent have some big plans to revamp their factories for EV production nonetheless, and suppliers have to be along for the journey. As usual, however, the main battlegrounds are Europe and China, while things are moving a little more slowly in other regions.
The most high-profile announcement is certainly Ford's, which is planning for all of its cars in Europe to be all-electric by 2030. A bold claim, given that its sole EV, the Mach-E, is produced in Mexico, and its European plants have been been quite slow to start churning out plug-in hybrids. Commercial vehicles will remain available with ICE power, however.
First port of call for Ford's catching-up efforts will be its European home in Cologne, Germany which will benefit from a $1 billion investment to turn it into the 'Ford Cologne Electrification Center' and start producing Ford of Europe's first full EV. For the time being, however, it will continue to build the popular Fiesta hatchback. Cologne's new EV will ride on VW's MEB platform and will use a large number of VW-sourced components. That likely includes the battery, for which VW has announced that it will build six 'gigafactories' for battery cell production by 2030 across Europe. It is already building a battery cell factory in Salzgitter, Germany, and is partnering with Northvolt for a large supply agreement including from the company's planned battery factory in Sweden.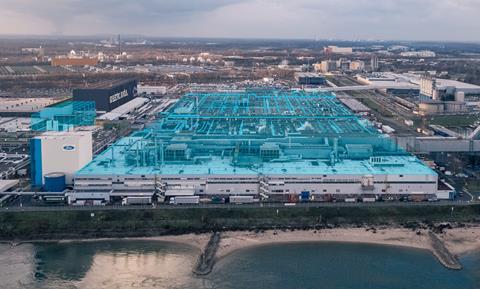 The fate of its other European assembly facilities – In Craiova, Romania, Valencia, Spain, and Saarlouis, Germany – remains to be determined. The latter was rumoured to be in line for closure, although this has not been confirmed. It remains possible that Saarlouis becomes surplus to requirements when Ford's partnership with Volkswagen kicks in, though.
Electric luxury and lean manufacturing
Given how much it shouts about its electrification plans, it is almost surprising it has taken Volvo this long to announce that it, too, will go all-electric by 2030. Unlike Ford, it has plenty of experience building plug-in hybrids, but is still not exactly an EV powerhouse. Its plant in Ghent, Belgium is shaping up to become its EV ground zero, having started production of the pure-electric XC40 P8 Recharge in October and adding the C40 Recharge in autumn. This more stylish version of the XC40 is actually Volvo's first car to come only as a full EV and shares a platform with other EVs from Polestar and Lynk & Co, which are built in China.
At the start of this year, it announced it would treble electric production capacity at the plant by 2022, though that does include plug-in hybrid models of the XC40 and V60. At that point, it expects 60% of the location's output to be plug-in cars. While Ghent is Volvo's "trailblazer" for EVs in its production network, the company also plans to take electric motor production in-house at its powertrain plant in Skövde, Sweden with an $82.8m investment in the facility. Volvo says that because the interplay between engines, electric motors and batteries is such a fundamental building block of electric cars, bringing their development and production in-house is crucial. Although it has a battery pack assembly line in Ghent, it still buys its cells from CATL and LG Chem.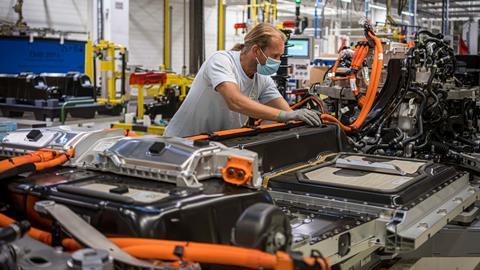 Jaguar Land Rover's new CEO, Thierry Bolloré has decided to make some radical changes, especially for the struggling Jaguar, which will now become an all-electric brand by 2025. Although it hasn't announced concrete plans for its manufacturing operations yet, a big shake-up is likely.
JLR will retain its current global manufacturing and assembly locations but said that it would be "rightsized, repurposed and reorganised", including a substantial reduction in its non-manufacturing infrastructure (all executive functions will be based in Gaydon). In the direct crosshairs for that repurposing is the Castle Bromwich plant near Birmingham, which makes the XE and XF saloons and the F-Type sportscar. Bolloré has confirmed that it will focus on "non-production" activities in the long term, without giving any further details. What is clear is that JLR will make its Solihull plant in the Midlands the home of a new battery electric vehicle platform.
The remarkable thing about Jaguar's plans is that it already has a bespoke EV 'skateboard' platform for the I-Pace, which was supposed to spawn an electric XJ saloon as well, and had been in advanced planning stages for production at Castle Bromwich. The latter has been scrapped, despite development being in a relatively advanced stage and the former is likely not to get a successor. In turn, these plans are likely to mean the end of Jaguar's cooperation with Magna Steyr, which builds the I-Pace and the smaller, ICE-powered E-Pace.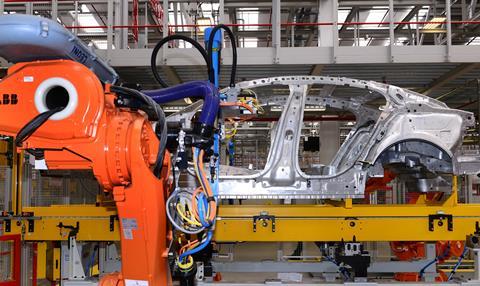 Help required
Although the Volkswagen group has only committed to making the low-volume luxury brand Bentley fully electric, by 2030, it is making moves to electrify several of its plants. The Zwickau plant was the first to become an all-EV plant when it started production of the VW ID.3, to which VW has since added production of the larger ID.4. The small plant in Dresden has also been turned into an EV-only location.
VW's ambition is to also make the Seat and Cupra plant in Martorell, Spain into an "e-mobility hub". Chairman Herbert Diess wrote on LinkedIn: "Our plans are bold: Conversion of Martorell into a fully electric car plant. Local cell production in Spain, build-up of infrastructure for fast charging and green energy". In the meantime, though, Cupra's first BEV, the Born, will be built alongside the VW ID.3 in Zwickau.
However, he also said during an event to celebrate Seat's 70th anniversary that such a project would be dependent on support from the European Commission. VW has announced it intends to build a battery cell gigafactory in the region by 2026. Nissan's plant in Barcelona is scheduled to close in December and it has been rumoured the facility may be candidate, though this has not been confirmed.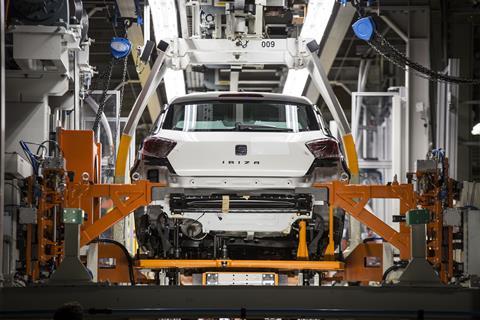 Another plant with a potential EV future might be the Opel/Vauxhall factory in Ellesmere Port, UK. Stellantis CEO Carlos Tavares told French newspaper Les Echos that the company is considering refocusing the plant on electric mobility, but that it would require a binding commitment from the UK government to invest in the facility, as Stellantis has capacity to build EVs elsewhere in Europe. Dedicating a plant to EVs would be a change in strategy for the former PSA brands now part of Stellantis, as their path to an extensive range of EVs has been to launch EV versions of ICE and plug-in hybrid cars, rather than use standalone platforms. Despite shiny plans, the economic realities of EV manufacturing are still the big challenge.
Picking their battles
Electrification is changing the automotive industry in many ways, but one of the most significant is surely the areas of competence that OEMs insource and those that they outsource, even if the companies have very different strategies.
Volvo is taking electric motor production in-house at its powertrain plant in Skövde. Mercedes is transforming its Stuttgart Untertürkheim drivetrain plant into a 'competence centre' for electric drive and battery technology. It will phase out conventional engine, transmission and component production in favour of research, development and production ramp-ups of drive systems, as well as small-scale production of battery cells. Meanwhile, rival BMW is ending engine production in Munich and ramping up e-drive production in Dingolfing.
At the same time, however, suppliers are being asked to shoulder more of the research, development and production burden. "You definitely see the behaviour changing," said Arno Güllering, ZF's senior vice president operations – division electrified powertrain technology, a company which has been investing heavily in electrified powertrain technology. "The OEMs are looking much more for complete systems. That gives us the benefit of being able to balance development capacities and efforts, and industrialization of complete systems is not on the side of the OEM anymore."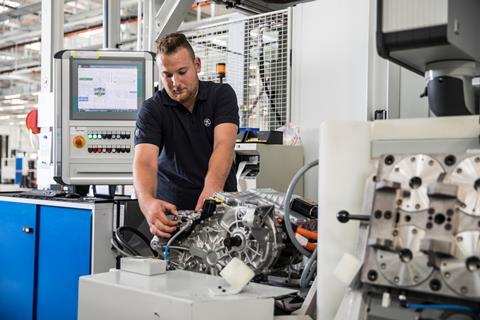 Gestamp, which makes chassis components, among other things, has seen a similar development, where OEMs use the supplier's expertise in design for manufacture more than in the past. (ZF and Gestamp will take part in the AMS Livestream Hour on Electrifying production on March 31).
It's an evolution that was confirmed by Danny Auerswald, plant manager for the 'Transparent Factory' in Dresden, who said about ID.3 production: "I think the strategy across the board is that we think more about modules. Instead of having everything assembled in-house, in the plant, you try to reduce the complexity and outsource the module assembly… For instance, the whole front end is coming pre-assembled," he said. (Danny Auerswald from VW will take part in the AMS Livestream hour on Electrifying Production on May 6).
However, while it would be inconceivable for large OEMs like BMW, Volkswagen and Ford not to design and build their own engines – the most important part of an ICE drivetrain – the EV equivalent, the battery cells, remain the purview of specialised suppliers. Given their importance, OEMs are setting up joint-ventures to get into that side of the industry, and they are setting up battery pack assembly facilities, but the only OEMs making their own cells at the moment are Tesla and BYD.
While the legacy manufacturers certainly have different ways of approaching outsourcing strategies, the extremes are nicely represented in two younger companies. Tesla is going all-out on vertical integration, while Apple, for its off-again, on-again electric car, is reportedly knocking on just about every factory door in the world to find a manufacturing partner to build it.