Volkswagen Group plans to significantly increase battery cell production capacity and reshape the EV battery supply chain in Europe, with plans to have six 'gigafactories' by the end of the decade – including an expansion of its partnership with Sweden's Northvolt.
The Volkswagen Group has revealed a significant increase in scale of its battery cell production capacity and partnerships across Europe, as it plans to rapidly increase EV production and lower total supply chain costs for lithium-ion batteries.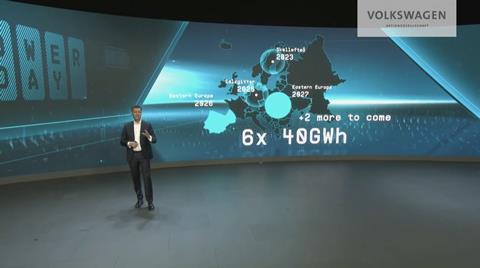 As part of this announcement, the carmaker's collaboration with cell maker Northvolt, which began in 2019, has moved up a gear. VW announced at this week's Volkswagen Power Day 2021 that the carmaker is increasing its ownership in Northvolt and making it VW Group's strategic lead supplier for premium battery cells in Europe. VW Group will order $14 billion worth of products from the company over the next 10 years.
This order will mainly benefit Northvolt's factory in Sweden, called Northvolt Ett ('one' in Swedish), which is due to open later this year. It will see an expansion to enable further economies of scale, and reduced complexity environmental footprint.
"We will use our economies of scale to the benefit of our customers when it comes to the battery too," said Thomas Schmall, CEO of Volkswagen Group Components and board member for technology. "On average, we will drive down the cost of battery systems to significantly below €100 per kWh. This will finally make e-mobility affordable and the dominant drive technology."
The production of battery cells there for VW Group contracts is set to commence in 2023 and will be expanded gradually to an annual capacity of up to 40 GWh.
VW's investments with Northvolt are part of wider plans to have six battery gigafactories in Europe by 2030, with a total production capacity of 240 GWh to secure battery supply in partnership model. In addition to the Northvolt factories in Sweden and Salzgitter, VW is looking to build one in Spain, Portugal, or southern France by 2026, another in Eastern Europe by 2027, and two further facilities in locations that are yet to be determined. The plan could potentially increase overall battery capacity in Europe by 25%.
Northvolt Zwei entirely in VW hands
In 2019 VW Group announced it was investing €900m ($1.075m) in joint battery activities with Northvolt, including a 20% share in the company and a 50/50 joint venture battery cell factory in Salzgitter, Germany, called Northvolt Zwei. Northvolt is now selling its joint venture share in that plant to VW as the carmaker scales up its battery manufacturing efforts in Europe. Construction on that plant is scheduled to start later this year, to start operations by 2024.
Northvolt Zwei in Salzgitter will produce lithium-ion cells exclusively for VW Group electric vehicles over the next decade. Salzgitter will produce a new 'prismatic unified cell' for VW Group's high-volume segment from 2025. The new unified cell is set to be launched as of 2023 and will be installed across brands in up to 80% of all EVs in the Group by 2030. The expanded Northvolt plant in Sweden will produce cells for the Group's 'premium' models.
"Northvolt Zwei is one of the most exciting industrial projects to be introduced into Germany today; one that provides a symbol of the new direction that the nation's automobile industry is taking," said Fredrik Hedlund, CEO of the joint venture and former chief strategy officer of Northvolt.
Automotive from Ultima Media forecasts that global battery cell production capacity will grow to nearly 2,900 GWh by 2030. While China is expected to remain the largest market, Europe is forecasted to see the fastest growth in the coming years, outpacing North America.