Together with power provider Veolia and chemicals company Solvay, Renault is setting up a trial plant in France to recycle batteries from electric vehicles (EVs). The plant will be able to extract and purify end-of-life EV battery metals.
Veolia and Solvay formed a consortium last September and have now found an OEM partner in Renault to trial closed-loop battery recycling.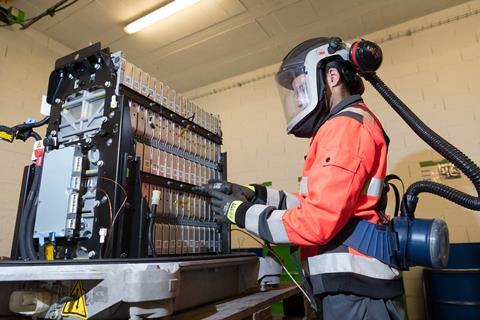 The companies will combine their expertise to improve the collection of end-of-life electric vehicle batteries, the dismantling, metal extraction and purification, as well as the existing mechanical and hydrometallurgical battery recycling processes.
Veolia has been dismantling EV batteries in a plant in eastern France since 2013, using a combination of mechanical and hydrometallurgical processes to treat the active cells and extract the active metals.
Antoine Frérot, CEO of Veolia, commented, "Given the magnitude of the environmental issues the world is facing, ecological transformation is an urgent need. With Groupe Renault joining Veolia and Solvay, we are collectively taking a step further towards closed-loop solutions to preserve natural resources."
Solvay's role is to optimize the extraction and purification of critical metals such as cobalt, nickel and lithium and transform them into high-purity raw materials for new batteries again. Its technology is also present in the EV and hybrid battery value chain with specialty polymers for binders and separators and specialty additives for electrolytes.
Renault now joins the consortium with expertise in car production and the lifecycle of EV batteries. Currently, it sources the batteries for its EVs from LG Chem in Poland. Luca de Meo, CEO of Renault, said: "Groupe Renault has a holistic approach to the battery life cycle: repairing first-life batteries to extend their automotive lifespan, developing second-life applications for energy storage and setting up a system for collecting and recycling batteries. Together, we will leverage our strong presence on the entire EV value chain in Europe to take a competitive position in the battery materials market and generate value beyond our core business."
Renault follows Volkswagen, which started a battery recycling pilot at its Salzgitter facility earlier this year.