Ford Ion Park is located in southeast Michigan and employs a cross-functional team to develop high-volume battery cell delivery, better range and lower costs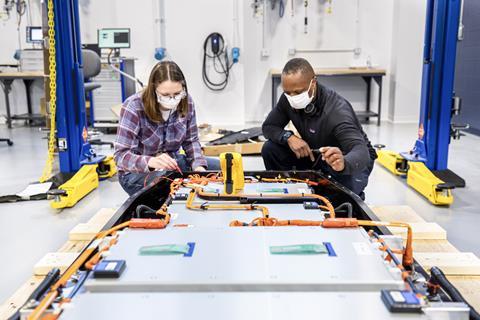 Ford says the new facility will develop and manufacture lithium ion and solid-state vehicle battery cells and arrays, test manufacturing approaches, while the team optimises all aspects of the value chain – from mines to recycling. The OEM says state-of-the-art equipment will be applied to pilot new manufacturing techniques that will allow it to quickly scale breakthrough battery cell designs with novel materials once the company vertically integrates battery cells and batteries.
The Ford Ion Park team also is exploring better integration and innovation opportunities across all aspects of the value chain, working with all teams within the company, including experts at the company's new Battery Benchmarking and Test Laboratory, Ford Customer Service Division, plus key suppliers and partners.
Hau Thai-Tang, Ford's chief product platform and operations officer said: "We are modernising Ford's battery development and manufacturing capabilities so we can better control costs and production variables in-house and scale production around the world with speed and quality."
In addition, a $185m collaborative learning lab in Southeast Michigan opens late next year. Covering 200,000 sq.-ft, this will be dedicated to developing, testing and building vehicle battery cells and cell arrays.