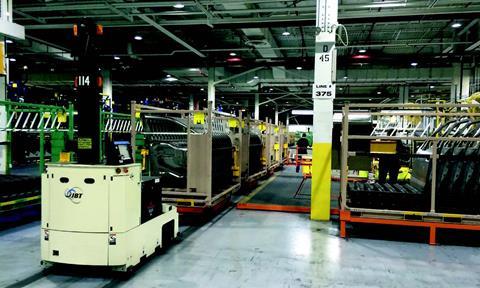 JBT has been a premier supplier of automated guided vehicle (AGV) systems since the mid-1980s. In this time, they have crafted a team comprised of the most experienced and knowledgeable AGV experts in the business, each of whom collaborate to provide the perfect level of automation for you.
JBT has improved operations for companies across a wide variety of vertical industries, including the automotive, beverage, food, healthcare, manufacturing, paper, and warehousing industries. With this varied experience, JBT is able to offer a broad range of vehicle options, which allows you to choose the AGV that best suits your needs.
From large, fully hosted systems to small, stand-alone ones, JBT understands the importance of flexibility. Their systems require little to no infrastructure and can be easily expanded and changed as your demands grow and shift.
With over 750 vehicles operating in automotive applications, JBT understands the unique demands of this industry. In fact, JBT vehicles automate material movements in all areas of the manufacturing process. In powertrain plants, their AGVs carry raw materials to machining centers, transport machined parts to assembly, move assemblies to packaging areas, and transfer small components to lineside.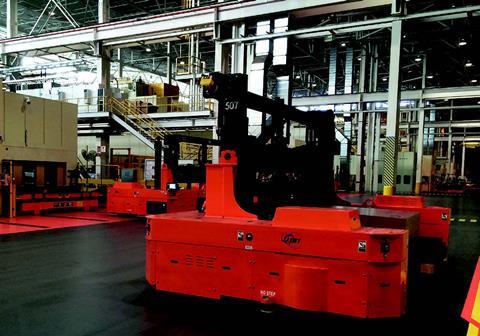 Meanwhile, within stamping facilities, JBT vehicles bring blanks from receiving to stamping lines, transfer stamped parts to assembly and weld areas, deliver assemblies and welds to shipping, and even handle dies. Inside of assembly plants, AGVs transport body panels from receiving to welding locations, shift major assemblies to production lines, move production components to staging areas, and bring small parts to lineside.
Regardless of the movements you hope to automate, JBT can carry the load. Several major automotive manufacturers have already transformed their operations with JBT's help. By installing AGVs in their facilities, they have witnessed greater efficiency, and heightened safety, while saving money.
Specifically, JBT systems have seamlessly integrated with production hardware and software, producing a smooth flow of parts and data. Whether your delivery strategies include sequencing, FIFO, automatic pull, or just-in-time, these AGVs provide consistent and effective material movement. Utilising JBT systems, you can positively impact your bottom line for years to come.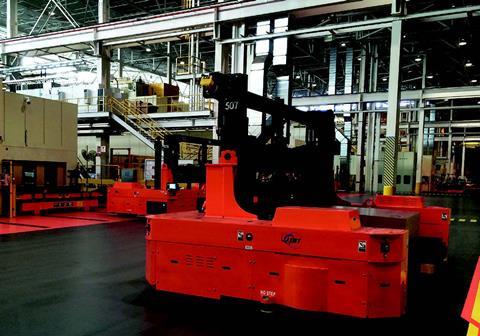 ADDITIONAL INFORMATION
• 25-50%, of JBT's business is in automotive, including assembly, powertrain and stamping
• We have installed automated guided vehicle (AGV) systems at Ford, Chrysler, General Motors, Honda of America, and Jaguar Land Rover.
• JBT is a US public corporation traded on the New York Stock Exchange with revenues of over $1 billion
• JBT has operations in over 100 countries and active in the automotive industry around the world