ABB's Michael Larsson explains how the company has developed a new paint application system that meets the demand for personalised paint schemes whilst also solving the problem of waste caused by overspray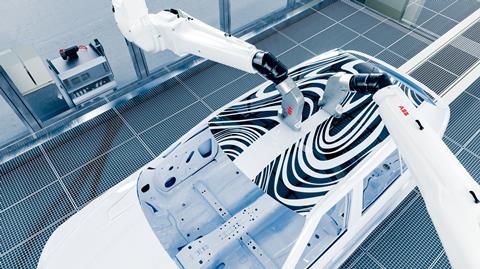 Technology has made it possible for OEMs to offer a wider range vehicle colours without impacting on efficiency or productivity. Yet, for today's discerning customers, even this wealth of options is no longer enough. In recent years, there has been a growing demand for new vehicles to be available with two-tone paint schemes or customised graphic designs and this trend is largely being pushed by younger drivers who want a colour scheme that creates a sense of individuality. Paint schemes featuring a contrasting body and roof are increasingly popular – red with a white or black and white chequered roof says 'sporty', for example. White roofs can also have practicality in mind, reducing the car's interior temperature.
Customised paint jobs are also used by manufacturers to help accentuate or tone down aspects of a vehicle's design, emphasising bodywork features or, in the case of bulkier designs such as SUVs, to help streamline them and make them less angular.
"To date, two-tone paint schemes have tended to come with a higher price tag as part of a suite of optional trim elements, and when you look at the effort and investments needed to produce them, it's easy to see why" – Michael Larsson, ABB
Slow and wasteful
Typically, achieving two colours on a car means running it through the paint process twice, once for the first layer and then, after the areas have been masked, again for the second colour. This can lead to serious reductions in both paint shop capacity and production output.
Alternatively, car makers could add another paint line, doubling the investments in compressors, lighting, ventilation and waste paint management and increasing the plant's energy bill. With the paint shop stage typically accounting for between 50 to 70% of overall automotive plant energy use, any measures that can be used to help optimise consumption can have a major impact on lowering energy costs and improving environmental performance.
In both cases, the process involves extensive masking of the bodywork, requiring around 10 to 20 operators per shift. Once complete, at least two operators are also needed to de-mask the vehicles after the second colour had been applied, with the masking materials then being disposed of.
This method also produces excessive waste – because systems using atomised spray paint are difficult to control, only around 70 to 80% of the paint being applied to the bodywork attaches to the surface. Much of the overspray paint is sent to the waste management process, increasing costs through recycling and the need to purchase additional paint.
As a result, vehicle producers have been looking for solutions that can help them to improve their flexibility, efficiency and cost competitiveness, while cutting their environmental footprint by reducing waste and energy use. The solution must also deliver a high-quality paint finish to achieve the much sought-after individualised options.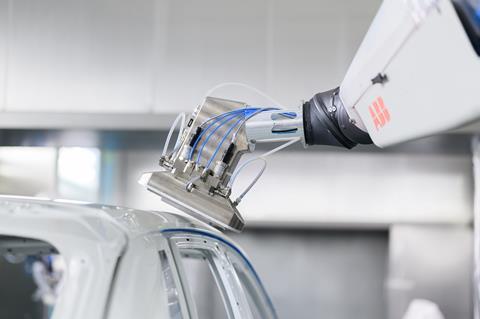 Print your paint job for high accuracy
The answer to this problem is ABB's innovative PixelPaint solution, which uses a robot and a high precision paint method to achieve the desired effects quickly, accurately and economically.
The solution incorporates a highly accurate painting inkjet head, a dosing control package and programming software for two-tone and decorative painting applications. The solution offers a choice of either an IRB 5500 painting robot or high precision seam sealing robot, depending on the user's requirements. Working in the same way as a conventional office inkjet printer, the technology used by PixelPaint opens a new range of possibilities for applying customised paint schemes and designs to vehicles of all sizes and shapes. Using ABB's RobotStudio offline programming tool, a range of paint designs can be easily set-up and tested before being applied.
PixelPaint has been designed to eliminate the problem of overspray. Rather than using a conventional atomiser, the paint is printed directly on the car body via the printing nozzle head, ensuring that all the paint ends up on the vehicle. Using over 1,000 nozzles, each of which can be individually controlled, PixelPaint enables droplets to be applied at sizes ranging from 20 to 50μm at a rate of over 1,000 droplets per second. This gives extremely precise control of thickness and overlapping, ensuring that images are printed to the highest quality without the problem of paint wastage.
Achieving 100% paint transfer dramatically lowers operating costs. As well as less air treatment being needed, there are also savings in paint and reduced levels of toxic volatile organic compounds (VOCs). Simpler scrubbers can be used and there is less contamination. Another benefit is that it avoids the need for the high voltage systems used in conventional electrostatic painting.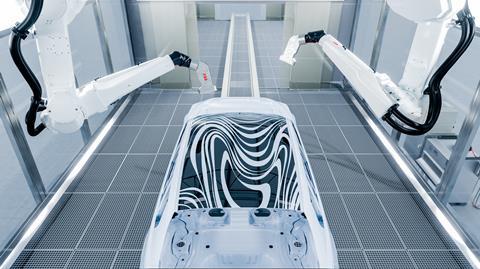 Custom paint jobs in one stage
Removing the need for time consuming masking operations, allows for a customised paint scheme to be applied in a single pass, reducing cycle times by around 50% and enabling operators to be deployed to other tasks, offering scope for improved productivity.
The benefits also extend to the capital equipment. PixelPaint enables a second colour or design to be applied in the existing paint line, without affecting the cycle time or adding manpower. It also avoids the need to invest in a special line, reducing costs and saving space.
Spoiling the consumer, not the environment
The improved sustainability delivered by PixelPaint is just one example of how robotic automation technology is evolving to help give consumers greater choice while also reducing the environmental footprint of automotive manufacturing. Delivering improved accuracy, performance and consistency, ABB's robots are being used in a wide range of applications to help minimise waste through right-first-time production and by delivering the flexibility needed to address the growing trend from internal combustion engines towards electrical and hydrogen alternatives.
Watch the PixelPaint system in action:
Michael Larsson is Group Senior Vice President Managing Director Business Line Automotive OEM for ABB
Find out more about ABB's automotive applications here