In a fast-changing industry, OEM production operations must be highly flexible to remain competitive. ABB discusses how the latest automation systems can support this requirement and the need for a mind-set change in the approach to facility planning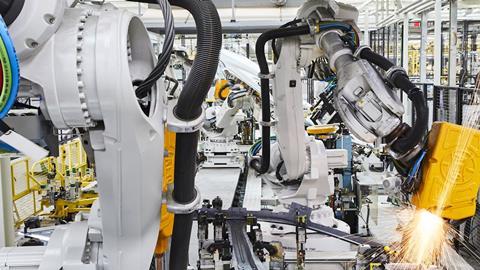 Auto makers and their major suppliers have traditionally evolved cautiously, through evolutionary steps. The huge investment associated with vehicle manufacture has always made prudence a vital foundation for new model and facility planning. Suddenly, the old ways have been disrupted by a perfect storm in which climate change is driving a revolution in powertrain technology, while connectivity and lifestyle changes do likewise to consumer buying patterns.
The established model for mass-production, with dedicated facilities delivering the maximum output with consistent quality at the lowest cost, worked fine for stable product lines and predictable future demand. It is less suited to the turbulent times of today's auto market.
"Put simply, ensuring the production facility can adapt may make the difference between corporate success or failure, such is the current level of change in technology, legislation, purchase incentives and consumer demand" – Joerg Reger, ABB Robotics
Flexibility and agility
Commercial survival in the future will depend on flexibility and agility; the capacity to switch production volumes and product mix rapidly, while remaining cost-competitive. This requires a change in mind-set from the customary approach to facility planning.
The most effective way to accommodate uncertainty is to switch from conventional 'long line' production to manufacturing cells, which can be quickly brought on stream or reprogrammed and re-purposed, to adapt to fluctuation in demand. The traditional line may still be appropriate for final assembly, but would be supported by flexible cells that do not require changes to the overall facility and, more importantly, can be re-purposed without loss of manufacturing output.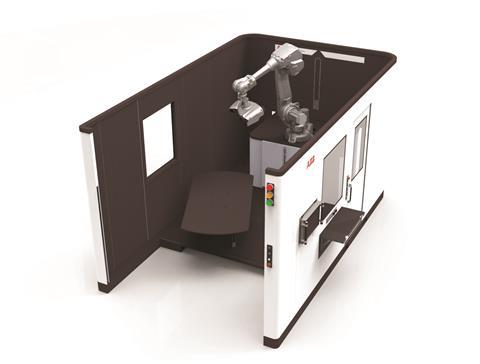 ABB Robotics is helping automotive OEMs and their supply chain to future-proof their businesses by supplying automated robot systems that combine high productivity and consistent quality with the flexibility required in today's environment. Typically, ABB works in close partnership with customers, not merely supplying systems but contributing to the manufacturing strategy and helping to define the facility.
"The evolution of propulsion technology is now so rapid that today's optimum powertrain may become uncompetitive within just a year or two," says Joerg Reger, Managing Director of ABB Robotics' automotive OEM business line. "The manufacturing solutions chosen for that powertrain at the outset may have to be re-visited as the vehicles themselves are re-designed. Fundamental decisions, such as 'kitting' assemblies at suppliers or completing them in-house may be reversed. This level of change would be unthinkable with traditional dedicated facilities."
Faster commissioning
To help manufacturers cope with the pace of change and the continual reduction in new product lead times, ABB makes extensive use of 'digital twins' of its manufacturing cells, created in its simulation environment RobotStudio. This means simulating every aspect of a cell's operation virtually, then studying the effects of any changes to validate the consistency and quality of the output.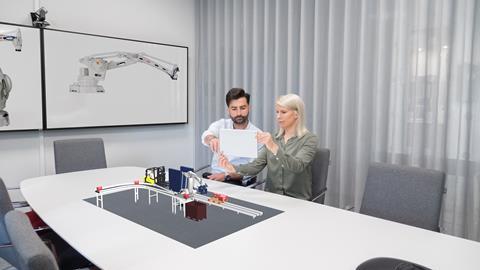 RobotStudio allows much quicker calibration of a new facility, with shorter commissioning time, and means the customer can bring their product on stream quickly and seamlessly. It also enables a customer to investigate 'what if' scenarios, to identify how changes in product mix or architecture can best be managed and how any knock-on effects within the plant can be minimised.
ABB recommends starting small and scaling up. Its cellular robotised manufacturing structure provides smart solutions based upon a combination of applications for each cell. The first cell can be used to validate the approach and set production standards, then replicated as many times as necessary to keep pace with the required rates of production as demand increases.
"This approach helps both with ramp up and ramp down, and ensures flexibility is retained throughout the plant's life, since cells can be decommissioned, moved or repurposed," explains Reger. "Put simply, ensuring the production facility can adapt may make the difference between corporate success or failure, such is the current level of change in technology, legislation, purchase incentives and consumer demand."
More computing power
In parallel with changes to vehicle design, a revolution is set to occur within the factories themselves as computing power accelerates by an order of magnitude on the shop floor, connecting and monitoring every component. As an example, the spray nozzles on ABB's automated painting robots have RFID and vibration sensors, to sense if they are misfiring. This means conditions that could cause faults in the finished article can be identified before they develop too far, and corrected. Greater computing power and communication also permits even more customisation of individual vehicle specifications to be readily accommodated within the manufacturing process.
Automation is reaching new areas of vehicle manufacture such as final assembly and trim, and body painting, where ABB's PixelPaint process permits waste-free automated painting requiring no masking and can even deliver complex custom graphics in a single pass. PixelPaint provides the scope for reductions in both capital and operating costs, for example eliminating the need for an extra paint shop to do a two-tone application, or the paint wastage associated with electrostatic painting.
The most recent development in robotic automation has been the growth in collaborative robot (cobot) applications in which a robot works in synergy with its human counterpart, taking advantage of their individual strengths. ABB launched YuMi, the world's first truly collaborative robot, in 2015, and now provides a family of cobots – featuring GoFa and SWIFTI with a range of reaches, payloads and speeds.
Advances in safety precautions have made it possible to operate suitably designed robots alongside human workers, without screens or fences to inhibit their interaction. This has opened up a new range of possibilities for enhanced productivity, quality and collaboration, for both existing and new robot users. ABB's cobots are intuitively designed so customers need not rely on in-house programming specialists, meaning organisations that have historically low levels of automation are able to operate their cobot within minutes of installation, without specialised training.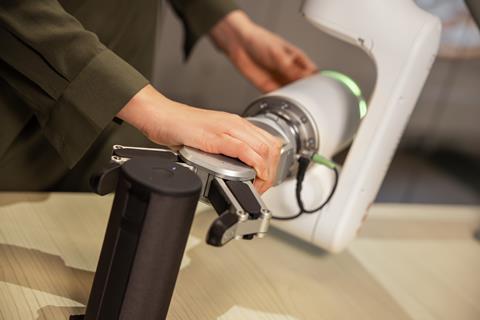 Summing up, Reger points to the need for manufacturing flexibility when accommodating a mix of internal combustion engine (ICE) and electric vehicles (EVs). "The integration of EV production into existing assembly sites can present many challenges, not least being the prediction of future demand split and the consequent allocation of facility footprint," he says. "Most manufacturers are trying to maximise the commonality of facilities such as paint or body shop in order to minimise capital spend, so optimising the integration is central to achieving economies of scale. Our simulation techniques enable customers to ensure they squeeze the maximum benefit from every dollar spent, before committing to major capital investment."
Find out more here