The updated production line can now build vehicles using both MEB and MQB platforms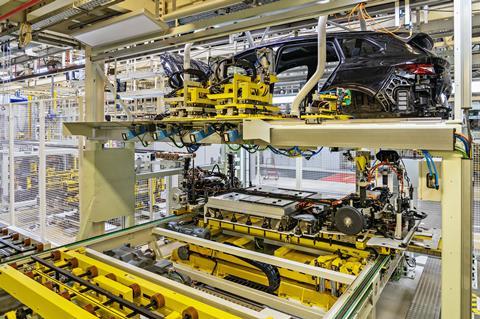 The conversion of an existing production line at the Czech plant has required structural changes to the building as well as modifications to the conveyor technology and final assembly line. Skoda says it has invested €32m in the project and now has the only line in the entire Volkswagen Group which can build both MEB and MQB based vehicles. This means that the all-electric Enyaq iV, Octavia and the Karoq compact SUV all roll off the same production line.
Changes to the production line include modifying the technologies for transporting parts to cater for the weight of all-electric vehicles and their assembled components. Also, the final floor assembly is automated following the conversion, and now includes the high-voltage traction battery and auxiliary robots for handling the heavy battery packs. The Czech car manufacturer placed a special focus on safety during the conversion of the production line, especially in terms of battery handling. The company has made comprehensive fire-proofing provisions and installed thermal imaging cameras, for example. These monitor the temperature in the factory hall around the clock and trigger an alarm if they detect any abnormalities.
The company says it will be able to produce between 250 and 350 units of the Enyaq iV per day, depending on demand, with production scheduled to start this year.