Daimler has invested 1.1 billion RMB to strengthen its R&D footprint and technological capabilities in China. Operations at the new centre will focus on major technological trends and tailored innovations with the aim to drive local product development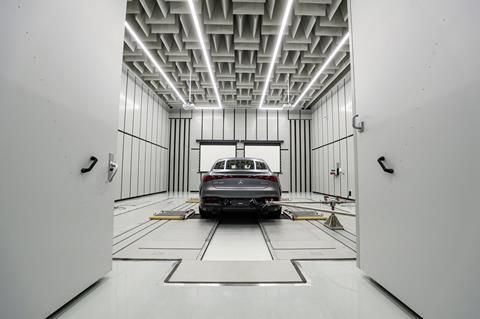 The OEM said it is combining a range of disciplines, such as research, engineering, simulation and testing at the facility. The 55,000 sq.m centre locates a test building with state-of-the-art testing facilities, a workshop and a warehouse. At the core of the campus are its inspection, testing and validation facilities for hardware and software, which integrate all essential functions.
The new test building can accommodate more than 300 test vehicles and houses seven testing facilities including an eDrive lab, charging lab, volatile organic compounds (VOC) lab, chassis lab, noise, vibration and harshness (NVH) lab, an engine lab as well as an environmental lab.
Daimler noted that the eDrive lab is equipped with two test chambers that can simulate a temperature range of -30˚C to +50˚C. The two sets of 4-wheel dynamometers can test whole electric vehicles, components or real battery pack tests. By adjusting the roller force and using big data applications, the intelligent test bench can simulate real driving conditions like air resistance or different topographies.
To meet sustainability and energy conservation requirements the eDrive lab can recuperate the energy of the tested vehicle back into the electric grid, which reduces the overall energy consumption.
Markus Schäfer, Member of the Board of Management of Daimler AG and Mercedes-Benz AG commented: "Mercedes‑Benz will go from "electric first" to "electric only". This requires accelerating our R&D efforts, additional investments into battery electric vehicles, and advancing our EV portfolio plan. When it comes to digitisation, artificial intelligence, autonomous driving, cutting-edge computing, our R&D team in China plays an increasingly important role for us. This goes for technology development, but also for technology sourcing, especially regarding New Energy Vehicles (NEVs)."