A new cross-industry partnership has been set up to ensure more responsible materials sourcing for the automotive and consumer electronics industries.
The Responsible Lithium Partnership is being funded by Daimler, Volkswagen Group, BASF and Fairphone (a smartphone developer).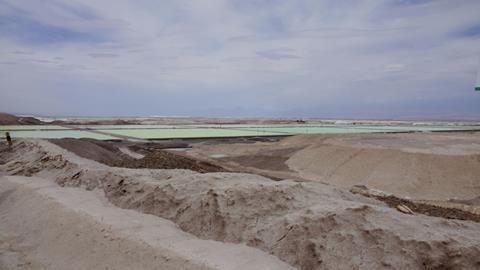 According to the partnership, it aims to promote sustainable development, contribute to the reduction of potential negative impacts of material sourcing and strengthen the protection of human rights. The partnership is starting out by looking at battery material sourcing in Chile.
The automotive industry's demand for metals such as lithium, cobalt and nickel is increasing along with the global switch to battery electric powertrains. Carmakers and their battery suppliers are now vying for materials that are already in high demand from other sectors, including consumer electronics. However, traceability of raw materials used in the production of lithium-ion batteries is one of the main sustainability challenges faced by carmakers and electronics producers alike. Environmental and human rights issues are now central concerns in the sourcing and supply of raw materials for electric vehicle production.
Read more about how lithium-ion battery demand and production are reshaping the automotive industry in the latest Insight report from Ultima Media's Automotive business intelligence unit
Salar de Atacama
Chile has the world's largest lithium reserve, estimated to be around 9.2m metric tonnes and equal to 27% of the lithium reserves globally. Mining and production are centred in the Salar de Atacama salt flat, which has a fragile ecosystem. Daimler said that without proper natural resource management there was a risk that lithium mining could disrupt the water and brine table, potentially harming the ecosystem and affecting local livelihoods.
The partnership aims to build a multi-stakeholder platform that involves indigenous communities, government institutions, mining companies and others, with the aim of improving a long-term integrated natural resource management for the area and better understanding of what the impact of continued lithium mining will be on the watershed of Salar de Atacama. The partnership said its members did not aim to facilitate the sourcing of lithium or the purchase or sale of any raw material.
The partnership also aims "to synthesise and verify available technical data, improve on it if necessary, and increase accessibility".
The companies have engaged Deutsche Gesellschaft für Internationale Zusammenarbeit (Giz) – a German development agency that provides services in the field of international development cooperation and international education work – to coordinate the stakeholders involved
In a statement Daimler said: "The Responsible Lithium Partnership shows that in today's highly interconnected value chains, responsible business conduct is not only based on collaborating with business partners, but also relies on constructive engagement with governments and civil society."
Last year VW published its first Responsible Raw Materials Report, providing an overview of activities related to raw material sourcing in 2020. It said the Responsible Lithium Partnership formed part of its ongoing human rights due diligence activities in the raw material supply chain.