EV battery chemistries and formats are increasingly being tailored to suit specific vehicle segments. But Williams Advanced Engineering has developed a Multi-Chem battery technology that could meet the requirements of a range of vehicle types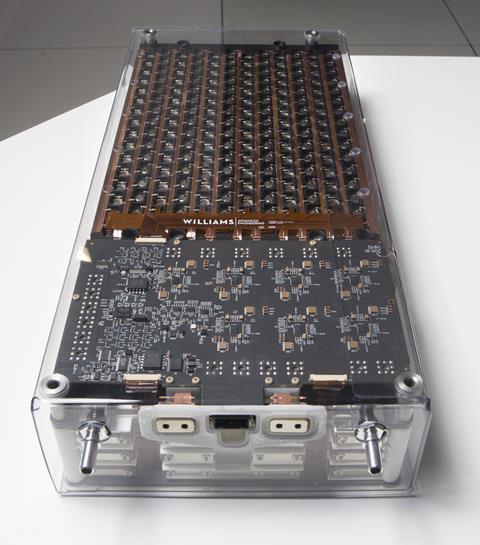 The world of motorsport has always been a seedbed from which technologies have been developed for transfer into mass market automobiles. One company for which this is a specific mission is Williams Advanced Engineering (WAE) based in Wantage, Oxfordshire, in the UK. The company can trace its formal origins back a little over a decade to 2010 when Williams Grand Prix Engineering began a deliberate policy of diversification away from its F1 roots. It has now become an operation with approximately 500 employees in the UK and Germany and which was acquired by a third-party Fortescue Metals Group in March 2022.
But the objective of developing technologies that can be exploited by the mainstream automotive industry remains and has been continued into the industry's efforts to develop new generations of electric vehicles (EVs). One of the key manifestations of that is what the company describes as its Adaptive Multi-Chem battery technology, which it says can provide both high energy and high-power density in a single pack.
Optimising for high-energy and high-power
The key features of the technology are outlined by James Hoxey, head of business development for WAE. "Adaptive Multi-Chem is the result of WAE developing a solution for higher performance applications, which will not compromise on the choice between maximum range or power," he confirms. "Cells used in battery systems will be optimised to provide high energy or high power." He further explains that WAE's development strategy is driven the needs of high-volume end-users of the technology. "Think VW or Tesla," he says.
Hoxey describes the technology as one in which the integration of different performance-specific elements provides the distinctive overall capability. "The technology enables selecting two different cells one optimised for power and one for energy, which can be integrated into one module," he says. "The power output is then managed by an onboard DC-DC converter, underpinned by our own battery management system algorithms which provide a priority-based, predictive control model." It is this combination, he states, that enables the system to provide "an ultra-high-power capability with increased energy availability".
According to Hoxey the theoretical expectations held out by the technology have been vindicated in practical testing. "For a given high performance example, we have delivered 75% higher extractable energy, which in practical effect means range, compared to selecting only the power cell in the same space," he states. "Yet we delivered a 50% greater power capability than only selecting the energy-focused cell without any impact on mass."
Moreover, this improvement in performance comes with other benefits. "There is also an enhancement to the pack safety, as you are utilising the appropriate cells for their characteristics," explains Hoxey. "For example, the ultra-high-power cells are inherently safer at high power output than high energy cells, while the energy cells are managed in a way which keeps them cooler due to the lower power demand on that side of the system."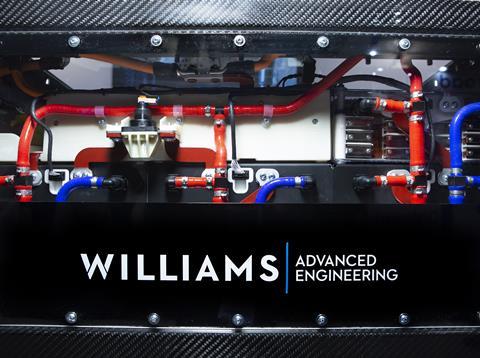 Versatility is another feature. "The technology is also applicable at a larger, distributed systems level in which the DC-DC converter is moved from the module to a sub-pack/master controller system," says Hoxey. "Performance benefits in this scenario are focussed on a heavy duty/commercial vehicle application."
This versatility is also apparent right down at the cell level in terms of both the chemistry and the physical format that may be involved. On the first of those counts Hoxey confirms that there is no requirement for any innovation or new formulation. Instead, his answer to the question of whether any such innovation is required anywhere at all is straightforward but emphatic: "No – it is chemistry agnostic."
This is equally the case for the physical format of the cells. "It is deliberately format agnostic," states Hoxey. "The demonstrator unit showcases high energy cylindrical cells paired with high power pouch cells, but we have other concepts using prismatic, cylindrical and pouch solutions."
At the moment the technology is still waiting to be taken up for use in a real vehicle by the wider industry. "The Multi-Chem concept is designed to be a showcase/demonstrator and therefore the technology platform would be developed to a specific vehicle mission cycle," states Hoxey. "Right now, we cannot disclose any specific projects."
Multiple application opportunities
But Hoxey does confirm that WAE sees the technology as having wider applications than just in conventional on-road vehicles. Indeed, not only can it be used in large vehicles but even outside of the automotive area entirely. "The concept is transferrable to large scale applications due to the deliverable benefits," he states. "In fact, we see both aerospace and off-road as strong potential markets due to the benefits of combining high power, energy and cycle life into a flexible system architecture."
Hoxey concludes by reiterating that the technology is one that leaves wider industry with a good deal of leeway in their own adoption and application strategies. "By their nature, these projects often do not have an off-the-shelf solution and therefore this technology has been developed to provide greater and quicker tuning capability for any given use case."