The premium OEM's global head of Production and Logistics talks about its recent expansion in Leipzig for the addition of the new Macan SUV.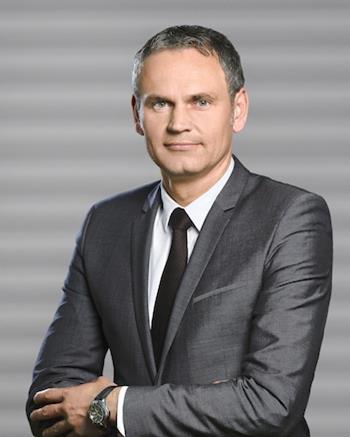 Glenn Brooks: What has been the level of investment for the Macan?
Oliver Blume: This is the biggest project in Porsche's history and we invested more than €500m in a new plant which adds around 30% more floorspace. This is in addition to the original €250m that it cost to open the plant for the assembly of the Cayenne and Panamera. We have invested in a new bodyshop, a new paintshop and we've renovated our assembly line in order to produce all three models.

So that's three vehicles and three architectures.

Yes, three, and all on the same line. We're talking about 50,000 units a year for the Macan and in future we will be able to go higher if there is the customer demand.

How many shifts are you running?

We are going for 15 shifts a week, three shifts a day. But not straight away; we began slowly and then we will ramp up to the top of the production curve.
If you end up with a long waiting list for Macan, what can you do?
Our first step is to 50,000 a year and when we reach that, we will be happy.

Would it be possible to outsource additional assembly either to another division of the Volkswagen Group or to a contract assembler?

It would be possible but at this moment we're not thinking about it. Why? Because for us, 'Made in Germany' is a very important attribute: to make the car in a Porsche plant. Therefore we are not thinking about having the Macan made at a Volkswagen plant.
---

– Oliver Blume, Porsche
---
How much does the Macan have in common with the Audi Q5?

We are using some [shared] components from the Volkswagen Group, but around 70% of the car is new. We had a very good base from the Audi Q5 but the engineering of the car is totally new; it's Porsche engineering.
GB: Could you name some examples of the engineering differences between the cars?
Totally new chassis development; the shape of the Macan is obviously unique. But what we are using in common is the 3.0-litre V6 engine for the S Diesel and the 3.0-litre and 3.6-litre gasoline engines. The Turbo and Turbo S have V6 biturbo engines which were developed by Porsche. So some components it makes sense to use from the Group and others are Porsche-developed.
Where are your engines sourced from?
OB: The gasoline engines come from Zuffenhausen [Germany], and the diesel from Györ [Hungary].

How flexible is the engine supply mix?

We have flexibility in production from Zuffenhausen and we have a flexible labour force. This is a big advantage. And the same applies for the diesel which Audi Hungaria supplies to us.

Porsche is experiencing incredible sales growth in China. When will you start building cars there, and would it be via the SVW or FAW Volkswagen JVs?

That our cars are made in Germany is very important, for our labour force and for our Chinese customers. Therefore at this moment we do not plan to build in China. But I can't talk about the future; nobody knows what the world will be like in ten years' time. At the moment, we think only about 'Made in Germany'.

The former Karmann plant at Osnabrück is obviously in Germany but it's not a Porsche-owned site. Does that matter?

It's a very good collaboration with the Volkswagen Group, and we share this plant. Zuffenhausen is the main location for Boxster and Cayman production, but as you know there is also some overflow to Osnabrück [Germany]. This plant has a very strong heritage, which makes the staff there as proud to assemble the cars as our staff in Zuffenhausen.

Is there a standard Porsche manufacturing process in all plants where your vehicles are built? Or is it a Volkswagen Group system?

It is very important that we have the Porsche production system and all our lines are orientated on this system, which emphasises lean production. The logistics system is based on JIT [just-in-time] and JIS [just-in-sequence]. What we are doing is to interchange with Volkswagen and put some good ideas from the Volkswagen production system into the Porsche production system. But the main thing, the DNA, is our system.

Some ambitious manufacturing goals have been set for the company by Volkswagen. Is Porsche on target to achieve the target of 200,000 units per annum by 2018?

We are on target. It isn't important to talk about the number of cars we will manufacture, but about the exclusivity of our cars. Therefore, at this moment, we don't talk about numbers. But last year we sold out – it was 162,000 cars – and the number for this year will be higher than for 2013.

Can you see a point when the Macan will become your bestseller? Could that be as soon as 2015 or 2016?

At the moment, this is the Cayenne. But for the future, you never know. It's an interesting point to note that our more expensive models have been so popular. The 911 outsells the Boxster and Cayman so it's not necessarily going to be the case that a new SUV, which is cheaper than the Cayenne, will automatically become the bestseller. But you never know.

From a manufacturing perspective, what are you looking for in the Cayenne's replacement? An easier build, perhaps?

We have been involved at the point of design to make a production-orientated design. That means engineered hours per vehicle; every part has to be designed for ease and speed of assembly, but always with high quality in mind. We have a special system which involves workshops which seek to make the process perfect – for bodyshop, paintshop and so on.

Have any aspects of the Porsche production system been used by the Group as a benchmark?

Yes. How we place parts ready for the assembly line is highly complex, and there are many variations with some models. So we have a special system which makes it easier to assemble some of these components at the line.

The Panamera is built at Leipzig from bodies made in Bratislava
Panamera bodies are made at VW's LCV plant in Hanover and Cayenne bodies come from Bratislava, Slovakia. Would you like to see the replacement models fully built at Leipzig?

We have very good partners. At Bratislava we have a very good partner, with the Audi Q7, Volkswagen Touareg and Cayenne having many similarities, so it's good to build these bodies at this plant. For us it doesn't make any sense to put this generation of Cayenne bodies into the same plant as the Macan. In the future, it depends on the construction of the cars – what similarities they will have.

Future regulations in California plus new EC standards will mean more hybrid and PHEV Porsches. What implications will that have for complexity of manufacturing?

The first step is the qualification of our staff to assemble the complex electrical components. But then if you are not building high volumes of hybrids and plug-ins it makes no sense to store lots of these components beside the line. What is essential is to make the construction and design of the cars in such a way that a hybrid, or a plug-in, can be built in the same way as one with a diesel or a gasoline engine.

Has that been the case with the Macan?

A this moment, we aren't talking about a hybrid. But in the future…