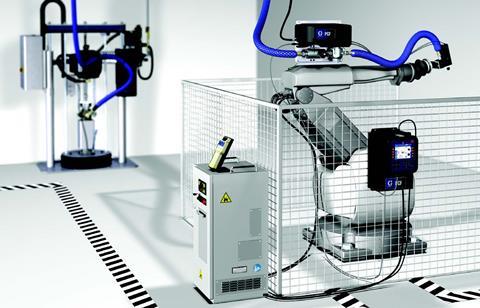 From metal sheet to finished car, fluid handling plays an important role in the automotive production process. As one of the world's leading suppliers of fluid management products and packages, Graco is excellently positioned to be a key partner to the automotive industry.
Graco has decades of expertise in creating high-quality products for fluid handling applications, including a wide range of ATEX-approved equipment. The company constantly invests in innovative equipment to boost production and reduce energy consumption, and has a global presence with local experts that can provide swift and detailed service and support.
Whether it's fluid transfer, sealing, bonding, painting or lubrication, Graco has a solution that will meet the highest standards of the automotive industry.
Painting
Pumping paint whenever and wherever you need it and providing the perfect finish is necessary to get a smooth and shiny new car. To achieve this, Graco offers a wide range of supply and circulation pumps, plural component equipment and spray guns.
The choice in supply and paint circulation pumps varies between piston and diaphragm pumps with air, hydraulic or electric driven motors. Working with electrostatic equipment drastically reduces paint consumption and our plural component range focuses on reliability of constant ratios, ease of use and reducing material waste. Also, the reporting capabilities give you all the info and control you need.