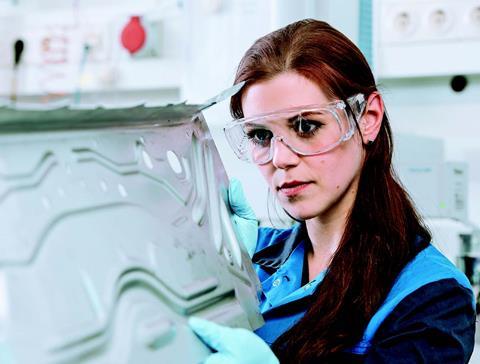 Chemetall is the Surface Treatment brand of the Coatings division of BASF. Headquartered in Frankfurt am Main, Germany, the core competence of the global business unit is the chemical treatment of metal surfaces.
Chemetall's metal pretreatment technology can be found in every second car. It is essential as it affords long-term corrosion protection and ensures optimal paint adhesion. Chemetall technologies are also developed for cleaning, conversion coating, cooling, activating and passivating, and facilitating the forming and treatment of metals as well as for non-destructive testing. For the automotive industry, the portfolio includes inter alia the eco-friendly, multimetal thin-film technology Oxsilan® or the broad range of highly efficient and eco-friendly cleaner technologies Gardoclean®.
The pre-treatment of substrates processed into automotive bodies and construction materials plays a key role in corrosion protection, thus extending substrate life and performance. Many industries increasingly use more demanding mixed substrates like aluminum and plastics.
Chemetall provides customers all around the world with leading technologies and extensive expertise in surface treatment. Chemetall also offers advanced and eco-friendly surface treatment technologies for automotive components. Whether for steel or aluminum wheels, bumpers, plastic fascia or diesel injection systems: the portfolio includes high-performance pretreatment technologies for all substrates and the components manufactured from these materials.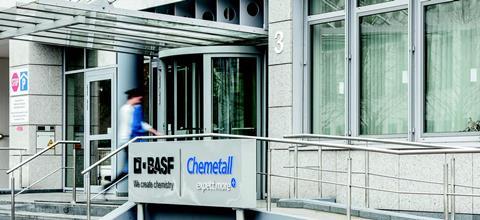 12 million cars treated with Oxsilan® Chemetall was the first company to introduce a multi-metal thin-film technology on the market – long before most of the current developments had taken place. Now, Oxsilan® represents a proven alternative – comparable in terms of quality to zinc-phosphating or chromating processes.
This thin-film technology clearly shows advancements in terms of higher productivity and multi-metal capability, resulting in considerably lower process costs.
Recently, Chemetall launched a full production of its Oxsilan® thin-film pretreatment at the GM Orion Assembly plant in Lake Orion, Michigan. The Chevrolet Sonic and Chevrolet Bolt EV are manufactured there, representing 62,000 units per year for GM. Oxsilan® is today's thin-film technology of choice.
Surface treatment
Surface treatment of metal involves the creation of a barrier that acts like a wall protecting the metal in a corrosive environment like changes in temperatures, humidity in cavities or road salt. For effective paint adhesion and corrosion protection like it is required in the automotive market, the substrate surface must be initially clean, conditioned and chemically receptive to subsequent applications.
The basic methods of surface treatment comprise solvent or aqueous cleaning, abrasion and chemical surface