The BMW Brilliance Automotive (BBA) joint venture has announced it will build the next model generation, Neue Klasse at its production plant in Shenyang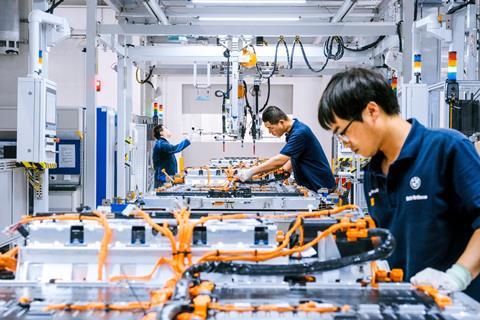 BMW says following the market launch of the Neue Klasse in 2025, models of this next vehicle generation will also be produced by BBA in Shenyang from 2026, and that the high-voltage batteries for this will be manufactured locally. The joint venture is investing RMB 10 billion (€1.3 billion) in a new facility, which will produce battery cells for the next, sixth generation of high-voltage batteries from 2026 onwards.
Over the past 20 years, production capacity at BBA Shenyang has increased from 30,000 to 830,000 units and the plant currently produces seven model ranges, with fully electric, plug-in hybrid and internal combustion engines. At present, the BMW Group produces electronic components and high-voltage batteries for its current electric vehicles at its German sites in Dingolfing, Leipzig and Regensburg, as well as at the Shenyang location in China. The company says that in addition to Shenyang, new assembly sites for sixth-generation high-voltage batteries will be added in Debrecen (Hungary), San Luis Potosí (Mexico) and Woodruff near Spartanburg (USA) in the next few years. The company also plans to establish a new location in Germany to supply its Bavarian vehicle plants with sixth-generation high-voltage batteries going forward.
BMW has also been carrying out a major upgrade of its plant in Munich in preparation for production of the Neue Klasse models, with extensive refitting of former ICE powertrain assembly area and a new paintshop. Plant director Peter Weber told AMS: "We are developing a digital twin of the structure and processes. New buildings have digital models of those bodyshop, assembly and logistics structures and this platform offers the opportunity to integrate the digital twin of the production structure and new models of new structures. We are able to realise a fast, precise update based on the digital twin."
Following its 'local for local' approach, the plant in San Luis Potosí, Mexico will also produce full-electric models for the Neue Klasse in the future. BMW says that of the €800m investment at the plant, €500m is earmarked for construction of a new 85,000 sq. m assembly centre for high-voltage batteries, located on the plant grounds, which will add 500 additional employees to produce next-generation batteries.