The investment heralds a push towards US production of EVs for the automaker with battery cells to be made 25 miles from its Spartanburg plant.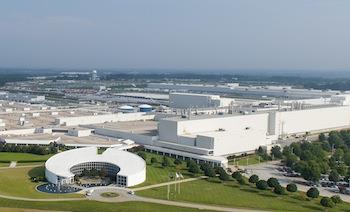 The BMW Group will invest $1 billion to ready its sole U.S. manufacturing site for EV production and put a further $700m into a high-voltage battery assembly plant, with plans to produce at least six battery-electric models in the country by 2030.
BMW CEO Oliver Zipse attended the Spartanburg, South Carolina plant together with the state's governor, Henry McMaster and others to announce the German carmaker's US plans which also include the sourcing of lithium-ion battery cells from Envision AESC which will build a factory for this purpose.
"For decades, Plant Spartanburg has been a cornerstone of the global success of the BMW Group. The home of the BMW X models that are so popular all over the world. Going forward, it will also be a major driver for our electrification strategy," Zipse said according to BMW's statement.
"That means the 'Home of the X' is also becoming the 'Home of the Battery Electric Vehicle'," he said of the plant which produced its first car in 1994, a 318i.
The battery investment will go to a high voltage battery assembly site which Envision AESC will build in Woodruff, about 25 miles from Spartanburg. The factory, with annual capacity of 30 GWh, will make round lithium-ion battery cells that have been specifically designed for the sixth generation of BMW eDrive technology.
BMW announced the development of its round cells in mid September and said the technology will offer more than 20% extra energy density, 30% more range, charging times by 30%. It also said the cells would cost roughly half as much as existing battery formats without elaborating on how this could be achieved in one leap.
The company said at the time it would invest in €2 billion to make 20 GWh of cells in both China and in Europe with partners CATL and EVE energy, requiring those partners to make them using renewable energy. That, plus the use of recycled battery minerals would cut the cells' emissions by 60%. BMW had said it was also seeking to produce the cells at two plants in the U.S. but it had not by then finalised any partnership for this.
The Woodruff site will span 1 million square feet and create around 300 new jobs as well as spawning the development of new supply networks in the region.
Spartanburg already produced lithium-ion battery modules for the X3 xDrive30e and X5 xDrive45e, both plug-in hybrids.
"BMW's sustained and impactful presence in South Carolina demonstrates the power of partnership and shared commitment to our state's automotive industry success," said South Carolina governor Henry McMaster. "With today's announcement of a $1 billion expansion to Plant Spartanburg for manufacturing electric vehicles as well as $700 million for a new plant in Woodruff to assemble battery units, the road to the future is here. And I applaud BMW on helping lead the way."
Spartanburg, a site with 11,000 employees and annual capacity for 450,000 vehicles, has produced more than six million BMWs in its history for the domestic and foreign markets.
Signalling its advance towards electrification with a target of fully electrifying one in every two BMWs sold by 2030, the automaker opened a $20 million digital upskilling and training centre at the Spartanburg site.