After many decades of vehicle production, the heartlands of European automotive manufacturing are undergoing a shift eastward. Highlighting the investments, innovations and impact, Ian Henry looks at a group of nations in a region that's ramping up…
In recent years there has been significant investment in all-new or expanding existing vehicle factories in the former eastern bloc countries; this is taking place in a time of much uncertainty for the industry. Vehicle companies in the region are adding capability in electrified vehicles and powertrains, as well in conventional powertrain vehicles.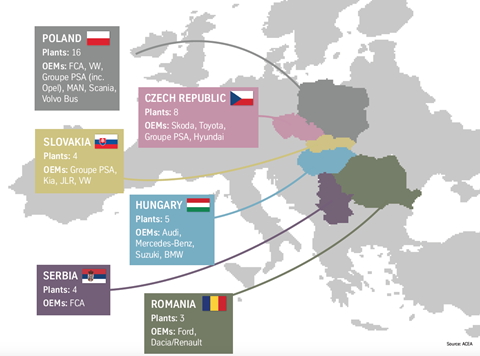 Major battery companies, like LG and SKI of Korea are also investing Poland and Hungary to supply batteries to electric vehicles to be made across Europe. One notable example of current change is the expected move of the Volkswagen Passat from Germany to the Czech Republic at the next model change. Similar moves by other companies are distinct possibilities in the future.
Generally, the prospects for vehicle production in the region seem positive, with the major car companies displaying a notable confidence for their operations. One exception is Poland, where there is no definite news on what is going to be made at the PSA Opel plant in Gliwice once the current Astra comes to the end of its model cycle; meanwhile at Fiat Poland, a number of models originally thought likely to be allocated to its Tychy plant have been allocated to Italian factories.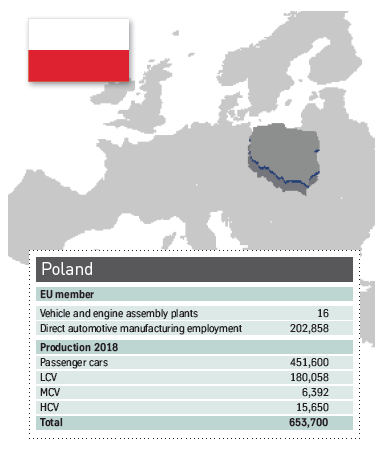 An uncertain outlook
The story from Poland is tinged with negativity and uncertainty over under-used plants (Fiat Tychy and VW Poznan) and falling production; this is the case at Opel Gliwice, with 2018 output dropping around 25% from 165,000 vehicles made in 2017.
This plant has a somewhat uncertain future ahead of news of the Astra replacement. It had been thought it could win production of the new Mokka X which is instead going to be made at PSA Poissy alongside the DS3 Crossback.
There is more positive news at Volkswagen's factory at Poznan which makes the Caddy compact van and a small number of Transporter vans. During 2018 it saw investment in new welding equipment and improved logistics systems at a total cost of €400m. This investment will be used to make a Ford version of the Caddy van as part of the recently announced Ford-VW alliance in LCVs, using the Caddy platform and boosting utilisation, producing the replacement for the Ford Transit Connect (currently made in Spain).
Production of the Transporter vans made in Poland and Germany will, it is understood, move to the Ford Transit factory in Turkey as part of this alliance. As well as vans, the Poznan factory also makes 2m cylinder heads and steering boxes for various VW group models, and 0.5m front axle brackets for Audi A5.v
In addition, Fiat also has a factory in the country. This made just under 259,500 vehicles in 2018, 185,000 Fiat 500s, 26,000 Abarths (high performance 500s) and 48,000 Lancia Ypsilons, a total well below the factory's 500,000 upa capacity. Fiat had indicated that the factory was going to be allocated the new Panda, a possible Punto replacement and even a small Jeep SUV. However, the Panda will, it is understood, remain in Italy, and the new Jeep will also be made there while the Punto is not now to be directly replaced.
Mercedes is building an engine plant in the country, costing €500m. The new plant at Jawor is due to start producing four-cylinder units by the end of 2019. PSA also has an engine plant in the country, near the Fiat plant in Tychy. This started making a new three-cylinder 1.2 litre PureTech engine in January 2019; capacity of 460,000 units a year has been installed.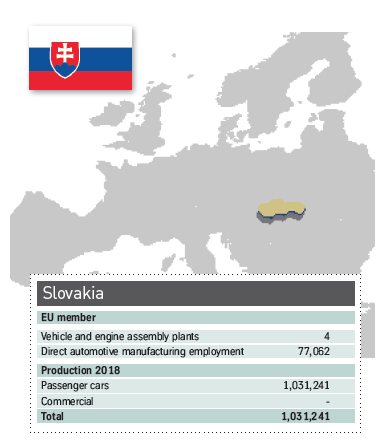 Strong, yet vulnerable
Here production volumes are remarkably strong and stable, reaching over 1m vehicles in each of the last three years. Production should be boosted further once the all-new Jaguar Land Rover plant at Nitra is running at full rates. The JLR plant cost €1.4bn to build and equip; it will employ 2,800 at full production and has an initially capacity of 150,000 a year.
Production of the Discovery started in Nitra in late 2018, with all production of this model having been transferred from the UK. Production is running at around 50,000 a year, somewhat below expectations, largely because of the diesel "crisis"; a second model, the long-awaited replacement for the old Defender, started production later in 2019, but whether this model will allow JLR fully utilise its new capacity is open to question.
Either better than expected volumes for both Discovery and the new Defender will be required, or additional models will need to be allocated to the factory in order for capacity to be fully used. In addition to JLR, the country has three other major vehicle producers, namely kia, PSA and Volkswagen.
The largest factory in the country is Volkswagen's in Bratislava which has 400,000 units' base capacity, although this could be extended to 500,000 with additional shifts. Despite strong production volumes for the Volkswagen Touareg, Audi A7 and new Q8, and Porsche Cayenne especially, the factory has had to undertake some modest cutbacks recently.
Specifically, the company has not renewing temporary workers' contracts. Initially it has cut 3,000 jobs, including sending back 500 workers who had been temporarily transferred from Audi Gyor in 2016.
However, the factory (which also makes the small Up! car and its SEAT Mii and Skoda Citigo models), expected to go back to a four-shift system, boosted by the start of production of the all-new Q8 and replacement Touareg. Production of the small car range is expected to stay on a single shift system for the medium term, until new models are launched.
The Kia plant at Zilina works closely with the Hyundai plant across the border in Nosovice in the Czech Republic. The Zilina plant shares a number of suppliers with hyundai who have located in the region under encouragement from the Korean companies. It also makes engines for Hyundai (with Hyundai sending gearboxes to Kia), but problems in the diesel market have led to 267 jobs being cut in February 2019; this reflects a 35% fall in diesel engine demand across both Hyundai and Kia.
However, total annual car production at Zilina remains at c330,000 a year, ie the Kia Sportage and the expanding Kia Proceed range. The Kia and Hyundai factories have given a major boost to the regional supply base, and not just indigenous local suppliers; numerous Korean transplants, such as Dymos which makes seats, Donyang which makes pistons and Kefico which makes high pressure pumps, have located in central Europe to supply the two Korean factories. The biggest Korean supplier in the region is Hyundai Mobis, although this is actually in the Czech Republic, supplying suspension parts, lights and many other components.
Finally, there is the PSA factory at Trnava. This has 4,400 employees and is claimed to have generated as many 22,000 jobs in the supply chain. The factory can produce 1,395 vehicles a day at its peak, namely the Peugeot 208 and Citroen C3. With the Poissy factory near Paris switching to compact crossovers, Trnava will be the lead plant for the all-new 208 which is made on the PSA-Dongfeng CMP platform. Production of the 208 will be supplemented by output at a new PSA factory at Kenitra in Morocco. Production at Trnava will also include an all-electric version, with the motors for this – and some other PSA electric models – being made in Trnava. In addition, motor and vehicle assembly, Trnava has its own stamping hall. It is a fully integrated plant, which made just over 352,000 vehicles in 2018, a 5.1% rise over 2017.
Slovakia's automotive manufacturing sector does have one worry alongside the broadly positive picture described above; with strong US exports of the large SUVs from Volkswagen, Audi and Porsche, the country's industry is highly vulnerable to the possible imposition of increased tariffs on exports when they reach the US. Total vehicle exports from Slovakia are worth €3.7bn, but this does include the value of vehicles exported throughout Europe. Press reports suggesting that a 25% US tariff would cost Slovakia around €90m a year, a number which appears low and would likely be up to three times a high if exports to the US are maintained at past levels.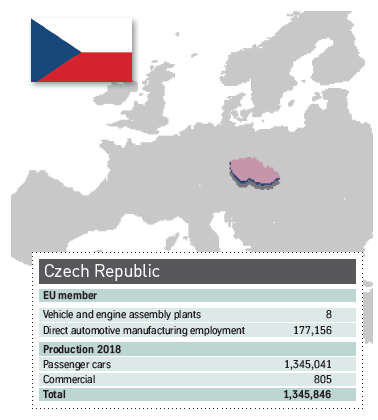 Powering production
Vehicle production in the Czech Republic is dominated by Skoda plants at Mladá Boleslav and Kvasiny. In addition to Skoda-branded models, the OEM has recently been making two Seat models, Toledo and Ateca, effectively rebadged versions of the Skoda Rapid and Karoq respectively. The Rapid has recently been replaced by the all-new Scala; it is thought that the Toledo will not be replaced.
The Kvasiny plant will soon undergo major change in its production line-up, with the addition of the next Volkswagen Passat rumoured to be transferred from Germany to Kvasiny in the early 2020s. To enable this, production of the Karoq and Ateca will move from Kvasiny to an all-new plant, which Volkswagen will build, probably in Serbia. The transfer of the Passat, which shares several components with the Skoda Superb (also made at Kvasiny), is taking place to allow Volkswagen to switch its current Passat plants, Emden and Zwickau in Germany, to make electric vehicles for all the volume brands in the VW group.
Ahead of these changes in the factory's manufacturing line-up, the electricity power supply is being boosted significantly and a new charging installation is being installed for production of the Superb PHEV from late 2019. Efficiency at Kvasiny is being boosted by the installation of autonomous robots and guided vehicles in parts warehouse, as part of the adoption of industry 4.0 techniques across the factory.
The two other producers in the Czech Republic are PSA-Toyota and Hyundai. The Korean company's Nosovice plant saw production rise 3.1% in 2018 to 340,300, on the back of strong sales of the i30 (including the high-performance i30N version) and especially the Tucson SUV. Hyundai's production success has not been totally without problems and its unionised workforce has agitated for some time for wage increases, recently with notable success; pay rises of 9.1% in 2019 and 8.8% in 2020 have been agreed.
Meanwhile, a change in status is imminent for the PSA-Toyota joint venture plant at Kolin, which will shortly come an end. Toyota is taking 100% ownership of this factory over the next couple of years; production of the PSA models, the Citroën C1 and Peugeot 108, should end in 2021. Toyota is expected to make a wider range of small cars in what will be its own plant from early in the next decade; in addition to the Aygo replacement, we expect at least one more model to be allocated to this factory to utilise the 300,000-units capacity there.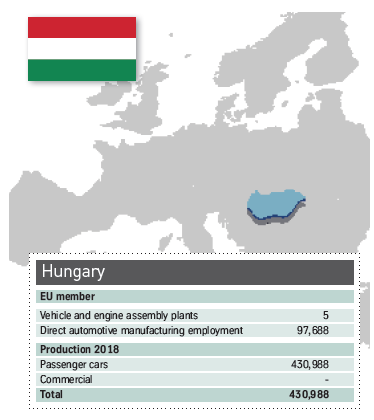 Premium growth rate
Production in Hungary is growing strongly with BMW due to open a brand new plant at Debrecen costing €1bn (US$1.10bn). 1,000 jobs are expected to be created with the new factory having a capacity of 150,000 units a year. BMW has not confirmed what it will make there, some reports suggest SUVs, but it has indicated the factory will make both conventionally-powered and all-electric vehicles. This will be the first new BMW plant in Europe in two decades, since Leipzig in 2005. Construction will start in the second half of 2019, with vehicle production expected in 2023.
Meanwhile, the Mercedes factory at Kecskemet will soon have a wider role; the factory currently makes the CLA coupe, sedan and estate, as well as some A-class models. A second assembly hall is now under construction, which will be an integrated operation in its own right, with its own press, body-in-white, paintshop and assembly facilities. €1bn is being invested in what will be Mercedes' first fully flexible plant, capable of making vehicles from compact cars to RWD sedans. This facility, known as Factory 56, will be unique as it will be able to make vehicles on more than just one platform, a first for the Mercedes network.
The Kecskemet factory is one of the most environmentally friendly within Daimler, using fully-renewable energy sources, making it CO2-neutral, one of the first in the Daimler group to achieve this stratus; all Daimler plants are due to follow by 2022. A similar policy is seen at the Audi plant at Gyor, where 70% of its energy is climate-neutral, using local geothermal sources. In addition, the factory has 160,000 sq.m of photo-voltaic cells on the roof of its engine factory.
Audi is the longest established of the premium German brands in the country. Its Gyor factory is the centre of diesel production for Audi and also makes the TT, A3 sedan/cabrio and the Q3/Q4 compact SUVs in a 160,000 capacity plant, employing 4,500. The factory has experienced some labour unrest, disrupting the supply of components to Audi plants in Germany. To overcome this, Audi agreed a wage rise of 18% from January 2019, plus an extra week's holiday from May. Despite this significant wage rise, Audi's Hungarian workers are reported to be still paid significantly less than colleagues in surrounding countries: VW group wages are understood to be 25% higher in the Czech Republic, 28% higher in Slovakia and 39% higher in Poland compared to Hungary.
In addition to vehicle production, Audi Hungary is now producing electric motors for the expanding Audi e-tron range; motors are currently shipped to Audi Brussels but will also soon be shipped to other Audi sites in Germany. In terms of new models, production of the Q3 started in the summer of 2018, with Audi adding a new bodyshop featuring 700 robots. Production may fall in the years ahead with reports suggesting that the TT couple and roadster will not be directly replaced. Although it seems unlikely that Audi would exit the sports car market entirely, production will almost certainly come to an end in Hungary in the next few years. Such a move would, however, allow Gyor to focus on the expanding Q3/Q4 range, and the electric motor production, including for the Q4 e-tron which we expect will be made in Gyor.
Suzuki also has a plant in Hungary, notionally capable of making 300,000 vehicles, but it has not achieved full utilisation in recent years. It currently makes the Vitara for global markets and the S-Cross for Europe.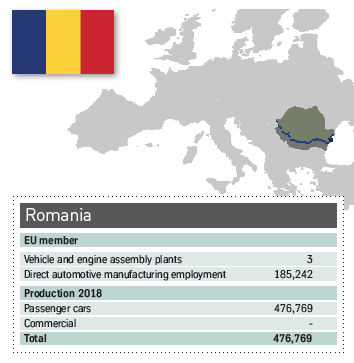 Improving relations
Vehicle production in Romania is represented by the Dacia Mioveni and Ford Craiova plants. Dacia made just over 335,200 cars in 2018; most of this production was of Duster SUVs, with 237,000 units. In addition, the factory made 42,000 Sanderos, along with nearly 39,000 Logans and 22,000 Logan MCVs.
Labour problems in the late 2000s and early 2010s led to Dacia directing some of its growing production volume to the new Renault-built plant in Morocco. However, company-union relations have improved recently; on the back of this improvement, Dacia has recently made a modest c100m investment in Mioveni, adding 300 jobs. This will raise production capacity to 400,000 or potentially 450,000 a year.
Meanwhile Ford Romania is about to see a period of growth, following a period of uncertainty. Ford still has financial problems in Europe and is losing money, so it is unwise to see this operation as 100% safe. The factory is a fully integrated operation with four automated press lines, 510 robots in the bodyshop and a paintshop using 3-WET paint system (a process which is common place in Ford plants globally).
The Craiova factory also assembles 1.0 litre Fox engines, and carries out machining of blocks, heads and crankshafts used in these power units. The engines are used in the current EcoSport SUV and will also be used in the new SUV (expected to be called Puma) to be made in Craiova. Around c200m is being invested for this new production, adding 1,700 to the existing 4,400 strong workforce. Both models likely to be made in parallel for a while, but for how long is unknown.
In addition to vehicle production, Romania has won investment from Daimler, which produces 8-speed double clutch transmissions for the B-class in its new plant in Sebes.
Tapping into potential
Serbia is currently a small player in vehicle production with only the under-utilised Fiat factory making the 500L mini-MPV. However, the country is anticipating a major boost with VW expected to confirm it as the location for a new multi-brand group plant. This will cost at least c1.4bn and will make the Karoq and Ateca SUVs, transferred from the Skoda Kvasiny plant. This site, with a proposed capacity of 300,000 units a year, would have up to 5,000 employees.
Although locations in Bulgaria, Romania and Turkey have been (and may still be being) considered, it is understood that Volkswagen will choose Serbia because through locating there, VW would have preferential access to valuable lithium deposits for its growing battery production volumes.
Meanwhile, the Fiat factory at Kragujevac, the expansion and modernisation of which were funded by the European Investment Bank (meaning that Fiat risks having to return this investment if it closes the factory, restarted production in January 2019 after a two-month production break.
The factory's current official production running rate is reported at 410 a day, which would equate to around 90,000 a year. However, press reports suggest that only 7,000 vehicles were made in the first two months of 2019.
A decision on a new model, expected to be an SUV-crossover, had been expected by the end of 2018, but no announcement has been made; the new model is expected to be made at rate of around just 50,000 a year, compared to the factory's capacity of 300,000 a year.
In addition to vehicle assembly, an unusual of this factory is that makes the bumpers for the 500L, a rarity in the Fiat network, with Fiat having outsourced or sold off its component in-house production activities at all its other factories.