Japanese manufacturer Nidec has opened two new factories in Novi Sad, Republic of Serbia, in response to growing demand for electric vehicle (EVs) components in Europe.
The larger of the two factories, with a total site area of 59,760m2 (643,250ft2), is based around 90km northwest from the capital Belgrade and has a total of 1,000 employees. This factory, Nidec Electric Motor Serbia, will mass produce automotive motors following increased demand for EVs on the continent due to tighter environmental regulations.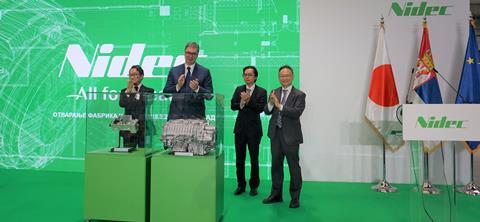 The second factory, Nidec Elesys Europe, is around half the size with a footprint of 36,000m2 and has 200 employees. It will manufacture and sell inverters and electronic control units (ECUs).
Nidec said "multiple businesses of the group are scheduled to expand into the local area in the future". It added that Serbia will become the group's centralised base for production "in order to build an efficient supply system in Europe".
The company added that it received "a great deal of support from both the governments of Japan and Serbia" as part of the Western Balkans Cooperation Initiative. Established in 2018, the initiative aims to support socio-economic reforms in the Western Balkan countries of Serbia, Albania, Bosnia and Herzegovina, Kosovo, Montenegro and North Macedonia.
Serbia is becoming a hub for EV in Europe, due to the country's proximity to a corridor of key central European vehicle and component production sites. The country is home to suppliers such as Magna, Bosch, Continental, ZF, Lear, Yanfeng Automotive Interiors and Adient. Just last year, Stellantis signed $200m deal with Serbia to produce EVs at the Kragujevac manufacturing plant, due to start in 2024, while Slovakian battery maker InoBat announced in November that it signed declarations of intent with the government to build an EV battery factory to open in 2025.
"We will strengthen recruitment activities, mainly for technical personnel, and contribute to the revitalisation of the regional economy in the Novi Sad and surrounding areas in Serbia," Nidec said in a statement. "We are also promoting activities to attract suppliers and we will build an industrial cluster of automotive motors for the European market."
For extensive analysis of the EV supply chain, download our updated reports: Automotive Battery Supply Chain and Manufacturing Report 2022 and Lithium-Ion Battery Gigafactory Database 2022.