Production of the new BEV is scheduled to begin in the second half of 2024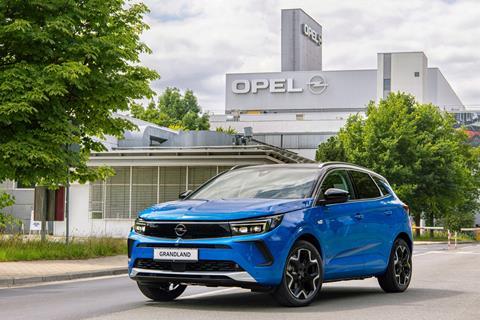 Stellantis is to invest over €130m in the Eisenach Assembly Plant in Germany, producer of the Opel Grandland compact SUV, to add production of the BEV successor vehicle that will be built on the all-new STLA Medium platform.
Production of the new BEV is scheduled to begin in the second half of 2024.
Adding a BEV to the plant's output supports Opel's commitment to a fully electric product line-up by 2028 in Europe. The Opel Grandland currently produced at Eisenach also includes plug-in hybrid variants.
The Eisenach Assembly Plant, in Thuringia, central Germany, opened in September 1992 with production of the Opel Astra. In 2022, the plant celebrated its 30th anniversary with an Open Day event that commemorated the production of 3.7m vehicles.
Stellantis says the Eisenach investment is a key step in meeting the commitments of the Dare Forward 2030 strategic plan.
The company is investing more than €30 billion through 2025 in electrification and software to deliver BEVs that meet customer demands.
Stellantis recently announced the allocation of BEV-centric STLA Large vehicles to its Cassino Assembly Plant.
The Cassino plant in Italy produces premium vehicles for Alfa Romeo and Maserati. It is the second Stellantis plant publicly named to produce vehicles based on the STLA Large platform, joining the Windsor Assembly Plant in Canada.
Last year, the company announced a $2.8 billion investment at its Windsor and Brampton plants to accelerate its electrification plans. It said this investment will see the Windsor plant upgraded to support production of a new multi-energy vehicle architecture that will provide BEV capability for multiple models.