The Cassino plant in Italy produces premium vehicles for Alfa Romeo and Maserati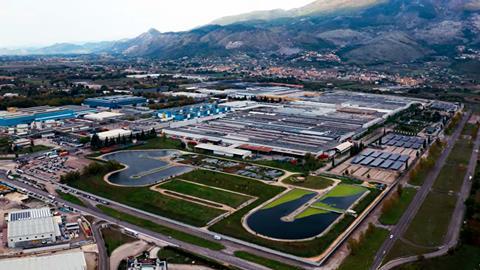 Stellantis has announced the allocation of BEV-centric STLA Large vehicles to its Cassino Assembly Plant.
The Cassino plant in Italy produces premium vehicles for Alfa Romeo and Maserati.
It is the second Stellantis plant publicly named to produce vehicles based on the STLA Large platform, joining the Windsor Assembly Plant in Canada.
Last year, the company announced a $2.8 billion investment at its Windsor and Brampton plants to accelerate its electrification plans. It said this investment will see the Windsor plant upgraded to support production of a new multi-energy vehicle (MEV) architecture that will provide BEV capability for multiple models.
The STLA Large platform, the base for several upcoming vehicles from Stellantis brands, is designed to deliver up to 800 km/500 miles of electric range with Stellantis-designed electric drive modules (EDMs) and modular battery packs.
Designers and engineers have the flexibility to adjust the platform's length and width and powertrain configuration to tailor it to specific product designs.
The Cassino Assembly Plant opened in 1972 in Piedimonte San Germano, south central Italy. It is a highly automated plant using more than 1,200 robots and includes stamping, plating, painting and plastic parts operations.
Stellantis says the plant puts a high emphasis on energy and resource conservation - it has cut its use of water by half since 2017 and captures solar energy via photovoltaic cells in its parking lots.
The company is investing more than €30 billion through 2025 in electrification and software to deliver BEVs that meet customer demands, including fast charge capability.
Stellantis has also signed a memorandum of understanding (MoU) with the Industrial Development Corporation (IDC) and the Department of Trade, Industry and Competition (the dtic) to develop a manufacturing facility in South Africa.
The manufacturing plant is planned for setup in a South African Special Economic Zone (SEZ). The aim is to complete the manufacturing project by 2025.
Samir Cherfan, Stellantis Middle East and Africa chief operating officer, said: "The manufacturing site in South Africa will be a new building block in our industrialisation strategy that includes the plan to sell one million vehicles in the region by 2030 with 70% regional production autonomy and will bring us closer to our customers' needs in the region."