Investments to be made at Indiana Transmission, Kokomo Transmission and Kokomo Casting Plants, with the company investing a total of $155m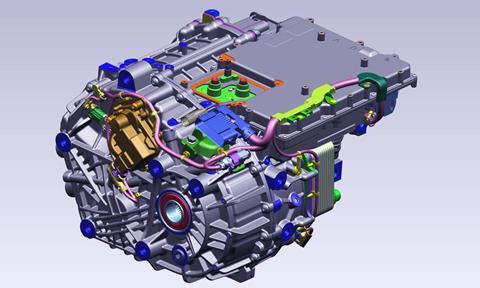 Stellantis is to invest $155m in three Kokomo, Indiana, plants to produce new electric drive modules (EDM) that will help power future electric vehicles assembled in North America.
Investments will be made at the Indiana Transmission, Kokomo Transmission and Kokomo Casting Plants. The gearbox cover will be cast at Kokomo Casting and machined at Kokomo Transmission, and gear machining and final assembly will be at the Indiana Transmission Plant.
Production is expected to start in the third quarter of 2024, following retooling. With the investment, Stellantis says more than 265 jobs will be retained across all three plants.
Mark Stewart, Stellantis North America COO, said: "With more than 7,000 employees in Indiana, these investments will leverage the core manufacturing competencies of the local workforce in the areas of casting, machining and assembly, all of which will be needed even as the market transitions to an electrified future."
The Kokomo-built EDM will be integrated into vehicles designed on the STLA Large and STLA Frame platforms.
The company currently operates five powertrain plants in Indiana - three transmission plants, a casting plant and an engine plant.
Last year, Stellantis and Korean battery maker Samsung SDI announced plans to form a $2.5 billion joint venture to produce battery cells and modules in Indiana. The joint venture will open a factory in the city of Kokomo in early 2025, creating 1,400 jobs and making 23 gigawatt hours (GWh) of cells annually, rising to 33 GWh within a few years.
Since 2020, Stellantis has invested nearly $3.3 billion in Indiana to support its transition to electrification. These investments support the company's ambition to achieve carbon net zero by 2038, as set out in its Dare Forward 2030 strategic plan.
Stellantis has also announced a $155m investment in a project in Argentina, acquiring a 14.2% equity stake in McEwen Copper, a subsidiary of Canadian mining company McEwen Mining, which owns the Los Azules project in Argentina and the Elder Creek project in Nevada, USA.
Los Azules plans to produce 100,000 tons per year of cathode copper at 99.9% purity starting in 2027 and the resources can secure the operation for at least 33 years. Copper is a strategic raw material for the future of electric mobility, and it is estimated that global demand for the conductive metal will triple in the coming years. By making this investmen, Stellantis says it will be able to supply some of the projected copper demand starting in 2027.