The company will also manufacture battery enclosures for GM's Silverado EV in St. Clair, Michigan, adding to existing battery enclosure production for the Hummer EV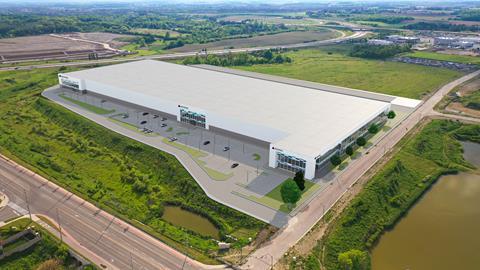 Magna is expanding operations across Ontario, Canada, including a new battery enclosures facility in Brampton to support the Ford F-150 Lightning and future OEM programmes.
The company is investing more than $470m, and in addition to the Brampton facility is growing in its locations in Guelph, Belleville, Newmarket, Windsor, and Penetanguishene following new business awards.
This follows news that Magna will supply battery enclosures for the all-new 2024 Chevrolet Silverado EV and will produce the enclosures at its Magna Electric Vehicle Structures facility in St. Clair, Michigan, where it already produces the battery enclosure for the GMC Hummer EV. 
The company says it can develop these advanced assemblies in steel, aluminium, and multi-material configurations, including lightweight composites, to meet the individual needs of its customers. 
John O'Hara, President of Magna's body and chassis group noted: "We have been able to leverage our expertise to supply battery enclosures – a product for which we see strong potential going forward." 
In Brampton, there will be a new 490,000 sq. ft leased facility to manufacture battery enclosures for electric vehicles, with operations to begin in Q2 and roughly 560 new jobs are expected at full production.
In Guelph, Magna is adding e-coat, moulding and welding capacity to its exteriors plant to support new electric vehicle production. The expansion will total 120,000 sq. ft with production planned to begin in Q2 2023, and approximately 175 new jobs are expected.
The company's lighting plant in Belleville is adding to its capabilities for printed circuit board assemblies and will start operations in Q4 2023, with up to 100 new jobs expected. Magna's mechatronics facility in Newmarket, which produces vehicle access systems including side door latches, electronic control units, and power systems, is growing its business and expects approximately 75 new jobs.
The mechatronics plant in Windsor is adding new business for powered aluminium tonneau covers. Operations have started and roughly 110 new jobs are expected. Magna's mechatronics facility In Penetanguishene is growing its tailgate hinges production and more than 15 new jobs are planned.
Trevor Dauphinee, CEO of Invest Ontario, said: "By diversifying automotive parts manufacturing across the province, Magna's investments will strengthen EV supply chains in Ontario."
Magna has invested in $500m in its US production network at three locations in Michigan, which includes the establishment of two new manufacturing sites.
The Electric Vehicle Structures plant at St. Clair, which first opened in 2021 and supplies steel battery enclosures, is currently adding a 740,000 sq. ft expansion, with operations in the new area expected to start in Q4, 2023.
Production is expected to start in March this year at a new 200,000 sq. ft greenfield powertrain facility in Shelby Township, which will supply battery tray components for a global automaker's electric vehicles. In addition, a new 110,000 sq. ft brownfield seating facility in Detroit will supply seat frames and trim and foam assembly to a US based automaker.