Phasing into the EV market, the i5 hits production lines at BMW's largest European plant, expected to cover 40% of the OEM's total EV output by 2024
BMW has commenced production of its i5 EV at its Dingolfing plant in Germany.
The i5 is the third fully-electric model produced at the Bavarian site; BMW's largest plant in Europe. According to company projections, the site is set to produce 40% of its pure battery-electric vehicles by 2024.
Milan Nedeljković, Member of the Board of Management at BMW, responsible for Production, commented: "The BMW i5 and our plant in Dingolfing are perfect examples of how the BMW Group is transforming itself for e-mobility and developing our plants on the road to the BMW iFACTORY. E-mobility is the new normal at our plants worldwide. Between 2021 and 2024, we will have integrated a total of 15 fully-electric vehicles into our production network."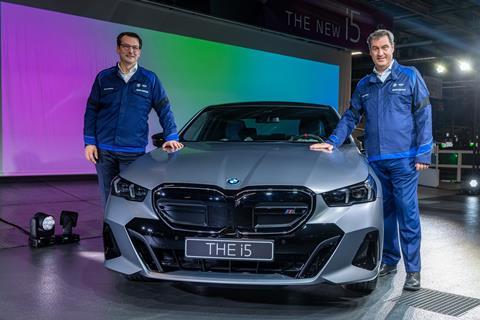 BMW recognises that consumer engagement hinges on specific series-demand, as well as the increasing demand for electric mobility, and that specific models are clear drivers for consumer choice as well as energy variables; all of which are playing a part in shaping the OEM's production processes. The International Energy Agency (IEA) projects a 35% year-on-year increase with new purchases of electric cars in the second half of 2023. With the growing demand for electric vehicles – weighted against the current predominance of ICEs – BMW's targets are to be achieved through the employment of flexible architectures, and by offering the majority of its models with different drive train variants. The i5 is one of these variants.
"The 5 Series will be available with a fully-electric drive train or internal combustion engine, or as a plug-in hybrid," their company report says, demonstrating its strategic approach to phasing in the i5 and other electric vehicle models, in-line with growing demand and variable consumption patterns. Nedeljković emphasised that the OEM is adjusted to market trends, adding, "customer requirements determine what the actual drivetrain mix looks like."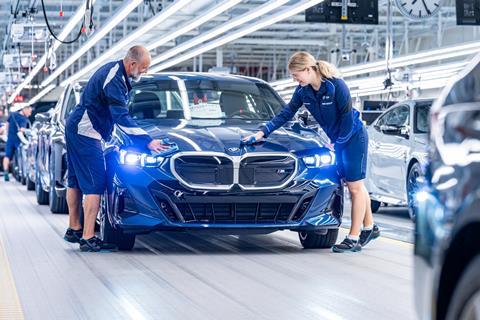 The complexities of production lines will require a high degree of flexibility to realise these goals, "but," says BMW, "allows the company to utilise its plants' capacity efficiently and adjust its offering to customer demand." BMW has made substantial investments in its production network, with over one billion euros invested towards the integration of several models at Dingolfing, now including the model i5.
BMW focuses on fully-electric production across the globe
The company has been ramping up its electrification infrastructure across several regions, and has now incorporated full EV production at all of its plants across Germany. The Munich facility began producing EVs in 2021, and is currently undergoing a transformation for the Neue Klasse initiative which aims to produce a new generation of high-performance electric vehicles built on an EV-only platform. Underscoring its all-electric expansion, BMW has also rolled-out pure-EV production at its plants in Regensburg and Leipzig.
This diversifiation is also now reaching into China. The OEM announced that after the upcoming market launch of the Neue Klasse in 2025, models of this next vehicle generation will be manufactured at the BBA facility in Shenyang beginning in 2026, further expanding the carmaker's global EV manufacturing footprint.
BMW has also announced that it is planning for the production of its Neue Klasse models at its San Luis Potosí plant in Mexico, as part of its 'local for local' strategy; moving manufacturing closer to markets and tempering supply issues. Moving North, the OEM will invest $1 billion to ready its sole U.S. manufacturing site for EV production, in Spartanburg, South Carolina, with a focus on manufacturing all-electric vehicles.
It is clear that electrification is becoming an incresingly siginificant aspect of the company's automotive manufacturing model. AMS recently reported that BMW is also investing more than 4.2 billion ZAR ($224m) in the electrification of its plant in Rosslyn, South Africa: "The plant was founded fifty years ago as BMW's first foreign facility. In the years since then, the plant has produced more than 1.6m vehicles and exported them to more than 40 countries worldwide, including 14 nations in Africa.
"The carmaker said from 2024, the plant will manufacture the BMW X3 as a plug-in hybrid for global export. Alongside the monetary investment, BMW will also provide specialist training for more than 300 employees at the plant to enable the electric vehicle."