Ford has opened the Cologne Electric Vehicle (EV) Center which will produce a new generation of EVs for the European market and will be Ford's first carbon neutral assembly plant.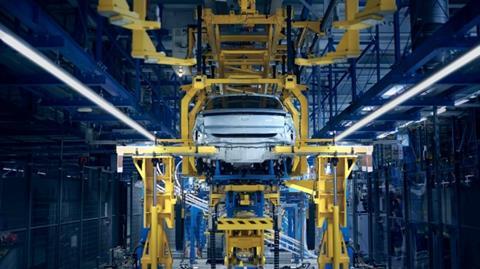 The carmaker invested $2 billion into transforming its German plant in Niehl, Cologne which was first founded in 1930. The investment equipped the 125-hectare site with a new production line, battery assembly and tooling and automation. It will have an annual production capacity of more than 250,000 EVs, helping Ford towards its goal of a run rate of 2m EVs annually by the end of 2026. The first EV set to be produced in the plant is Ford's new Explorer model, its most recent EV which follows on from the Mustang Mach-E, E-Transit and F-150 Lightning.
New processes, machinery and technologies will help Ford achieve carbon neutrality at the plant. Digital advancements to connect machines, vehicles and workers are at the core of the centre, with self-learning machines, autonomous transport systems and data management in real time helping to improve the efficiency and quality of the production process.
Ford said it is "going a step further to support, not supersede human excellence" through new cognitive and collaborative robots and augmented reality solutions. Rene Wolf, director of Manufacturing Vehicle Operations at Ford of Europe and member of the management board of Ford-Werke GmbH spoke to AMS about this in December. Wolf told AMS that the human component will be "crucial in the car production of the future" and said the company will continue to rely on the intuition and experience of its employees. He said that all production employees will receive at least 12 days of training "to acquire the skills they need to walk this new path together and help shape it".
All power required to run the facility is 100% certified renewable electricity and biomethane, according to the company. Heat required to warm the plant and processes will also be carbon neutral through the energy provider's offsetting of emissions. The heat is generated by an external power plant and waste incineration plant, provided through a steam network for Ford. The local energy provider plans to reduce their operating emissions for the heat delivery by 60% in 2026 and eliminate them completely by 2035. Once fully operational, the centre will be certified as carbon neutral. Ford said this will be audited regularly by an independent party.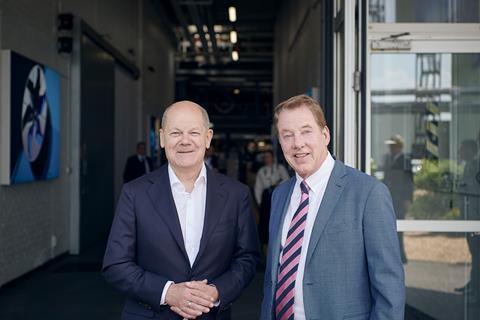 Ford said the new Cologne plant will support the company's commitment to reaching carbon neutrality across its entire European footprint of facilities, logistics and direct suppliers by 2035. As part of this, Ford signed a non-binding MoU with LG Energy Solution and Koç Holding to establish a joint venture and build a new battery cell production facility in Turkey.
"Opening the Cologne EV Center is the start of a new generation of clean manufacturing and EVs in Europe," said Bill Ford, executive chair, Ford Motor Company. "This facility will now be one of the most efficient and environmentally responsible plants in the entire industry."
Martin Sander, general manager of Ford Model e Europe said: "We are once again redefining auto manufacturing, implementing advanced technologies to build fully connected, software-defined vehicles that meet our customers' demand for zero emission mobility."
He said the new centre is a "leading automotive industry showcase for the switch from traditional auto manufacturing to electric vehicle production". Sander added: "The facilities and processes have been designed by our engineers to maximise efficiency and minimise environmental impact, helping Ford become carbon neutral in Europe and supporting our global decarbonisation plan."
Ford's move to EV production is expanding beyond Europe, too. In April, Ford announced it will be investing $1.8 billion to transform its Oakville Assembly Complex in Ontario into a Canadian hub of EV manufacturing that will include vehicle and battery pack assembly. In addition, Ford is creating an all-new EV manufacturing ecosystem in West Tennessee at BlueOval City. And in Marshall, Michigan, the carmaker is building a lithium iron phosphate battery plant through a wholly owned subsidiary.