Next year, Ford's first fully electric volume model in Europe will roll off the production line in Cologne, and the site will become the first Ford Electrification Centre in Europe. AMS spoke with Rene Wolf, Director of Manufacturing Vehicle Operations at Ford of Europe and member of the Management Board of Ford-Werke GmbH. He describes the changes that will take place as the plant gears up for this new era of electrification
In March 2022, Ford outlined a plan for electrification which included a goal to offer seven new all-electric vehicles by 2024. How will these plans impact the Cologne facility? Will you need to bring in new processes or technologies?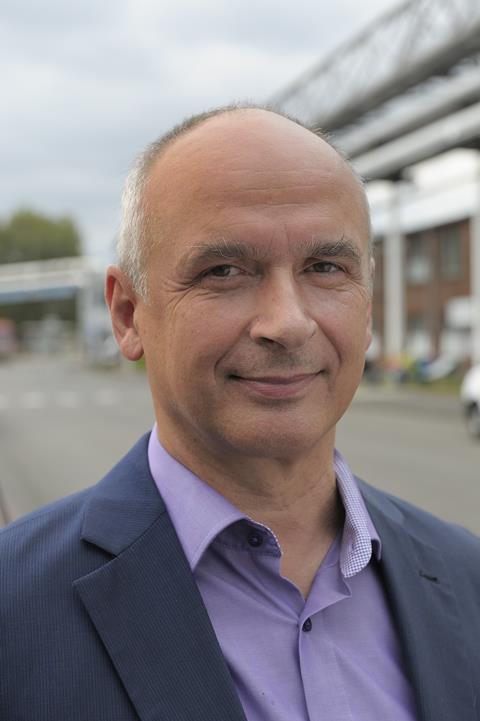 Rene Wolf (RW): We are going all-in on electrification and will offer exclusively all-electric passenger cars in Europe from 2030. The Cologne site plays a central role in this electrification strategy because this is where we will start. Ford is setting up its first Europe-wide Electrification Centre in Cologne producing two electric vehicles. Ford's first fully electric volume model in Europe will roll off the production line here as early as next year. A second electric model will follow in 2024. Within six years, 1.2m e-vehicles are to be produced in Cologne.
But we are not just launching two new models with a new drive system. We are also creating new work structures for them, installing innovative Industry 4.0 technologies, redesigning our production facilities, and even constructing new buildings, including a 100-metre-long hall for pre-treating body shells.
I am responsible for transforming the plant into Ford's first Electrification Centre in Europe. This is the most far-reaching transformation since I started working for Ford, which covers 31 years. It may even be the greatest transformation in the entire 91-year history of the company in Cologne.
What are the current manufacturing trends impacting production at the Cologne plant?
RW: Digitisation, automation, and sustainability are undoubtedly the major trends in automotive engineering. Accordingly, we are sticking to Industry 4.0 technologies and are focusing on innovations from these areas in our transformation to the Cologne Electrification Centre. For example, we are implementing new collaborative robots, a visual system that uses artificial intelligence to immediately detect defects in real time at certain stations in final assembly, and autonomously moving transport systems. Some of these innovations are even proprietary developments by Ford employees.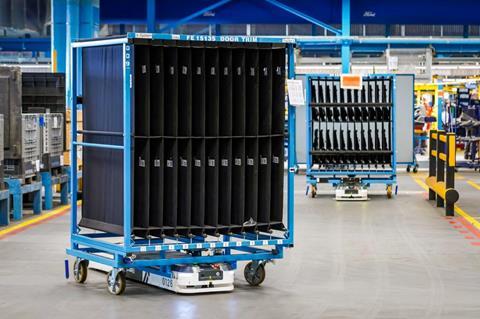 In Cologne for instance, Ford engineers paired autonomous mobile robots (AMRs), which can navigate freely and find the most efficient route with a new development of their own. In the bodyshop, they developed a special locking mechanism based on a standard transport frame. This enables independent loading and unloading as well as the separation of containers with small parts from one transport frame to the other.
When introducing new technologies, the sustainability aspect always plays a role as well. Sustainability is an overriding corporate goal for us. We aim to be carbon neutral in Europe by 2035. This target applies to our entire vehicle fleet, our production and logistics, and our supply chain. Our Cologne plant has been running entirely on green electricity since 2008, and we also plan to switch to green gas.
How do you see the factory of the future evolving, and what role will the human worker play?
RW: We are changing work structures consistently in every area of manufacturing under the slogan 'factory of tomorrow'. This means that every employee must be prepared to learn something new and be flexible because we want to set industry standards with our e-production, for example, in work with collaborative robots or AMRs. We involve our employees in this process right from the start. That's why all our production employees will receive at least twelve days of training to acquire the skills they need to walk this new path together and help shape it.
The plant will look different as every year goes by. We will have a smarter, leaner, and more modern plant as we turn Cologne into an EV production hub. Robots are becoming smarter and will be able to do significantly more, and we are already looking into the future use of collaborative robots. These have even more sensors and use artificial intelligence, sensing the environment and reacting to changes as well as potential hazards. In contrast to the regular cobots, they not only perform fixed support activities, but can also actively interact with the employee. But I am sure that the human component will also be crucial in the car production of the future, and we will continue to rely on the intuition, experience, and know-how of our employees.
What about the current automotive trends, such as cockpit digitalisation and autonomous driving capabilities? Are these having an impact on the Cologne plant, or might they in the future?
RW: The John Andrews Development Centre in Merkenich works closely together with the Ford Research and Innovation Centre (RIC) in Aachen, where engineers and scientists deal with issues relating to sustainability and health, electrified drive systems, new materials, and manufacturing processes as well as the topics of driver assistance systems, automated driving and vehicle-to-X communication.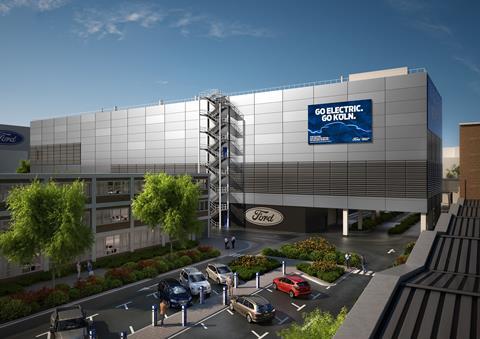 How important is the location of the plant?
RW: The location at the Rhine was a decisive factor in Henry Ford's choice of the Cologne site and still plays an important role today. Around 45% of Fiesta models are transported to their destinations by ship, and approximately 80% of the units built are destined for export to 43 countries.
The industrial park was established in 2001 to optimise logistical processes. Important supplier companies have settled there, which deliver vehicle modules directly to the production line in final assembly via electric monorail systems. Seven suppliers now employ around 450 people in the park, and two suppliers are located on the Ford site close to the Fiesta final assembly line and have created around 200 jobs there.
What are your goals and aspirations for the plant?
RW: For decades, the Cologne plant has been regarded as one of the most efficient automotive production facilities in the whole industry. We want to continue to live up to this claim in the future and build e-models in the Cologne Electrification Centre that meet our very highest quality standards.
Ford Cologne history
Ford has been building cars in Germany since 1925 but the first made-in-Cologne Ford to roll off the assembly line was a Model AA Ford truck in 1931. At the time, 619 Ford employees were producing 60 vehicles per day on 33,000 sq.m of factory space, initially Model A passenger cars and Model AA trucks.
Over the past nine decades, the Ford plant in Cologne has continued to grow and has produced around 18m cars. In 1962, the engine plant in Cologne-Niehl was opened and in the same year the European service parts distribution centre in Cologne-Merkenich started. In the summer of 1968, the John Andrews Development Centre in Cologne-Merkenich began operations and, as a Centre of Excellence, bundles global vehicle development for passenger cars in the B and C segments.
As the centre of administration, design, development and production, Cologne has become one of Ford's most important locations worldwide with almost 15,000 employees today.